Clariant Provides Grant to Create Science Club at Louisville's California Community Center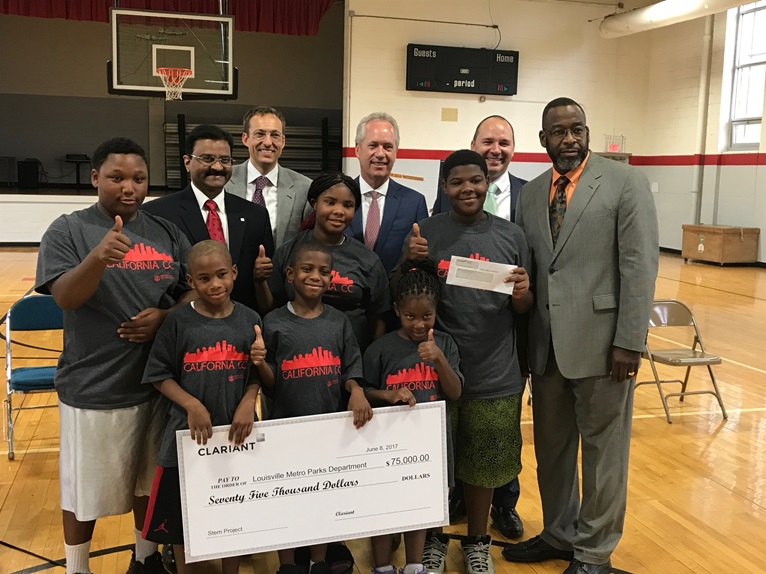 3-year grant of $75,000 will support academic enrichment of at-risk students

'Moving Forward thru STEM' curriculum will complement school system's core academic content
Charlotte, N.C., August 15, 2017 – Clariant, a world leader in specialty chemicals, announces a grant to create an afterschool and summer-break science club for second and third grade students who participate in programs at California Community Center in Louisville. This collaboration with Louisville Metro Council District 6 Councilman David James, Phillis Wheatley Elementary School and Louisville Metro Parks and Recreation Department will provide academic support to at-risk students who live in a neighborhood with limited upward mobility.
Clariant is providing a $75,000 grant to fund this afterschool club for three years. This is an extension of the investment Clariant has made for decades to support the youth of the California community through its partnership with Family Resource Center of Phillis Wheatley Elementary School. Past investments have included donations of school supplies and food and gifts at the holidays as well as employee volunteerism.
Now, Clariant is investing in a program to help foster a love of learning through fun, hands-on science, technology, engineering and math (STEM) projects. Named "Moving Forward thru STEM," the club curriculum will support the school system's core academic content of reading, math and science and will measure both academic and life skills attainment.
"Clariant is committed to being a good corporate citizen. We want to add value to our communities by enhancing educational opportunities and supporting initiatives that bring increased well-being," said Dr. Deepak Parikh, Region Head of Clariant North America.
Stefan Brejc, Head of Business Unit Catalyts in North America added: "We want to help develop a foundation for eduction in the community where we operate. We are excited to offer this support to children who live in Louisville's California community, which is nearby our facilities, and we look forward to seeing these young minds flourish."