September 26, 2017
Clariant wins ITEHPEC Innovation Award at in-cosmetics Latin America 2017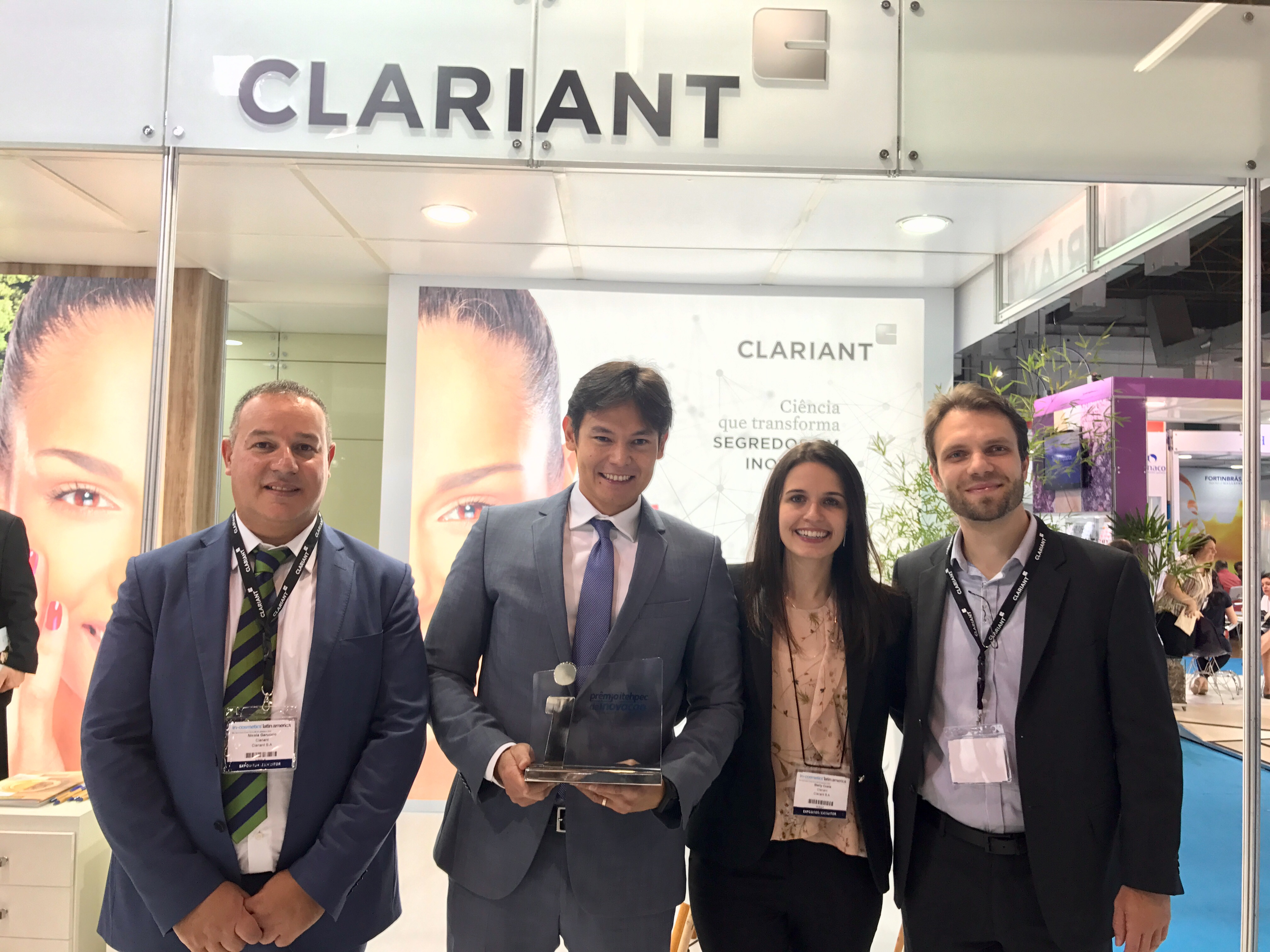 New Eosidin™ active ingredient receives the silver award from the Institute of Technology and Studies for Cosmetics, Toiletries and Fragrances (ITEHPEC)
The Innovative product is the first solution developed to protect skin from indoor pollution damage
Award was presented during in-cosmetics Latin America 2017 in São Paulo, Brazil
São Paulo, September 26, 2017 – Clariant, a world leader in specialty chemicals, has won silver in the prestigious annual Innovation Awards of the Institute of Technology and Studies for Cosmetics, Toiletries and Fragrances (ITEHPEC) at in-Cosmetics Latin America 2017 for Eosidin, an innovative Active Ingredient that protects skin from indoor pollution damage. The award recognizes the product's innovation, both in generating noticeable consumer benefits and in the competitive advantage it provides to manufacturing customers. It was presented to Clariant at a special event during the in-cosmetics Latin America 2017 exhibition in São Paulo, Brazil, held last week.
"This award is a major recognition of our team's efforts at finding innovative solutions that improve people's lives in every way, even those that are often overlooked, such as countering the impact of indoor pollutants," says Ernesto Horikoshi, Global Head of Active Ingredients at Clariant. "Eosidin is the result of extensive teamwork, close collaboration with our partner Biospectrum and our own in-depth research. Obtaining the award is made even more special for us at Clariant because it is our very first product launched in the field of cosmetic active ingredients."
Clariant Active Ingredients was formed at the beginning of this year. "Having an active ingredient developed, launched and awarded in such a short time frame, bypassing well-established competitors in this highly specialized field, has provided us with a lot of pleasure and given us a strong impulse to achieve more," says Horikoshi. Eosidin was competing against 31 other products from major multinational players for the innovation award.
Most importantly, Horikoshi adds, "the award shows Clariant's commitment and capacity to innovate, re-invent and reinvigorate the personal care market."
Enclosed environments are increasingly overwhelmed by the combination of the buildup of external pollutants and the pollutants that are generated indoors.
This results in atopic-prone skin conditions. Eosidin, the first solution to protect skin from indoor pollution damage, was developed jointly by Clariant and Biospectrum. This active ingredient comes from the Jeju Island natural reserve in South Korea and is an extract of green citrus unshiu rich in highly potent molecules that play an important role in regulating immunomodulation and decreasing hypersensitivity.
During in-cosmetics Latin America 2017, in addition to Eosidin, Clariant also presented its natural ingredient portfolio, with emphasis on its GlucoTain® line. It also unveiled the new edition of BeautyForward®, its trend guide for the Personal Care industry.
™ TRADEMARK® TRADEMARK OF CLARIANT REGISTERED IN MANY COUNTRIES.