Clariant's Regional President of Greater China receives Shanghai Magnolia Gold Award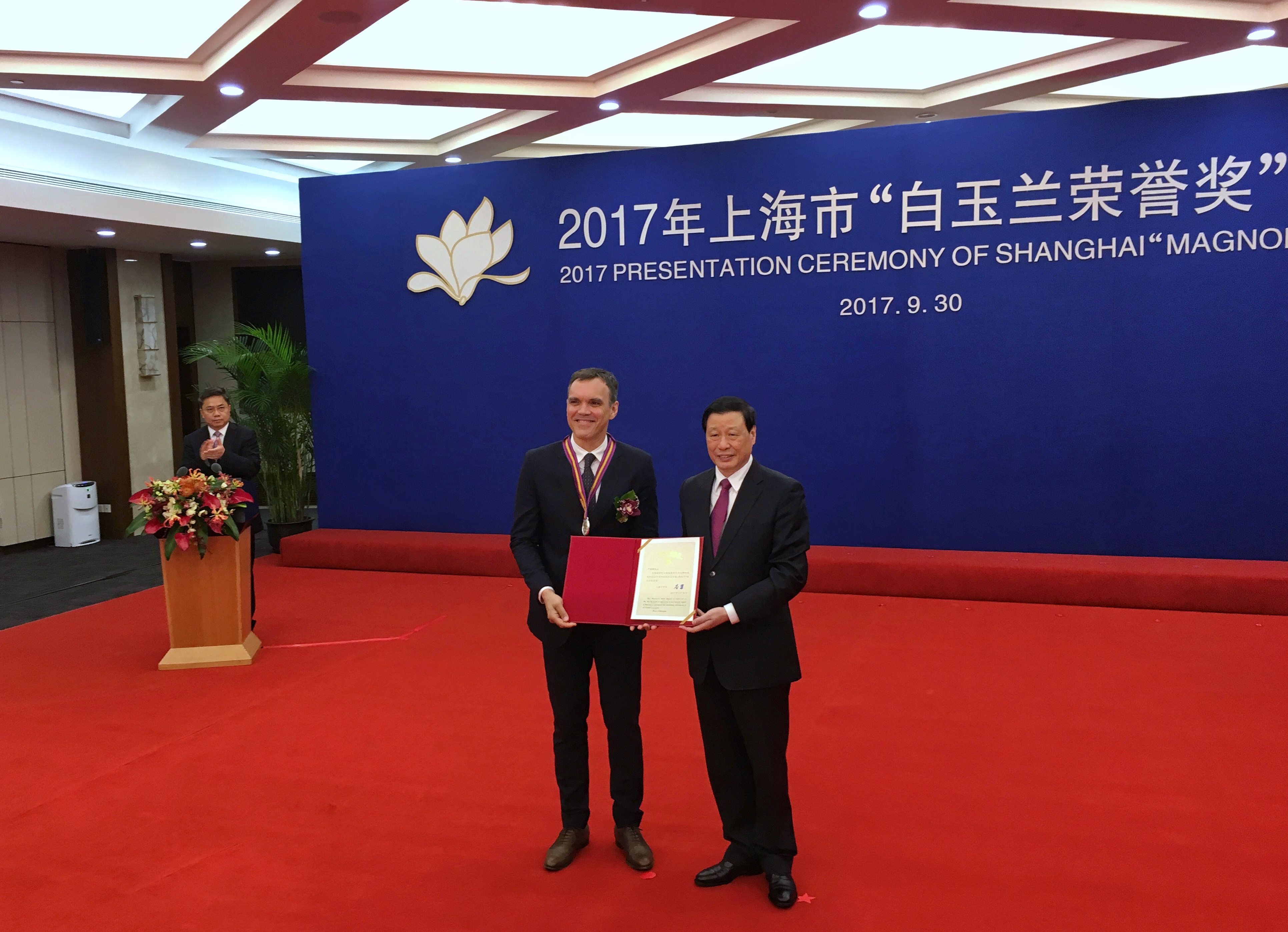 Jan Kreibaum, Clariant's Regional President of Greater China, awarded the Shanghai Magnolia Gold Award after receiving the Silver Award in 2015
The Award is presented to expatriates with significant contributions to Shanghai's economy, business environment, international relations, community development and management standards
Shanghai, October 9, 2017 – Clariant, a world-leader in specialty chemicals, announced today that Jan Kreibaum, Regional President of Greater China has been awarded the Shanghai Magnolia Gold Award this year. The award, named after Shanghai's city flower, is bestowed by the Shanghai Municipal Government to recognize expatriates who have made significant contributions to the city's economy, business environment, international relations, community development and management standards. Since the establishment of this award in 1993, only 299 expatriates in Shanghai had won the Gold Award (as of 2016). Mr. Yong Ying, Mayor of Shanghai, presented the award to Jan Kreibaum at the official awarding ceremony held on September 30th. This year 11 expatriates win the Gold Award.
As a Gold Award receiver, Jan has further reaffirmed his reputation as an outstanding business leader in Shanghai with demonstrated leadership capabilities and a thorough understanding of the Chinese market and culture. His contributions have successfully led to closer international ties and an increased focus on sustainable development for the city of Shanghai. "I'm very proud to win the Magnolia Award for a second time as the Regional President of Clariant in Greater China, and this year to be among the 11 Gold awardees in Shanghai. This recognition truly reflects how much harder our team in Greater China is working together to help contribute to the well-being of this city that we call home," said Jan Kreibaum.
Among his many achievements over the past year, he led a delegation of Clariant's Greater China management team to the Sino-Swiss Low-Carbon Cities initiative in April 2016, during which a memorandum of cooperation was signed as a commitment to making an active contribution in lowering exhaust gas pollution through technological cooperation. More recently, Jan launched an initiative within the China Petroleum and Chemical Industry Federation (CPCIF) with six other multinational chemical companies to develop an agenda to support the upgrade of the chemical industry, and especially smaller local chemical producers in China, to a much more sustainable future.
Jan has led Clariant in exemplifying good corporate citizenship by driving forward the green development of the chemical industry in Shanghai. Over the years, Jan has been particularly influential in consistently advocating the importance of sustainable and green development within the chemical industry by taking up various public and community roles in the MNC's Executive Board of the China Petroleum and Chemical Industry Federation (CPCIF), the Association of International Chemical Manufacturers (AICM), the Shanghai Association of Enterprises with Foreign Investment (SAFI) and the Petrochemicals, Chemicals & Refining Working Group of The European Union Chamber of Commerce in China (EUCCC).
Besides, Jan plays an active role in improving the wellbeing of communities and promoting corporate social responsibilities. He is a volunteer of Clariant HOPES1 corporate citizenship program in China that regularly raises funds and organizes school activities to help students in the community develop a more fulfilling school life. He also actively takes part in various events, including charity runs and the delivery of English courses in a Clariant-sponsored school in Zhenjiang. Under his leadership, Clariant made a donation of RMB 100,000 to Shanghai Charity Foundation in a disaster relief effort in the aftermath of the recent earthquake in JiuZhaigou of Sichuan Province in China.
1 HOPES is Clariant's corporate citizenship program in China. Referring to "Healthy, Open-minded, Positive, Explorative and Sustainable", the HOPES program focuses on supporting sustainable development of education in the local communities in China.