November 07, 2017
Clariant signs MOU with Shanghai University to collaborate on innovation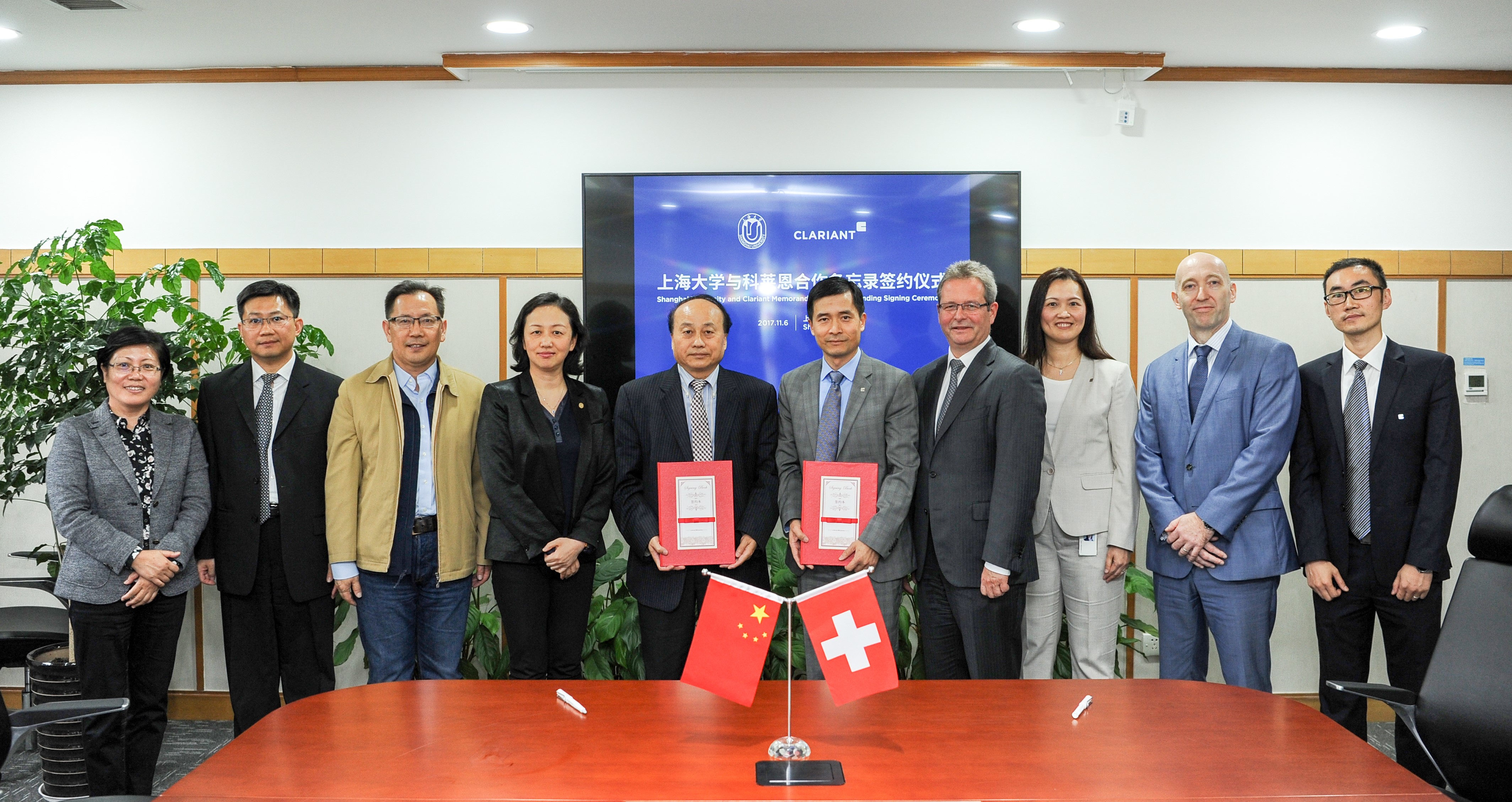 Clariant reaches out to academic sector in China to continue the momentum of local collaborative innovation
Memorandum of Understanding signed with Shanghai University to embark on long-term exchange and collaboration on R&D projects
Closer collaboration to benefit University students with internship and career development opportunities at Clariant
Shanghai, November 7, 2017 – Clariant, a world-leader in specialty chemicals, signed an Memorandum of Understanding (MOU) with Shanghai University yesterday to embark on long-term collaboration that will facilitate joint R&D efforts on technological innovation and allow students of Shanghai University to gain industry and business exposure through internship and company visit to Clariant.
"We are excited to build this close collaboration with Shanghai University - a long-established educational institution in China known for its research strengths," said Jack Chen, Head of Research Center Clariant China, who signed the MOU on behalf of Clariant, "This cooperation will enable us to jointly develop sound innovative projects to benefit our chemical industry in China."
One key area highlighted by the MOU is the emphasis on exchange between the two organizations through hosting of seminars and developing of collaborative projects, which is encouraged on the provincial level in China to encourage more local R&D activities. In addition, the MOU will also see students from Shanghai University being taken on site visit and internship at Clariant. With proper guidance and mentorship, the students will be able to learn first-hand the operation of a global chemical company, which will benefit them in developing their future career.
"Clariant is a well-known international chemical company in China. Our partnership will certainly provide big incentives for our research teams to jointly develop industry-ready solutions dedicated to various sectors in China. Our students will also benefit through their close encounter with Clariant staff to learn the reality in the business world," said Professor Siyi Gong, Deputy Secretary of Party Committee, Vice President of Shanghai University.
Signing of the MOU has kept the momentum going for fostering innovation at Clariant. The company's commitment to innovation in China was demonstrated recently in September, when it launched its Innovation Fair in order to align the industry in further collaboration on the research forefront. At the fair, a Memorandum of Understanding (MOU) was signed between the China Petroleum Chemical Industry Federation (CPCIF) and Clariant to help promote innovation and enhance sustainability development in the industry. In addition, the CPCIF-Clariant CleanTech Award was announced, which will recognize young local researchers' achievements in sustainable chemical technologies.
In addition, Clariant is also fully committed to industry development in China. In October, Clariant sponsored the Achievement Award presented during the 18th Chinese National Congress on Catalysis to recognize individual contribution made on a major R&D achievement in the catalysis field of China.