Clariant Catalysts and Shanghai Huaxi in strategic partnership on MTS hydrogen production in China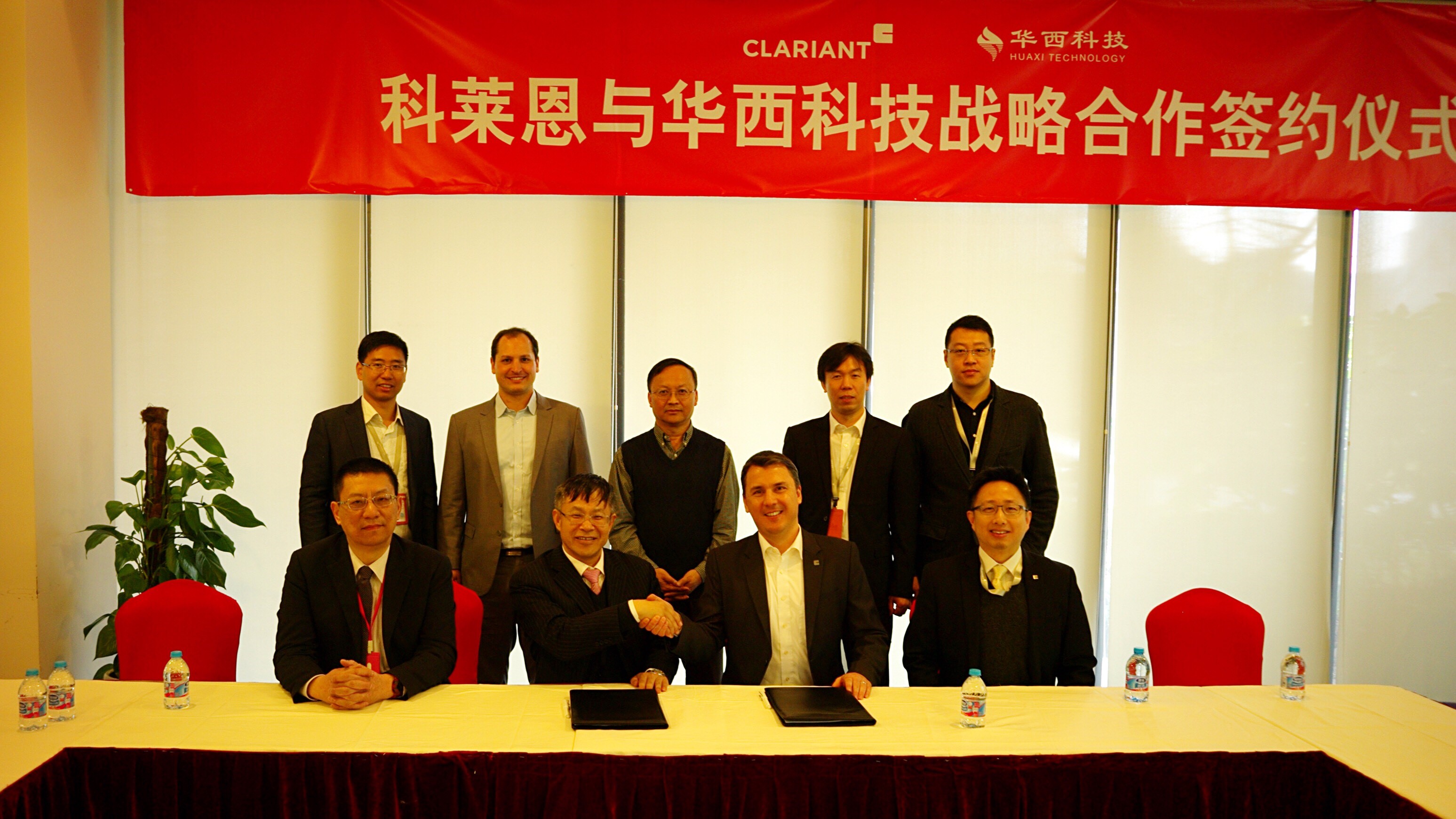 The companies will partner in hydrogen production projects in China using medium temperature shift (MTS) technology
Joint solution will offer customers more efficient and economical hydrogen production
Clariant to supply its high-performance catalysts for Reforming, Hydrodesulfurization, and Shift process
Shanghai, January 31, 2018 – Clariant, a world leader in specialty chemicals, today announced that its Catalysts business unit has formed a strategic alliance with Shanghai Huaxi Chemical Industry Science & Technology Co., Ltd. regarding hydrogen production projects in China. According to the agreement, Clariant's catalysts will be qualified and recommended for Shanghai Huaxi's medium temperature shift (MTS) process licenses. Clariant will provide a range of catalysts for Reforming, Hydrodesulfurization, and the Water Gas Shift process. The deal combines Shanghai Huaxi's advanced process technology with Clariant's state-of-the-art catalysts to provide a highly efficient and economical solution for hydrogen producers.
Shanghai Huaxi is a leading chemistry and technology enterprise with extensive experience in hydrogen production. The company's commercial references include approximately 100 sets of hydrogen plants using natural or refinery gas. Shanghai Huaxi's sophisticated hydrogen production technology increases production rate per unit of raw feedstock while decreasing overall energy consumption. Furthermore, the process reduces manufacturing and equipment costs by simplifying MTS inlet temperature control and waste heat boiler (WHB) design.
Clariant brings a long history in hydrogen production to the partnership, along with highly active catalysts and adsorbents designed to maximize productivity and efficiency. As per the agreement, Shanghai Huaxi will recommend Clariant's ReforMax® series catalysts for the Reforming process, and HDMax® series catalysts for the Hydrodesulfurization of the feed stream. For the Water Gas Shift process, Shanghai Huaxi will endorse Clariant's high-performance ShiftMax® 300 catalyst in all awarded projects.
ShiftMax 300 is a copper/zinc Medium Temperature Shift (MTS) catalyst with highly dispersed and extremely stable copper crystallites. The catalyst's unique design ensures high reaction rates at low temperatures such as 185°C, as well as excellent performance at low steam-to-carbon ratios. Thanks to its high copper content and optimized dispersion properties, ShiftMax 300 offers high sulfur resistance without affecting catalyst activity. The catalyst's robust domed structure and the special calcination procedure ensure outstanding thermal stability at elevated temperatures of up to 325°C, as well as a steady pressure drop. Together, these features make ShiftMax 300 ideally suited for water-gas shift reaction conditions.
Zhiyuan Ji, General Manager of Shanghai Huaxi Chemical Industry Science & Technology Co., Ltd., commented, "At Shanghai Huaxi, we are always looking for ways to further boost the benefits of our hydrogen production technologies. With Clariant, we have found the right partner to do so. Their catalysts perfectly complement and enhance our processes, so that we can offer even greater efficiency to hydrogen producers with more value."
Thomas Wenger, Head of BU Catalysts at Clariant in China, welcomed the agreement, stating, "Earlier in 2017, Shanghai Huaxi and Clariant agreed to collaborate in several new hydrogen projects. Now, we are very pleased to be intensifying our partnership with such an experienced industry leader. Our combined strengths in MTS hydrogen production, and equal commitment to service, will bring significant advantages to Chinese customers."
® TRADEMARK OF CLARIANT REGISTERED IN MANY COUNTRIES.