January 30, 2018
Clariant receives Henkel Best Innovation Contributor Beauty Care Award 2017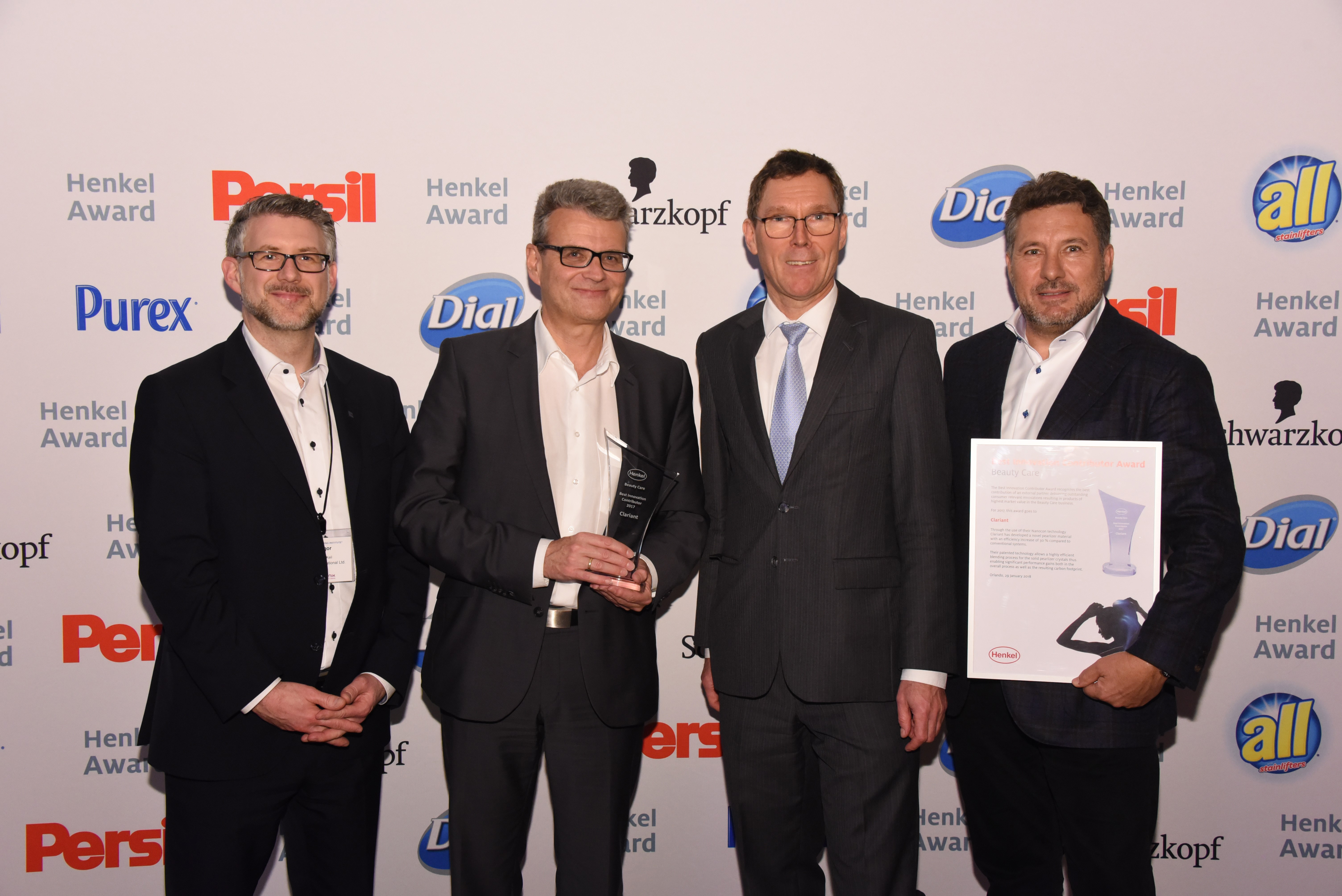 Perlogen® SF 3000 cold processable liquid pearlizer achieves significant efficiency increase for Henkel
Reduces overall carbon footprint in shampoo formulations
Award presented at Henkel Supplier Award Reception in USA at the ACI Annual Meeting & Industry Convention 2018
Muttenz, January 30, 2018 – Clariant, a world leader in specialty chemicals, is the proud recipient of the Henkel Best Innovation Contributor Beauty Care Award 2017. The Award, presented on January 29, 2018, recognizes the increase in efficiency and sustainability benefits achieved by Henkel in its production of pearlized shampoos since using Clariant's liquid pearlizer Perlogen SF 3000.
Perlogen SF 3000 is a cold-processable, liquid pearlizing concentrate for rinse-off products. It delivers an intensive silky shine to shampoos, similar to the color spectrum and light reflexes of natural pearls, at low dosage.
The production of the product utilizes a patented and highly efficient low-energy blending process that reduces the overall carbon footprint significantly.
Henkel uses Perlogen SF 3000 to achieve a high brilliance pearlescent shine for several of its brand shampoo ranges including Schwarzkopf®, Bonacure®, Schauma® and Gliss Kur®.
Commenting on the Award, Christian Vang, Head of Business Unit Industrial & Consumer Specialties, Clariant, said: "We are delighted that with Perlogen SF 3000 Henkel can take advantage of a highly innovative pearlizer. Our collaboration with Henkel leads to consumer products with a brilliant shine and a strong sustainability contribution."
Henkel presented the Award to Clariant representatives during its Supplier Award Reception held on January 29, 2018 as part of the 2018 American Cleaning Institute Annual Meeting & Industry Convention in Orlando, Florida, USA.
Perlogen® IS A TRADEMARK OF CLARIANT REGISTERED IN MANY COUNTRIES.
Schwarzkopf®, Bonacure®, Schauma® AND Gliss Kur® ARE REGISTERED TRADEMARKS OF HENKEL.