January 19, 2018
Clariant's Tangerang site wins Responsible Care Platinum Award in Indonesia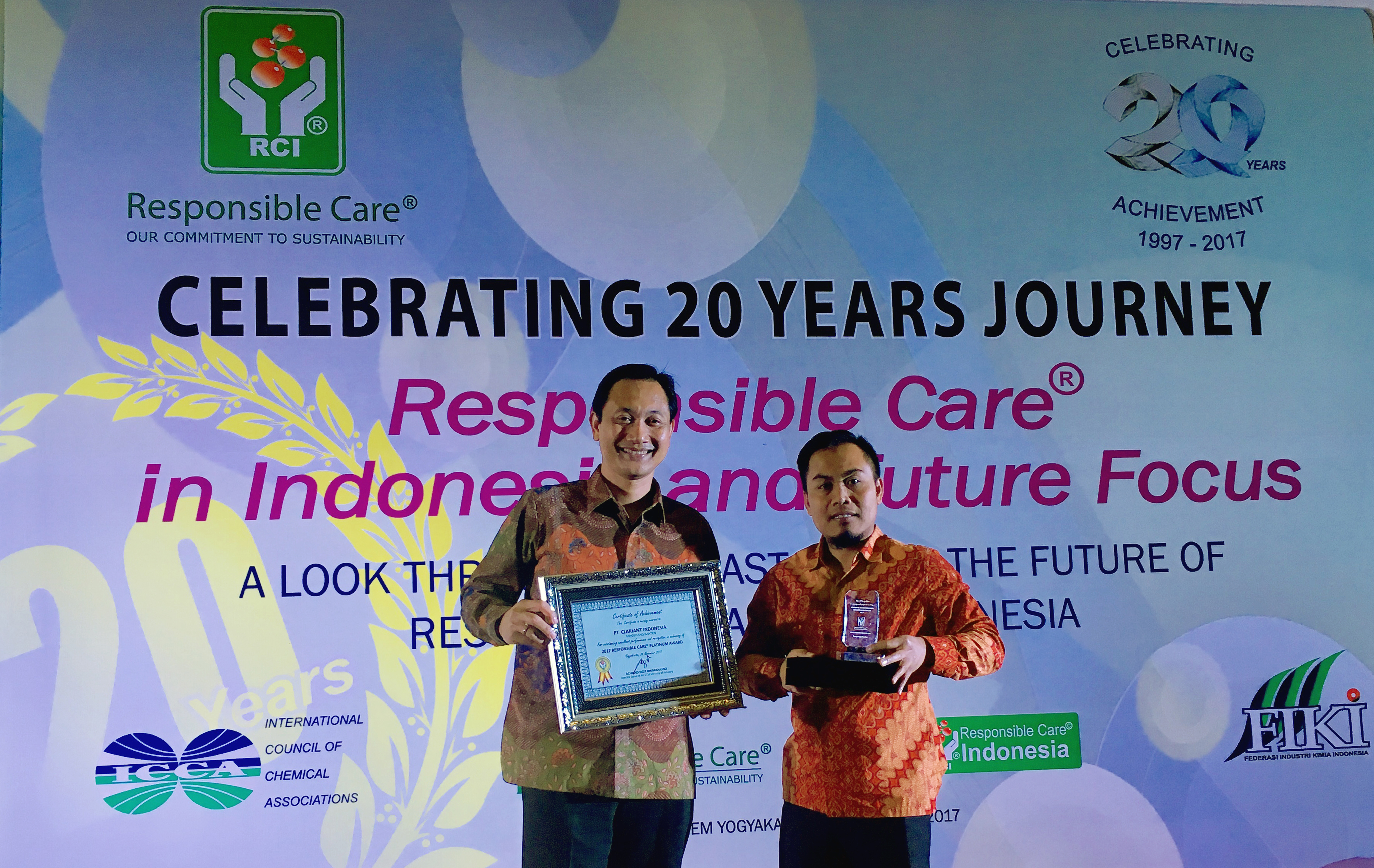 Clariant's manufacturing plant in Tangerang, Indonesia received highest recognition on sustainability with Responsible Care Platinum Award
The Tangerang site also received Special recognition for Best Chemical Transportation & Distribution Safety Award
The awards demonstrate again full commitment to Clariant's corporate strategy of adding value with sustainability
Singapore, January 19, 2018 – Clariant, a world-leader in specialty chemicals, has received the Responsible Care Platinum Award in Indonesia by beating some 50 other competing companies, to win the prestigious Award since it was last presented six years ago. The award presented to Clariant during the celebration of the 20th Anniversary of Responsible Care Indonesia has added to the already rich collection of sustainability performance recognition that the site has achieved, further demonstrating its full commitment to sustainability.
"The Responsible Care Platinum Award has always been considered the highest recognition on dedication to sustainability for any chemical manufacturing company operating in Indonesia. Everyone at our site is therefore particularly excited to learn about this new achievements," says Hans Herrel, Head of Clariant Indonesia. "We will look at this award as another important recognition on our efforts to maintain a high standard of safety, health, environment and sustainability at our site and we will continue our good work in future to make new breakthroughs."
To come out as a winner for the Platinum Award, Clariant's Tangerang site achieved an outstanding result in the audit with a score of 98 out of 100, which shows nearly full compliance with all the seven codes of RCI that include Process Safety, Distribution Safety, Pollution Prevention, Health and Safety, Security, Product Stewardship, Community Awareness and Emergency Respond. In addition, the site also holds a record of no Lost Time Injury (LTI) of over two consecutive years.
In addition to the Platinum Award, Clariant's Tangerang site also received the Special Recognition for Best Chemical Transportation & Distribution Safety Award. It was the first time the award was presented in Indonesia and Clariant was the only company received this award among all peers.
Since 2014, the Tangerang site received the Zero Accident Award from the Labor Ministry in Indonesia. Prior to that, it was awarded the Responsible Care Gold Award by the Ministry of Industry for their fulfillment of the six responsible care codes of practice in 2015.