Clariant Completes Work at ISO 13485 Plant in Maine, Increasing Capacity for MEVOPUR® Medical Products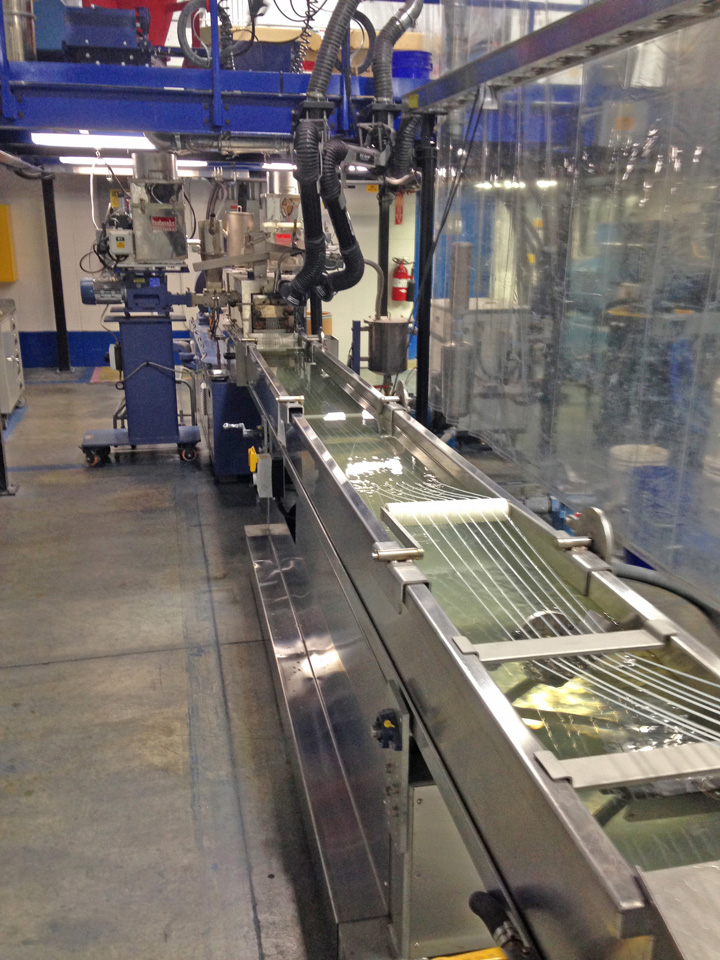 High-volume compounding line completes multi-year expansion
More lot-size flexibility for masterbatches and pre-colored resin
ISO-certified plant makes medical materials, including fluoropolymers
Muttenz, February 5, 2018 – Clariant, a world leader in specialty chemicals, announces the start-up of a high throughput twin-screw compounding extruder at its facility in Lewiston, ME, marking the end of this phase of a multimillion-dollar, multiyear expansion program.
The facility, which was expanded by 40%, now accommodates not only extrusion equipment, but also materials handling, weighing stations, a maintenance area and additional water-cooling capacity that enable the Lewiston plant to more rapidly produce larger batch sizes of MEVOPUR pre-colored medical plastic compounds (e.g.: 3000 to 6000kg /6000 to 12000lbs or larger). A smaller line, installed last year, is configured to meet the rigorous processing requirements of fluoropolymer resins such as, FEP, ETFE, and PVDF.

Experts from Clariant's Healthcare Polymer Solutions group will be on hand to discuss the unique capabilities of the plant during the MD&M West exhibition being held from Feb. 6-8 at the Anaheim Convention Center, Anaheim CA. Clariant is exhibiting in Booth 2049.
The Lewiston plant is one of three global sites designed and operated to produce materials used in medical devices and pharmaceutical packaging. The other two facilities are located in Malmö, Sweden, and Singapore. All are certified to EN:ISO13485 and can use the same validated raw-material ingredients and processes so that the same products can be produced at any of the sites. Raw materials are pre-tested to standards commonly required for device and drug filings, e.g.: USP <88> ('USP Class VI') and ISO10993, and, in a newly announced development, to the USP<661.1>, ICHQ3D and European Pharmacopeia monographs 3.1 covering drug packaging and delivery devices.
"Demand continues to grow worldwide for these specialized compounds and masterbatches, both of which Clariant markets for medical applications under its MEVOPUR brand," says Eric Rohr, who recently joined Clariant as North America Segment Manager, Medical & Pharmaceutical. "Fluoropolymers, for instance, are being used with increasing frequency in medical catheters and other applications such as diagnostics that can benefit from their flexibility, lubricity and chemical resistance. They can require special processing equipment and manufacturing techniques, however, and that's exactly what we have put in place in Lewiston."
Clariant will continue to operate several smaller lines – in Lewiston and Clariant's other MEVOPUR facilities – which produce masterbatches and pre-colored compounds in lot sizes ranging from 25 to 2500kg/50 to 5000 lbs. These small- and medium-sized lots are in high demand, especially in the medical market, since many resin producers have discontinued or severely curtailed their custom-color offerings in anything smaller than full-truck or railcar quantities. Clariant's MEVOPUR materials are offered for applications in medical devices and pharmaceutical packaging, where strict regulations on materials and change control apply. These "Controlled, Consistent and Compliant" masterbatch concentrates and pre-colored compounds help manufacturers in the medical and pharmaceutical sectors control and minimize risk, while responding quickly to changing regulations.
MEVOPUR® IS A TRADEMARK OF CLARIANT REGISTERED IN MANY COUNTRIES.