Clariant and Save the Children partner to stop the spread of malaria in Myanmar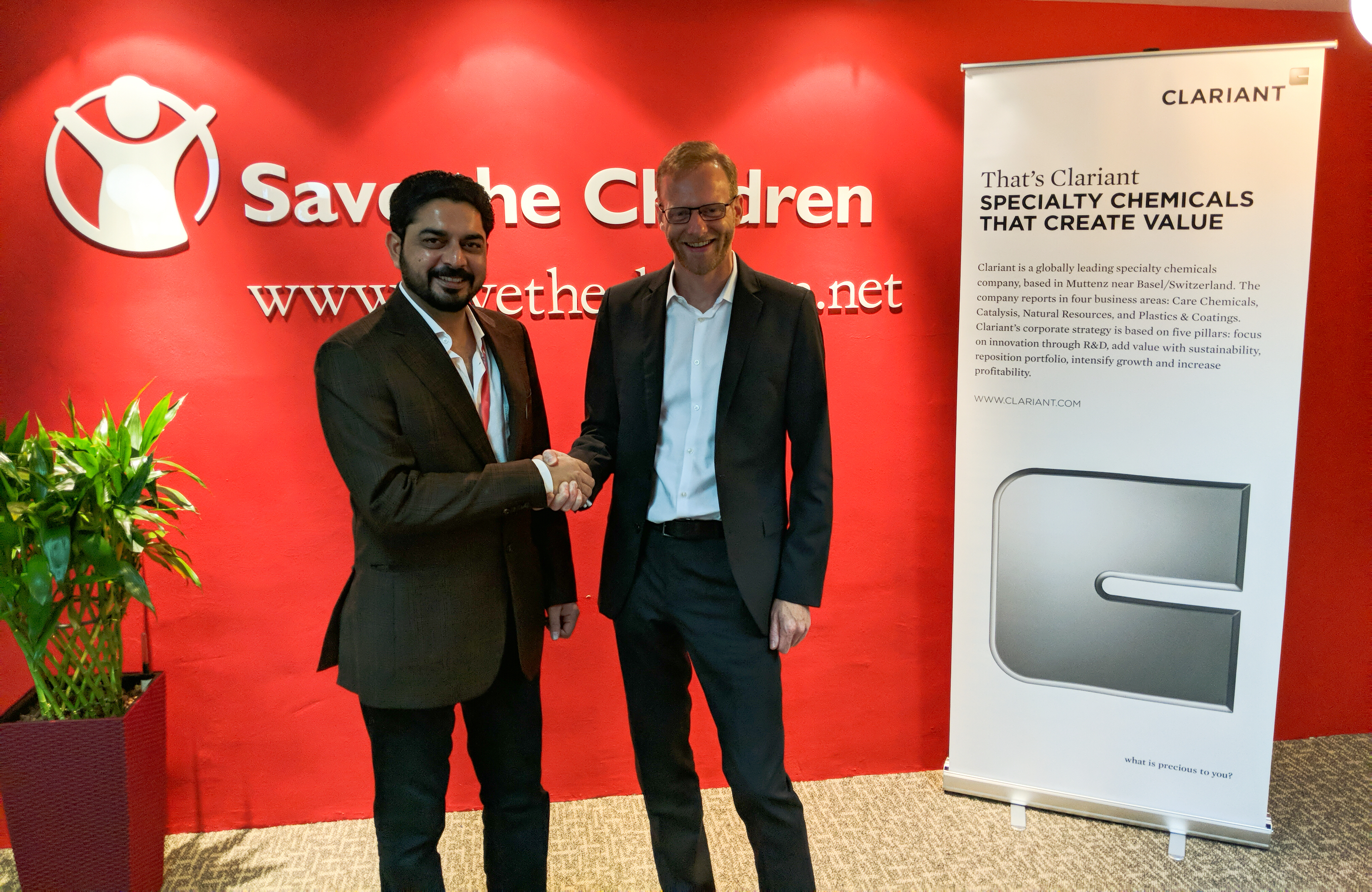 A CHF 150,000 commitment from the Clariant Foundation will allow Save the Children to ramp up its programming and communication about malaria prevention
The partnership - through to 2020 - will help more than 37,000 people
The joint project is in line with Myanmar's national malaria strategy
Singapore, August 27, 2018 – Clariant, a world-leader in specialty chemicals and Save the Children, one of the the world's largest independent children's rights organisations, today announced a partnership to help stem the spread of malaria in Myanmar. The Clariant Foundation has pledged CHF 150,000 for Malaria Prevention and Control and signed a memorandum of understanding (MOU) with Save the Children to form a working team to study, design and implement a range of health and education programmes in Myanmar.
"Caring about people in our community, and creating value with innovative solutions and sustainable technology are central to the brand value of Clariant, " said Dieter Seng, Head of Clariant's South East Asia & Pacifc Region. "This partnership with 'Save the Children' will enable us to live our values by contributing to a healthier life for people in the region."
This partnership, in place till the end of 2020, will support Save the Children's continued implementation of community-based malaria prevention, control and elimination projects in two Myanmarese townships: Ngape (Magway Region) and Hlaing Bwe (Kayin State).
"Save the Children has partnered with the Government of the Union of Myanmar for 22 years in the development and application of a wide and impressive range of initiatives for the benefit of the country's children. We are very happy to partner with Save the Children in their quest to control and prevent the spread of malaria among this vulnerable population," said Chris Hansen, Head of Clariant Business Unit Masterbatches, Asia Pacific.
Through the partnership, Clariant and Save the Children are targeting four concrete outcomes: (1) The development of an evidence-based malaria social and behavior change strategy in collaboration with key local, state and regional stakeholders; (2) the strengthening of township, rural and sub-rural health systems to provide malaria prevention, control and elimination among targeted populations; (3) the development of social and behavior change communication materials; and (4) the promotion of positive behaviors through formal and informal community structures.
"As we strive to end preventable deaths caused by malaria in Myanmar, we are grateful to Clariant for their vision and commitment to partner with us on this journey. Through their generous contribution we aim to save the lives of children and their families. By leveraging on our existing work in Myanmar, we can achieve an even bigger and longer lasting impact with Clariant's help," said Hassan Noor Saadi, Asia Regional Director of Save the Children.
Clariant's support will make it possible for Save the Children to further develop and disseminate social behavior change communication - specifically in Ngape and Hlaing Bwe - lending its expertise to complement and reinforce the organization's existing activities in those areas. Similarly, Clariant's support will help to educate the health staff in the targeted townships, so they can further encourage their patients and community members to adopt positive behaviors that will help to prevent the contraction and spread of malaria.
"As the saying goes, 'an ounce of prevention is worth a pound of cure.' We are focused on helping Save the Children stop the spread of malaria in Myanmar before it starts," said Francis Baud, Head of Global Marketing, Clariant Business Unit Masterbatches, Segment Fibers.
In parallel with this effort, Clariant is also exploring ways to deploy technical expertise and solutions across Asia. In particular, Clariant is finalizing plans to donate Long Lasting Insecticidal Nets (LLINs) manufactured using Clariant Masterbatches products to the fight against malaria and other mosquito-borne illnesses and to aid in disaster relief efforts.