October 25, 2018
Clariant highlights industrial 3D printing materials at formnext 2018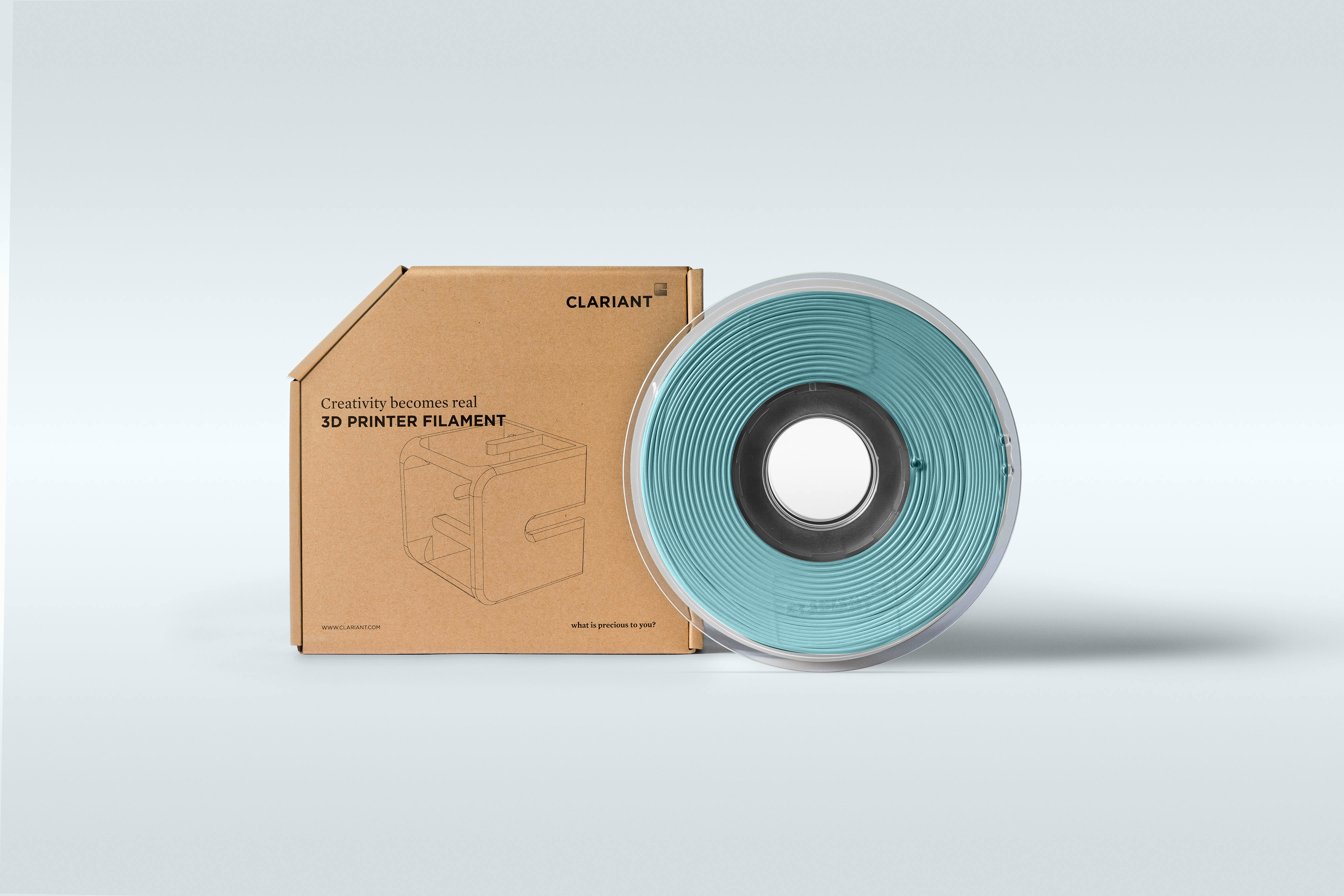 3D printing materials and custom solutions at booth 3.1-H40 at formnext 2018 at the Messe Frankfurt
Spotlight on Clariant's industrial range of 3D printing materials with additives like flame retardants, glass fibers and light stabilizers
Unique color capabilities to be on display with 3D printer filaments presented in a new Clariant ColorWorks® ColorForward® greenish-blue trend color
Muttenz, October 25, 2018 – Clariant, a world leader in specialty chemicals, will present its effective 3D printing materials and solutions for intelligent industrial manufacturing at formnext 2018.
At Booth 3.1-H40, Clariant's vast polymer processing knowledge and products such as additives, masterbatches and pigments, come together with the expertise of its dedicated 3D printing team to support product innovators and manufacturers in embracing 3D printing for real world applications.
Clariant's featured materials and solutions at formnext 2018 will include:
Polyamides for small lot production of parts used in applications such as transportation and electrical and electronics. Using flame retardants, glass fibers, and light stabilizers, Clariant's glass fiber filled flame retardant polyamide 6 3D printer filaments using Exolit® meet industrial requirements that include UL 94 V-0 levels.
High impact strength materials that provide electrostatic discharge protection for manufacturing aids. PET-G, PC+ABS and polycarbonate based 3D printer filaments combined with conductive additives provide OEMs with the ability to 3D print jigs and fixtures that are customized, durable, capable and will not harm their manufactured parts due to electrostatic shock.
Customer-tailored colorant and additive guidance. To highlight the possibilites for 3D printing to meet upcoming color trends, Clariant looks ahead to 2019. 3D printer filaments in a variety of polymers will be color matched to Clariant ColorWorks ColorForward 2019 greenish-blue trend color 'ἀταραξία von has fidanken' based on a Greek word for calmness or composure) and will have appropriately selected additives to ensure performance.
"OEMs require that 3D printing materials perform at the same level as their injection molded counterparts. This was the significant factor in achieving the acceptance to allow product production with our materials and will continue to be. From the inception of our 3D printing business, Clariant has focused on providing superior 3D printing materials that achieve the customer's requirements for their specific application. We work closely with them to tailor solutions to meet their needs," comments Joanna Marguier, Senior Manager of R&D for Clariant's 3D printing business.
Joanna Marguier will outline Clariant's successes with flame retardants via a technical presentation on November 15, 2018 at formnext.
Come and meet the Clariant team at formnext 2018 and experience 'ἀταραξία von has fidanken' color at booth 3.1-H40, Hall 3.1 at the Messe Frankfurt on November 13-16, 2018.
For more information visit www.clariant.com/3D. 
® TRADEMARK OF CLARIANT REGISTERED IN MANY COUNTRIES.