December 07, 2018
Clariant promoted multifunctional additives that enhance the performance and quality profile of the paint formulation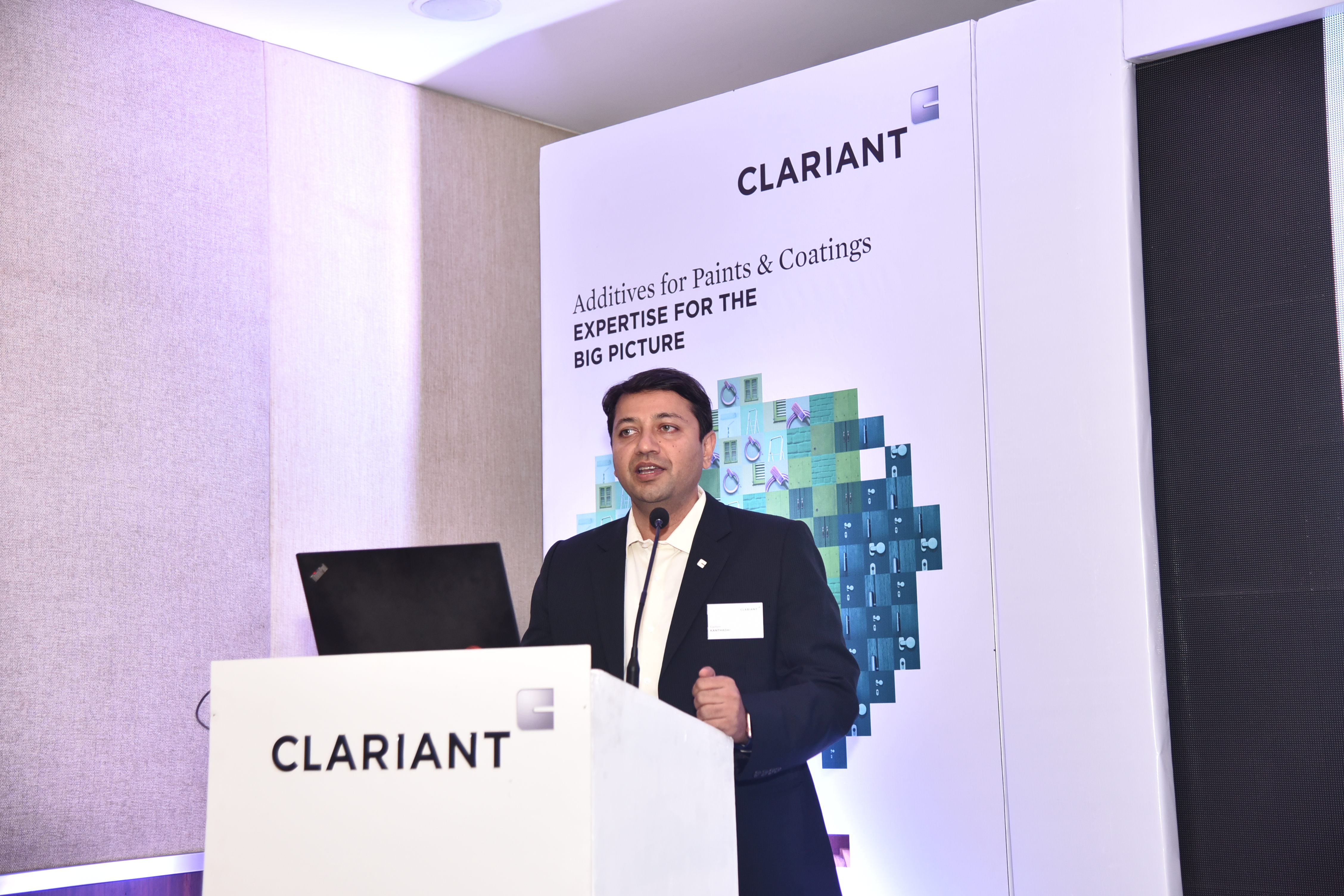 Showcased paint additives such as wetting and dispersing agents, stabilizers and neutralizers
Emulsogen® LCN 118 by Clariant is APEO-free and low VOC, acts as an emulsifier, compatibilizer, wetting agent and dispersing agent
Innovative formulation expertiseto support the growing demand for environmentally friendlier solutions for the Indian paints & coatings market
Mumbai, December 7, 2018 – Clariant, a world leader in specialty chemicals, highlighted its innovative portfolio that focuses on solutions for water-based architectural coatings and enables the manufacture of paints to comply with ecolabel criteria at a customer symposium held in Ahmedabad, Gujarat on November 30, 2018.
Under the theme: 'Additives for Paints & Coatings, Expertise For The Big Picture', Clariant invited customers to showcase solutions that are simplified, yet enhance sustainability aspects that meet the market needs and conform to the latest regulatory requirements.
As the domestic market continues to grow, Clariant offers tailor-made products and optimized solutions to satisfy the specific needs of the local market. Key products and solutions featured at the customer symposium were:
Emulsogen LCN 118 that can be used as compatibilizer to improve tinting strength and to reduce rub-out, water absorption and haze effects. It is low VOC, free of alkylphenol ethoxylates (APEO), readily biodegradable, easy to handle (liquid material; soluble in water) and FDA approved.
Nipacide® providing excellent preservation adjusted to the Paints and coatings industry's needs, with in-can and dry-film preservation for water and solvent based paints.
Genamin® NT 018, a cost-effective pH neutralizing agent for low odor, waterborne paints. It is a suitable replacement for ammonia and other neutralizing agents such as aminomethyl propanol (AMP). Genamin NT 018 meets all performance parameters in terms of pH stability, low odor, freeze thaw stability, controlled color properties, controlled gloss and opacity, stable viscosity and scrub resistance.
At Clariant we are constantly developing new ways in which we can improve our solutions to ensure that we anticipate our customer's requirements. We provide our customers with various services including: Local Production, Technical service, Microbiology testing, Hygiene Audit and Regulatory support.
Gautam Kanthadai, Head-Sales and Application Development, Industrial and Consumer Specialties - India, said, "Gujarat is a strategic market for Clariant's Paints & Coatings business which is part of BU Industrial and Consumer Specialties. Our innovative and sustainable solutions like Emulsogen and Genamin offer best-in-class performance. Our solutions help meet our customers needs to fill in specific gaps for efficiency in production process and reduce the formulation complexity."
® TRADEMARK OF CLARIANT REGISTERED IN MANY COUNTRIES.