Clariant offers better product access for oil production customers through new supply base in Indonesia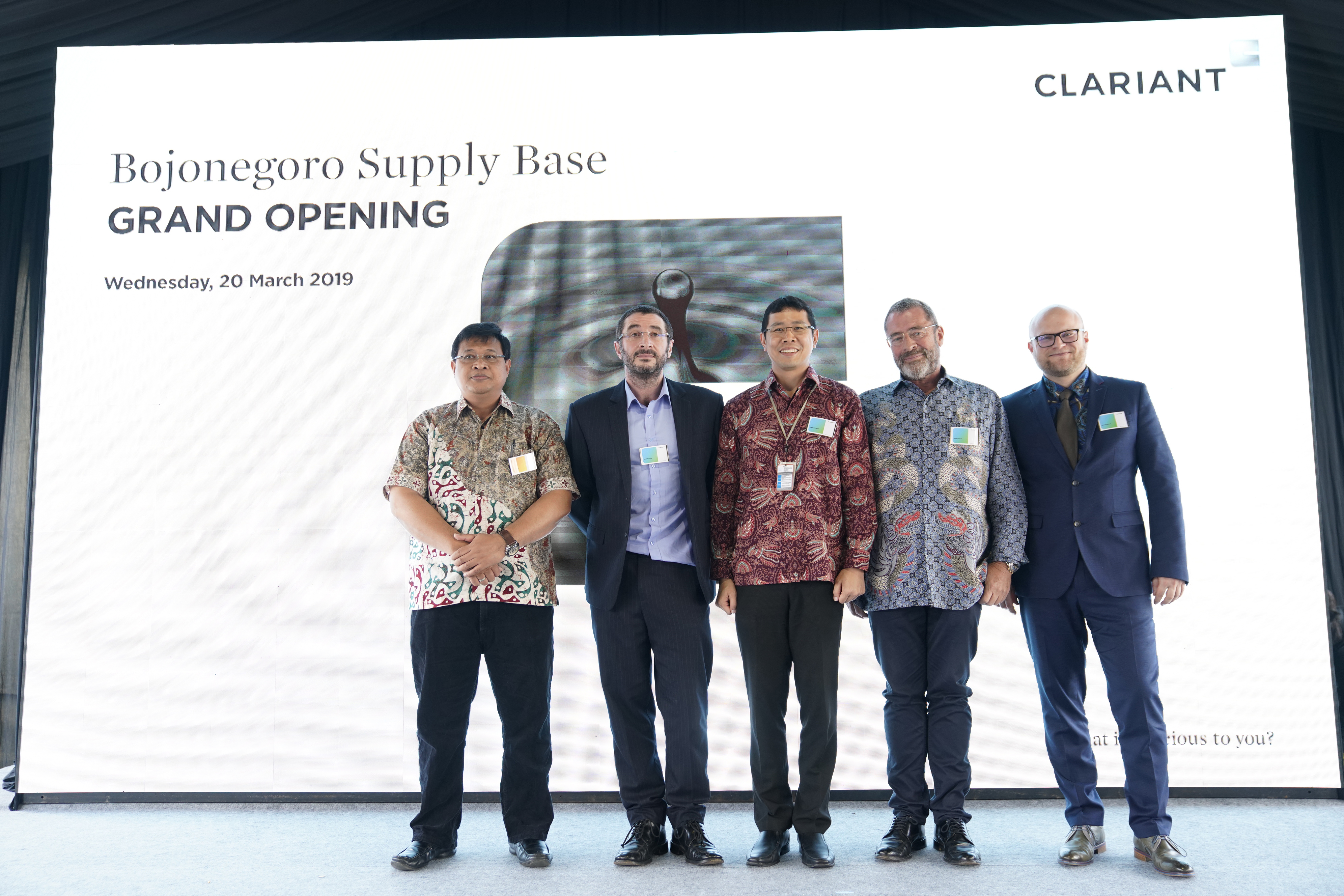 Dedicated new supply base enhances accessibility of products and services for regional oil production customers
Over 1,000 tons storage capacity offers significant operational efficiency at increased service levels for customers
Workers, local community and customers benefit from higher levels of safety, sustainability and optimized supply chain performance
Singapore, March 20, 2019 – Clariant, a focused and innovative specialty chemical company, today announced the opening of a new supply base at Bojonegoro in East Java. This new storage facility in Indonesia provides Clariant's Oil Services customers in the region with an improved, more sustainable supply chain for its Pour Point Depressants (PPD) and Drag Reducing Agent (DRA) products, in line with the specific requirements of the oil industry. The opening ceremony, held at the new base, was attended by government officials and Clariant customers in the region.
By establishing a new supply base in Bojonegoro, close to major customers, Clariant has further demonstrated its strong customer focused commitment to optimizing its supply chain offering, ensuring it meets market needs. The new base will initially be used for storage of WAXTREAT Pour Point Depressants among others, primarily for Clariant customers with sites located nearby.
"The opening of this new local supply base facility and supply chain service clearly shows that the Clariant team is highly responsive to market needs and is able to offer customized, integrated solutions for our valued customers in the Indonesian oil industry, based on their specific requirements and setup," said Hans Herrel, Clariant's Head of Indonesia, who went on to say "The investments made in the new facility in Indonesia are in line with our ongoing commitment to maintaining the highest standards of sustainability, regulatory compliance, health and safety."
Clariant enjoys an excellent reputation of creating and maintaining workplace safety and contributing to sustainability across its sites in Indonesia. Among the many recognitions received over the years, Clariant Indonesia was presented with the Platinum Responsible Care Award in 2017, in recognition of the companies' outstanding environmental and social contributions in a number of areas from safety and pollution prevention to raising local community awareness about the need for greater sustainability.
A specially appointed chemicals management team in Clariant has been committed to this project for nearly two years, tasked with delivering a world-class chemicals program to ensure a high degree of customer satisfaction. Alongside the newly-established supply base in Indonesia, providing improved local supply chain service, oil production customers in the region also benefit from access to Clariant's R&D expertise from its laboratories based in Frankfurt, Houston and Malaysia and from our global manufacturing capabilities.
"The design and engineering of our Bojonegoro supply base meets stringent Quality Control process and relevant laboratory screening tests. It features Clariant's timely innovation and customer-centric solutions, which are provided by our expert local team, who all have the prerequisite training, experience and safety requirements for field operation," says Bernie Kelly, Head of Clariant's Business Unit Oil and Mining Services, Asia Pacific. "Having set up this new base, we have proved our ability to deliver a large-scale project flawlessly and in a professional manner for the oil industry in our region."
Clariant team's outstanding health and safety performance in the region is clearly demonstrated by the impressive record of 19,328 man-hours of zero TRIF (Total Recordable Injury Frequency) and chemical spills, covering both the Clariant Bojonegoro base and customer field operations.