Clariant contributes to bright future of e-mobility with additive solutions and insights shared at seminar during ChinaPlas 2019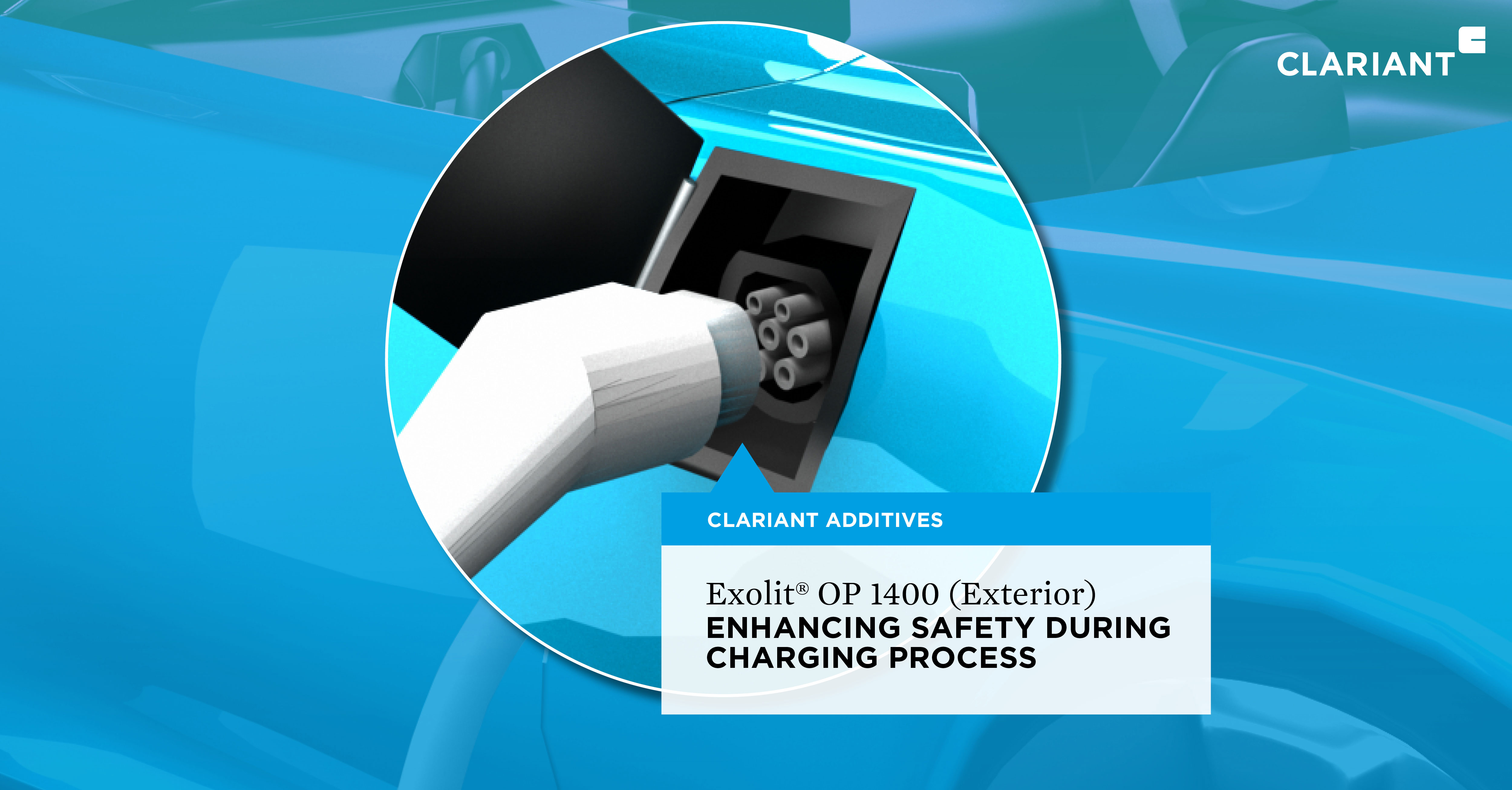 High performing additive solutions and insights on e-mobility shared during seminar
Exolit® OP flame retardants, AddWorks® solutions and bio-based Licocare® RBW waxes among featured products
Shanghai, May 23, 2019 – Clariant, a focused and innovative specialty chemical company, today hosted a seminar outlining its additive solutions and insights for e-mobility market reshaping the automotive sector in China. Held at the ChinaPlas exhibition in Pazhou, Guangzhou, China, the seminar focused on Clariant's e-mobility solutions under the theme "Moving Towards a Smart, Sustainable Future" which generated strong interest and interaction from attendees.
According to reports from the National Develpoment and Reform Commission (NDRC), China is now actively encouraging the development of a more sustainable automotive industry, and as the world's largest potential market for electric vehicles, the country is seeking innovative solutions to meet increasing demand.
Some of the insights shared and topics discussed during the seminar, included compliance to new standards under the green economy; industry advancements for fulfilling fire safety requirements for electric cars; performance of automotive polymer compounds; efficiency improvements and cost savings through lighter materials; and greater design freedom.
In addition to presentations, expert guests were invited to share their perspectives in an interactive panel discussion with seminar attendees.
Clariant's additive solutions for the e-mobility include:
Exolit OP flame retardants to ensure fire safety in electric vehicles (EV)
The usage of more electrically powered parts and high voltage connections in e-vehicles has resulted in more stringent electrical and fire safety requirements. Clariant's Exolit flame retardants show outstanding flame retardant performance in various EV applications without sacrificing the electrical performance of materials. Exolit OP 1400, for instance, exhibits excellent physical and electrical properties even for applications in hot and humid environments and possesses a favorable environmental and health profile. It carries the Clariant EcoTain® label.

AddWorks solutions for polymer stabilization in e-mobility applications
The e-mobility trend also drives a growing need for lighter, stronger, more durable and multi-functional materials. Clariant's Performance Additives answer the call with the newly developed range of polymer stabilizers dedicated to automotive plastic applications. The new series, including AddWorks LXR 568, AddWorks ATR 146 and AddWorks LXR 920, offers benefits such as high heat and light stabilization, low-to-zero odor, low-to-zero blooming, high surface appearance and flame retardancy for thin polyolefin articles.

Clariant's waxes achieve higher polymer conversion efficiency in automotive parts
New lighter plastic materials that offer higher freedom of design are increasingly being adopted as parts for new vehicle models. To help OEMs achieve cost optimization, Clariant's Advanced Surface Solutions offer the high-performing range of bio-based lubricants under its Licocare brand. With Licocare RBW solutions, tier suppliers can achieve desirable features such as better melt flow, higher shaping flexibility and easy mold release for flawless surfaces in all types of engineering plastics used in electronic components, under the hood or body parts. Another highlight is Licomont® CaV 102 which provides excellent nucleating and lubricating effects in injection molded polyamides, allowing for cycle time reduction of up to 25% in injection molding applications.
"As an established global specialty chemical company with long-term commitment to the automotive industry, we are fully dedicated to helping our customers make the e-transition by offering our full lineup of additive solutions. The seminar today provided a good opportunity for us to exchange our insights and ideas, as well as to get to know our customers' needs in greater detail," said Darren Soo, Clariant's Head of Sales Asia, BU Additives. "Our customers' feedback has reinforced our dedication to helping advance the e-mobility trend with innovative solutions and specialized customer services."
® TRADEMARK OF CLARIANT REGISTERED IN MANY COUNTRIES.