October 15, 2019
Clariant partners with ExxonMobil and Plastivaloire to expand palette of colors for auto interiors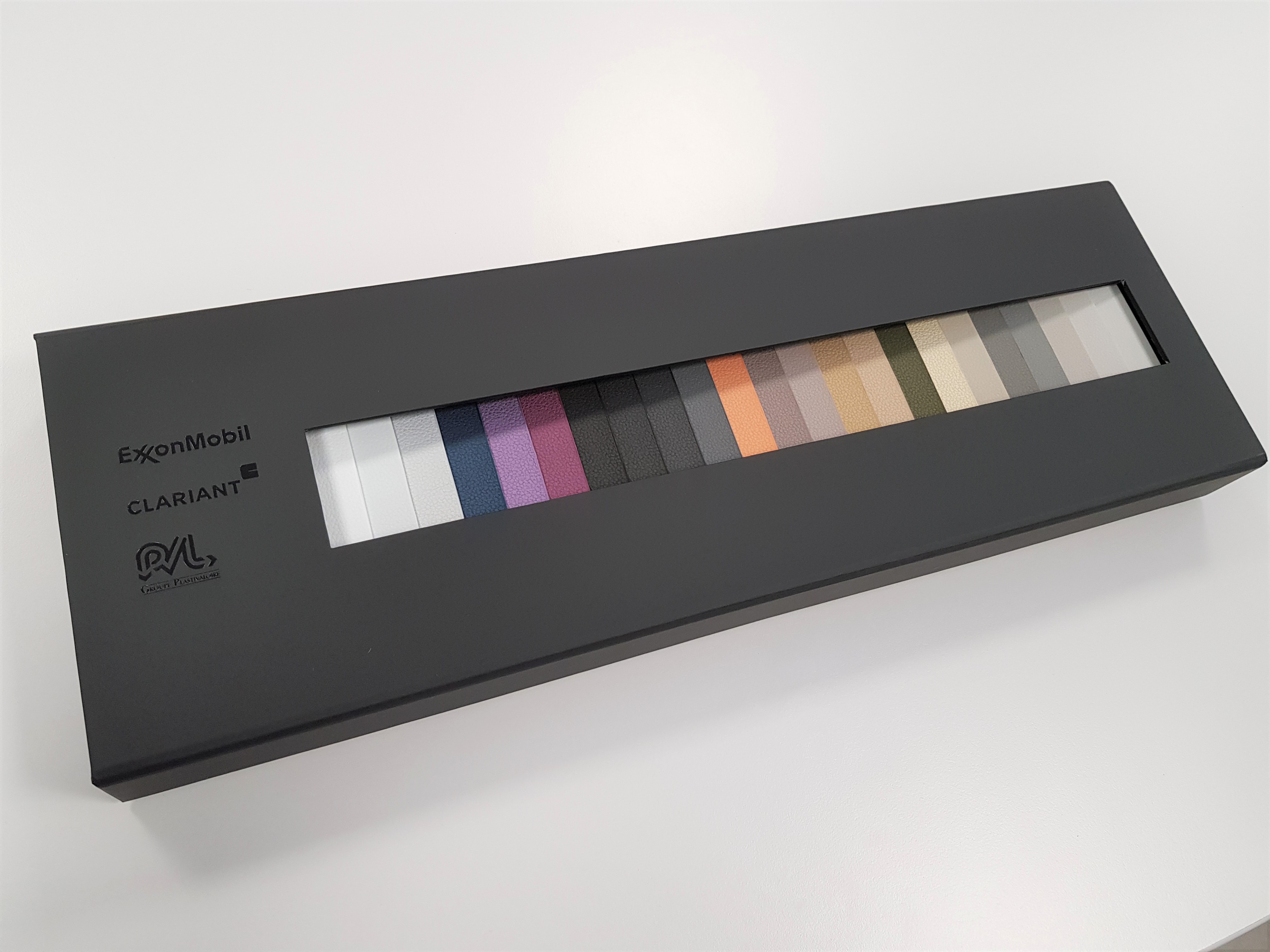 New colors, new materials create new design opportunities
Project seeks to create more vibrant, colorful interiors
Performance and sustainability benefits retained
Muttenz, October 15, 2019 – Collaboration between Clariant Masterbatches, polymer producer ExxonMobil, and Plastivaloire Group, a specialist in automobile interior design, has produced a huge new family of colors that can be expected to change the look of car interiors dramatically in the next few years. The colors are being introduced during a special technical presentation on the ExxonMobil stand (Hall 10 / 10.1 ) at K 2019, the international plastics trade fair being held October 16 – 23 at Messe Dusseldorf in Germany. Presentations are scheduled for October 16, 17 and 22, at noon, 15:00 and noon, respectively.
Xavier Clément, Regional Sales and Project Manager – Automotive at Clariant, says the idea for the collaboration came during an automotive fair where he met Valérie Martin Maillet, a color expert for performance polyolefins (PP compounds) at ExxonMobil and Aurélie Nangniot, a designer from Plastivaloire. "We each recognized that vehicle design would be changing fundamentally in the coming years," says Clément. "Especially given the trend toward shared cars or self-driving vehicles, drivers and passengers will want to decorate the interior of their car the same way they decorate their living rooms. We realized that, alone, we could not provide a real solution but, if we collaborate, we would be able to better serve car manufacturers and automotive designers."
ExxonMobil was already working on a new family of performance polyolefins. With 8% lower density than previous-generation materials, its Exxtral™ performance polyolefins are lightweight, an important factor in reducing CO2 emissions. They also provide better impact strength and flow characteristics so they can be molded in thinner section, and they are non-tacky as well as scratch and UV resistant. To be successful in the market, however, they also need to be easy to color for outstanding aesthetics. That's when the other partners stepped in.
At Plastivaloire, Aurélie Nangniot, was creating a new, exciting spectrum of accent colors that would work in harmony in automotive interiors. She and the experts at Clariant developed a warm color palette based on natural materials like leather, copper, cork or wood, and a cool spectrum was inspired by fashion and interior design. Warm colors provide a human touch in response to the trend toward higher comfort standards in car interiors, while cool colors reflect the higher technology of multiple screens and connected devices that will characterize the autonomous cars of the future.
A total of 23 different hues were eventually selected and molded samples were assembled in a presentation box for easy evaluation.
Masterbatches Make Coloring Easy
After discussing the colors and textures with the other collaborators, the color experts at Clariant Masterbatches formulated the color concentrates that would make it easy to turn the ExxonMobil materials into the dazzling hues that would capture the imagination of future drivers and passengers. The formulations have to be carefully crafted to ensure the perfect development of the desired color in the polymer without adversely affecting the performance or aesthetic properties of the material.
"The masterbatches allow unlimited creativity for automotive designers and improve the perceived quality of plastic parts in their vehicle interiors" says Clément.
The special presentations on the ExxonMobil stand are free to attend and open to any visitor at the K fair. Sample color boxes with be available for closer examination there or throughout the show at the Clariant booth, (Hall 8a / J11).
Discover more on how Clariant is supporting a circular economy for plastics through sustainable innovations and collaborations. Meet Clariant leaders and partners at our "Symphony of Collaboration" themed K 2019 media event on October 17, 8:15am media breakfast followed by 9am press conference, hall 8a / J11. Register on www.clariant.com/K2019 or by emailing Stefanie Nehlsen at stefanie.nehlsen@clariant.com.
Exxtral™ IS A TRADEMARK OF EXXONMOBIL