Clariant Reinforces Commitment to Louisville Workforce at Jefferson Community Ribbon-Cutting ceremony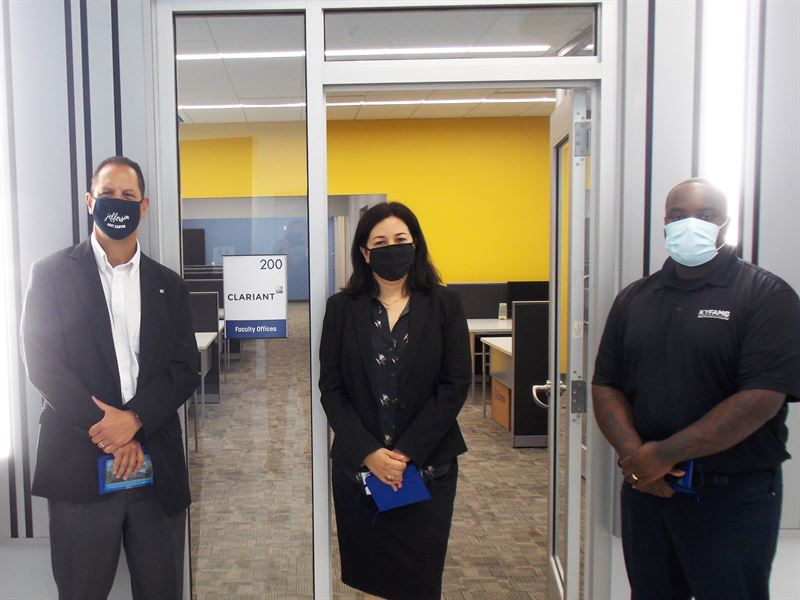 Clariant participates in dedication ceremony for new building at Jefferson Community and Technical College

Corporate donation continues investment in local workforce

New state-of-the-art facility provides educational platform for necessary skills training in manufacturing
Charlotte, NC, August 5, 2020 – Clariant, a focused, sustainable and innovative specialty chemical company, celebrated the opening of the new Advanced Manufacturing and Information Technology (AMIT) Center with local dignitaries and representatives from Jefferson Community and Technical College and other manufacturing companies; the center is located on the Jefferson Community campus in Louisville, Kentucky. The ribbon cutting celebration was a milestone in the longtime commitment to train and develop manufacturing talent in the community.
Clariant's initial $50,000 donation to the AMIT Project in January 2020 was doubled as part of a matching educational grant program of the James Graham Brown Foundation, which contributed three million dollars to the project. The building project, being funded in part by the Jefferson Foundation, supports the Greater Louisville chapter of the Kentucky Federation for Advanced Manufacturing Education (KY FAME) in developing world-class manufacturing talent.  As a project sponsor, a plaque with the Clariant brand will be placed outside of the faculty offices in the AMIT Center.
"Clariant has been a dedicated, supporting sponsor of the KY FAME program since 2014," said Gene Mueller, Clariant's President of North America. "We are pleased to join other local manufacturing companies today in reinforcing our commitment to youth education, life skills and apprenticeship positions that will make a positive impact on the community, our industries and most of all, the lives of the participants. The AMIT building and today's ribbon cutting is a significant milestone in doing just that."
Qualifying candidates in the statewide KY FAME program learn on-the-job while attending classes at Jefferson. At the end of the program, apprentices will earn an associate degree in Advanced Manufacturing Technology with little or no student debt. The goal is for the apprentice, once graduated, to become a valuable Clariant team member when an open position is available.
The program has been so successful, it surpassed Kentucky borders and was adopted by the National Association of Manufacturers in 2019.
The apprentices work three days a week (24 hours) and attend classes at Jefferson two days a week where they master skills such as robotics, fluid power, mechanics, fabrication and industrial troubleshooting. Classes also stress professional behaviors, including the importance of work attendance, initiative, diligence and teamwork. An assigned mentor assists the apprenctice in gaining job confidence and reports to an apprentice training supervisor.
 "Clariant offering employment both during the apprenctice program and upon completion is a win-win – both for the apprentice who learns life skills and for Clariant, which gains a well-trained employee," commented Chandra Ratnasamy, Clariant's Head of Operations Americas and Louisville Site Manager. "Currently, we have seven apprentices who have graduated through the program, three graduating this year and two first-year students. Two have elected to continue their education in business administration and in Chemical Engineering. We couldn't be more proud of our apprentice Darick Murphy who gave one of the speeches during the ceremony. Knowing we have contributed to the positive growth of these young individuals builds a great sense of pride for all of ushere at the Louisville site."
About Clariant's Louisville plant
Clariant's Louisville plant produces catalysts, which drive critical manufacturing processes in the chemical industry.  Among other benefits, Clariant's innovative catalysts and adsorbents deliver significant and sustainable customer value by driving higher production throughput, lowering energy consumption, and reducing hazardous emissions from industrial processes and combustion engines. Our catalysts and technologies also enable the use of alternative feedstock, such as natural gas, coal, and biomass as raw materials for chemical and fuel production.
Clariant Corporation has been in Louisville since the 1950s and has gone through several company names through the decades.  Clariant purchased the facilities from Süd Chemie in 2011. The Louisville location currently has 387 full time employees in the following areas:  Production, Maintenance, Logistics, Customer Service, Research and Development, Quality Assurance/Control, and other Customer and Production Support areas.