May 06, 2021
Pick any shade you like! New Hostatint™ AU broadens architectural color palette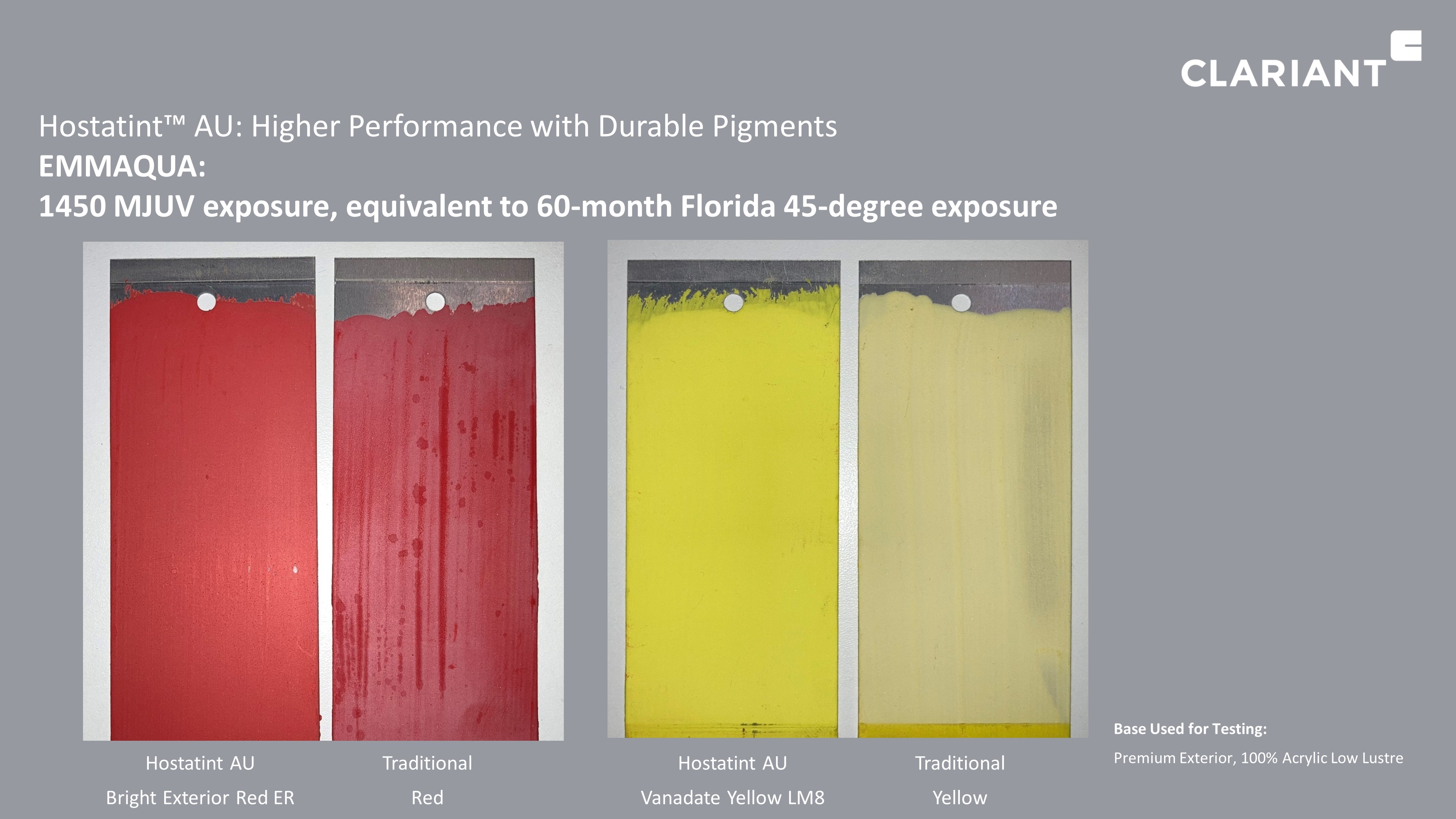 Color knows no bounds – customers can now choose anything, from traditional tints to truly customizable shades with no batch inconsistency
Universal, high-performance low-VOC aqueous pigment dispersions engineered for increased opacity, high durability, and fade resistance
Colorants readily dispensed at any time without risk of microbial growth, settling, clogging, or rapid drying
Charlotte, May 6, 2021 – Launched today, Clariant's complete range of Hostatint AU aqueous pigment dispersions expands the color choice for exterior and interior architectural coatings. Giving North American and Latin American manufacturers the ability to offer the most expansive color palette possible.
Created to meet industry color standards for point-of-sale and in-plant tinting systems, new low-VOC, APEO-free Hostatint AU vibrant colorants offer paint and coatings manufacturers of all sizes an economical way to broaden the color space and can be easily calibrated to any tint base or color portfolio. They provide flexibility to produce traditional and unique shades with excellent light and weather fastness, while avoiding common batch matching issues for customized tones.
"Hostatint AU pigment dispersions remove the limitations for creating the perfect color palette for architectural coatings. Whether tastes follow the current trends for white or neutral shades or customers want to make a unique bold splash for accents like walls, doors or decking, coatings manufacturers can be confident in these colorants in either automatic or manual dispensing systems," comments Zachary Hays, Global Segment Manager, Coatings, Clariant.
Clariant's new pigment dispersions are engineered with increased opacity, high durability and fade resistance to ensure the highest quality and performance depending on the need of the application.
The specific and controlled rheology and superior dry-out properties of Hostatint AU also allow colorants to be readily dispensed at any time without risk of microbial growth, settling, clogging, or rapid drying. This further supports efficiency and economical advantages in any tinting system.
For more information visit www.clariant.com/hostatintau. 
™ TRADEMARK OF CLARIANT