Clariant and Swiss Chemical Society honor young scientists with the Swiss CleanTech Award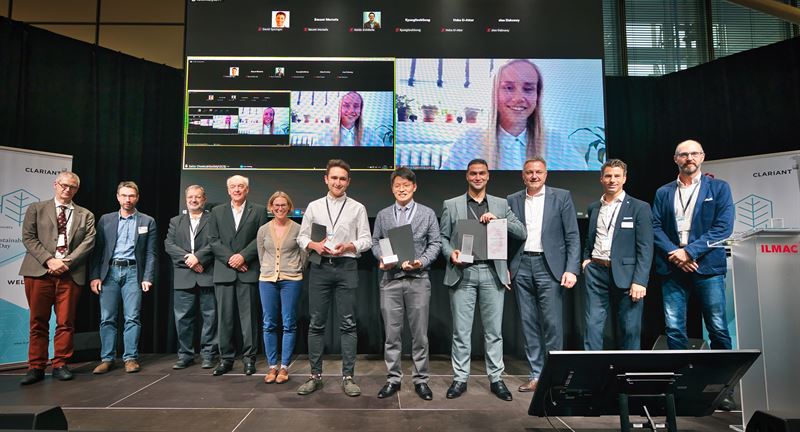 Four finalists share the prize endowed with a total of CHF 10,000

Awarded for outstanding scientific achievements in sustainable chemistry

Clariant fosters knowledge and technology transfer between industry and academia
Muttenz, October 21, 2021 – Clariant, a focused, sustainable and innovative specialty chemicals company, together with the Swiss Chemical Society, have honored four young scientists for their outstanding research work with the Swiss CleanTech Award 2021. The prize, endowed with a total of CHF 10,000, was awarded during the 2nd Swiss Green & Sustainable Chemistry Day at the ILMAC trade fair in Basel.
The first place went to Selina Kaiser, a former ETH Zurich student and now a postdoc at Havard University, for her work on catalysts for the sustainable production of vinyl chloride. Scott Docherty, ETH Zurich, was awarded with the second place for his research on catalysts for the hydrogenation of CO2 to methanol. Furthermore, Ahmed Elabd, University of Fribourg, and Wooseok Yang, University of Zurich, were honored for their achievements in the fields of stabilization of high density batteries and on energy storage, respectively.
"As a Swiss-based chemical company, Clariant is particularly committed to strengthening the knowledge base for clean and sustainable chemistry in Switzerland by supporting basic research and promoting knowledge and technology transfer between industry and academia," said Martin Vollmer, Chief Technology Officer at Clariant. "For the Swiss CleanTech Award 2021, we received many applications of outstanding quality. It was very inspiring to listen to the presentations given by the four selected finalists. The jury faced a challenging job in designating this year's winner!"
The Swiss CleanTech Award is presented every second year since 2012. The award program honors outstanding scientific achievements of Master students, PhD students, and Postdocs in Switzerland in the field of clean technologies and sustainable chemistry, covering topics such as resource efficiency, renewable energy, renewable raw materials or green technologies and environmental protection.
This year's 7-member jury consisted of Prof. Dr. Olivier Baudoin (University of Basel), Prof. Dr. Paul Dyson (Swiss Federal Institute of Technology Lausanne/EPFL), Dr. Maud Reiter (Firmenich SA), Dr. Alain De Mesmaeker (president of the Swiss Chemical Society), as well as Dr. Martin Vollmer, Prof. Dr. Richard Fischer and Dr. Thomas Volkmer from Clariant.