June 07, 2022
Clariant empowers personal care industry to make natural ingredient choices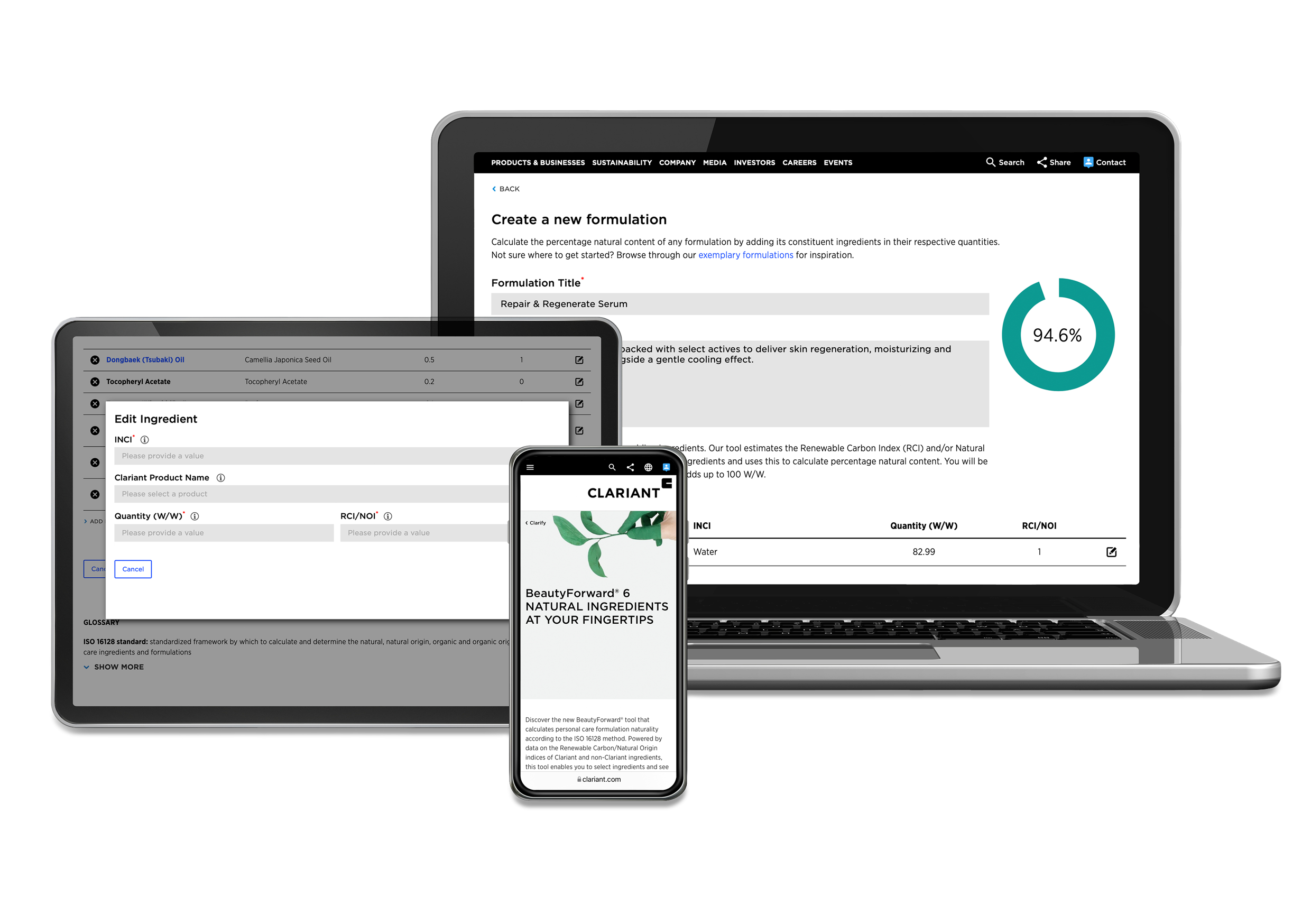 Clariant launches BeautyForward® 6, a new personal care tool that calculates percentage formulation naturality using ISO 16128 methodology
This first-of-its-kind tool reframes natural ingredients within the context of formulations, aiming to facilitate personal care ingredient research and selection
The tool operates on the basis of standardized data that quantifies naturality of Clariant and non-Clariant personal care ingredients
MUTTENZ, JUNE 7, 2022 - Gain much-needed clarity on ingredient and formulation naturality with BeautyForward 6. Clariant today unveils its ground-breaking digital tool, to ease the research and selection of natural ingredients for personal care formulations.
Powered by standardized data on the Renewable Carbon/Natural Origin indices of over 800 Clariant and non-Clariant ingredients for personal care applications the new tool offers formulators and brands the chance to calculate the percentage natural content of any formulation. What is more, the tool is designed to showcase the individual impact of specific ingredient choices on formulation naturality - a huge advantage for kick-starting future product development.
"BeautyForward is always about understanding and addressing needs in personal care. There is evident increasing consumer preference for natural, specifically plant-based ingredients, as well as a growing expectation for brands to understand and communicate on naturality with transparency. Our calculator equips them to do this, by providing the necessary personal care ingredient data in an intuitive, digital format. We're proud to support the creation of more sustainable personal care products," comments Hermann Bach, Global Head of Strategic Marketing and Innovation at Clariant.
As the industry's focus on developing lower impact beauty grows, Clariant steps up to standardize, quantify and share the naturality of personal care ingredients - including that of over 300 ingredients stemming from their own portfolio.
The new tool calculates personal care formulation naturality according to the ISO 16128[1] methodology and offers two options to aid research.
First up, users can create their own new natural formulation from scratch, adding constituent ingredients in their respective quantities by INCI or trade name. Based on this, the individual ingredient's naturality is provided, following the Renewable Carbon Index (RCI) for carbon-based ingredients, and the Natural Origin Index (NOI) if non-carbon-based. The tool continues by calculating the total formulation naturality based on each ingredient's contribution.
Alternatively, the users may opt for a more guided approach; the BeautyForward calculation tool comes equipped with a series of exemplary and customizable skin and hair care formulations, with up to 99% naturality. Users can copy the formulations and edit them, playing around with ingredient selection by adding and removing products to find the ideal fit for their needs and percentage natural content targets.
Formulations can be saved within each user's personal accounts for access and reference at a later date. To support with ingredient research, the tool also makes it possible for users to access more detailed ingredient information, as well as to request samples.
BeautyForward 6 is complemented by a set of 95-99% natural skincare and haircare formulation sets, delivering in-demand performance claims, that highlight the possibilities of the tool and of Clariant's ingredients.
Get a glimpse of the BeautyForward 6 tool on ClariHub personal care, Clariant's free and customer-exclusive platform, and register or login to use all its functionalities.
BeautyForward® IS A TRADEMARK OF CLARIANT REGISTERED IN MANY COUNTRIES. 
[1]
ISO 16128 standard: 
industry-standardized framework by which to define and quantify naturality of personal care ingredients and formulations