Clariant's global climate campaign cuts more than 4 million tons CO2 equivalents annually and wins prestigious ACC Sustainability Leadership Award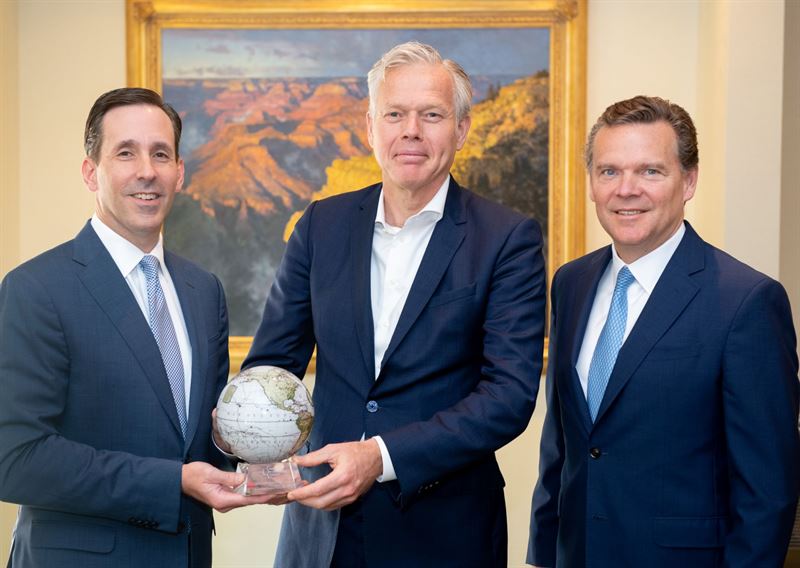 Through its global campaign to reduce the climate change impact of nitrous oxide emissions, Clariant offered to ten nitric acid producers its EnviCat® N2O-S catalyst which removes up to 95% of N2O emissions 
The ten winners produce more than 2 million tons of nitric acid per year and will be able to cut their N2O emissions by more than 4 million tons of CO2 equivalents annually 

In recognition of its climate campaign, Clariant receives the American Chemistry Council's Sustainability Award – already the second year in a row   
MUTTENZ, JUNE 8, 2022 – Clariant, a focused, sustainable, and innovative specialty chemical company, today announced that it has been awarded by the American Chemistry Council (ACC) with the prestigious Sustainability Leadership Award 2022 in the category "Environmental Protection". The accolade is in recognition of Clariant's global climate initiative, in which the company offered a free load of its nitrous oxide (N2O) removal catalyst EnviCat N2O-S to ten nitric acid producers who did not have such an abatement technology in place yet. 
After strong interest and numerous applications, an independent attorney has now drawn the winning companies. With a combined annual nitric acid production of more than 2 million tons1, the companies will be able to reduce their N2O emissions by more than 4 million tons of CO2 equivalents annually when using EnviCat N2O-S.2 This translates into more than 860,000 gasoline passenger vehicles driven for one year.3 The catalyst is proven to effectively remove up to 95% of harmful N2O emissions.4 
The ten winners of Clariant's climate campaign, in alphabetical order: 
Egyptian Chemical Industries KIMA, Egypt

Gemlik Gubre, Turkey

Gujarat Narmada Valley Fertilizers and Chemicals, India

Jiangsu Huachang Chemical, China

LSB Industries, USA

Proman, Trinidad and Tobago

Sichuan Lutianhua, China 

One further nitric acid producer from China

One further producer from India

One further producer from the USA
Conrad Keijzer, Chief Executive Officer at Clariant, commented, "We are grateful to the ACC for acknowledging our efforts with the Sustainability Leadership Award for the second year in a row. In 2021, we were recognized for our low-carbon footprint Glucamide surfactants, and this year for our global N2O reduction campaign. This proves our purpose-led strategy driving towards sustainability transformation, both in our own company and for our customers." 
Stefan Heuser, Senior Vice President and General Manager at Clariant Catalysts, added, "Globally, around half of all 500 nitric acid plants operate without N2O removal technology.5 Through our campaign, we wanted to show the industry that the problem is serious, yet the solution is simple. We are pleased to have converted our winning nitric acid producers into N2O reducers, and the strong interest in our initiative gives us hope that many others will follow."
Chris Jahn, President and CEO of the American Chemistry Council, stated, "Judged by an external panel of experts, the Sustainability Leadership Award recognizes outstanding initiatives led by chemical industry visionaries advancing sustainability. Clariant is dedicated to developing innovative products that can considerably reduce its customers' environmental footprint. We applaud Clariant on their achievement, and the impact their products make on helping create a better, more sustainable world."
Nitric acid is a highly valuable chemical. Approximately 65.5 million tons are produced annually around the world, mainly as a base material for fertilizers.6 However, its production creates large amounts of N2O as a by-product, which is extremely harmful to the climate. N2O molecules remain in the atmosphere for an average of 114 years, which is 25 times longer than CO2 molecules. Consequently, the impact of N2O on global warming is almost 300 times that of CO2.7 Annual N2O emissions from the production of nitric acid and its derivative adipic acid are equivalent to around 100 million tons of CO2 equivalents.8 
EnviCat N2O-S is a convenient "drop-in" solution that can be easily installed in virtually any nitric acid plant to effectively reduce N2O emissions. The catalyst is commercially proven to convert up to 95% of the greenhouse gas into harmless nitrogen and oxygen.4 
Clariant's EnviCat N2O emission control catalysts are already installed globally in more than 45 nitric acid production plants. Combined, they help to reduce annual N2O emissions equivalent to more than 20 million metric tons of CO2. 
REFERENCES
1 Data for ten nitric acid producers extrapolated from operations data received from eight nitric acid producers
2 Estimated annual CO2 equivalents savings once N2O abatement has been installed. CO2 equivalents calculated based on N2O Global Warming Potential of 265. Source: IPCC Fifth Assessment Report, "Climate Change 2014", Working Group II
3 EPA, "Greenhouse Gas Equivalencies Calculator", https://www.epa.gov/energy/greenhouse-gas-equivalencies-calculator#results 
4 Multiple references worldwide using Clariant's EnviCat N2O catalysts in commercial operation
5 IHS Markit, 2021
6 IHS Markit, 2020
7 EPA, "Overview of Greenhouse Gases", https://www.epa.gov/ghgemissions/overview-greenhouse-gases#nitrous-oxide  
8 IPCC Fifth Assessment Report, "Climate Change 2014"

EnviCat® IS A TRADEMARK OF CLARIANT REGISTERED IN MANY COUNTRIES.