October 26, 2023
Clariant and Technical University of Munich celebrate renewal of sustainability and catalysis alliance "MuniCat"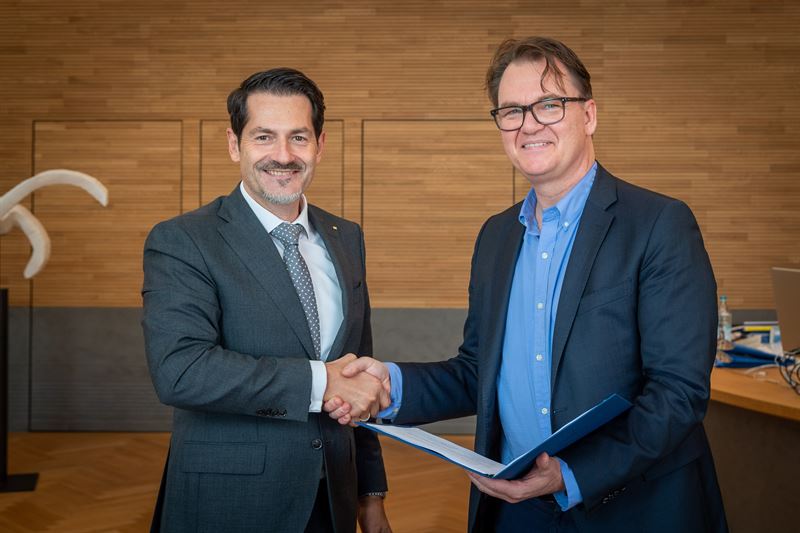 MuniCat Alliance – the strategic partnership of TUM and Clariant in the field of sustainable chemistry and Catalysis - renewed for another 10 years
Catalysis Technology developments supported by substantial generation of IP have already advanced industry sustainability 
Future collaboration ensures continuation of successful university-industry partnership in the area of sustainable chemistry and catalysis
MUNICH, OCTOBER 26, 2023 – Clariant, a sustainability-focused specialty chemical company, and Technical University of Munich (TUM) have renewed their long-term strategic alliance in the field of research and application of new catalyst systems. The cooperation, named MuniCat (Munich Catalysis), has generated improved catalyst formulations and designs as well as innovative process technologies since 2010 and will continue to focus on upcoming challenges in the area of sustainable chemistry applying catalysis.
The MuniCat alliance combines the capabilities of both partners in terms of research, improvement, and application of existing, but also innovative, novel catalysts and processes. Joint research has already produced a number of solutions to manufacture chemical products in a more energy-efficient and environmentally friendly way. 
"Over the years, the collaboration between Clariant and TUM has paved the way for many milestones not only in the field of R&D in catalysis but also in creating a more sustainable future for the chemical industry", said Marvin Estenfelder, Head of R&D at Clariant. "The partnership has been very symbiotic, in that we have access to cutting edge research methods and technologies developed at the university while the young TUM researchers benefit from our long industry and applications expertise. We are therefore delighted to extend this fruitful partnership for another 10 years."
Urgent challenges solved and new research fields and catalysts explored
As part of the cooperation, more than 30 projects focusing on the challenges of the industry to become more sustainable and efficient were completed so far. These projects resulted in strong intellectual properties for innovative catalyst formulations as well as their production and commercial application. More than 250 scientific articles on the technical progress have been published in papers with global reach.
"Any meaningful transition towards sustainability in the chemical industry can only succeed with collaboration and innovation. That's why we are delighted to join forces with a renowned academic institution like TUM and leverage our sustainability-driven innovations with new methods in academia to accelerate the energy transition", adds Richard Haldimann, Chief Technology and Sustainability Officer at Clariant.
Most of the MuniCat projects addressed sustainability aspects, such as the reduction of greenhouse gas emissions, the conversion and utilization of CO2, the innovative usage and storage of hydrogen, and the identification of new feedstock for base chemicals. New projects that target these issues are already underway including those that use artificial intelligence (AI), machine learning (ML) and digitalization tools. 
A collaboration between Clariant, TUM and Linde also produced new catalysts for the oxidative dehydrogenation of ethane (ODH-E), an innovative, low emissions catalytic technology to produce ethylene (EDHOXTM). The novel catalyst is a step change in selectivity and productivity enabling reduction in CO2 emissions by up to 100% versus the conventional steam cracking.
Renewing a catalyst success story: highly symbiotic university and industry research collaboration 
"With the renewal of the MuniCat Alliance, TUM and Clariant ensure the continuation of a true success story for the catalyst industry. Thanks to the established Industry on Campus concept, TUM scientists work together with Clariant researchers as pioneers on important research fields to develop even more efficient, profitable, and sustainable catalysts for the industrial sector", says Prof. Kai-Olaf Hinrichsen of Technical University Munich. 
The continuing partnership will address current and future sustainability challenges. Focus areas include new technologies contributing to the hydrogen economy and sustainable aviation fuels (SAF's) as well as high-performance catalysts for the conversion of CO2 into short chain alcohols. Aspects of catalyst and value product recycling will play a crucial role for the prospective project agenda. Standard modelling and simulation tools using AI and ML methods will also be used and further developed to ensure high quality.
"We are now shifting focus to new developments in sustainable chemistry and their practical application in the industry.  This partnership therefore significantly contributes to our TUM Sustainable Futures Strategy 2030, with which we aim to make TUM a driver of sustainable transformation", adds TUM President Prof. Thomas F. Hofmann.