October 12, 2023
Clariant inaugurates Daya Bay Exolit® OP flame retardant plant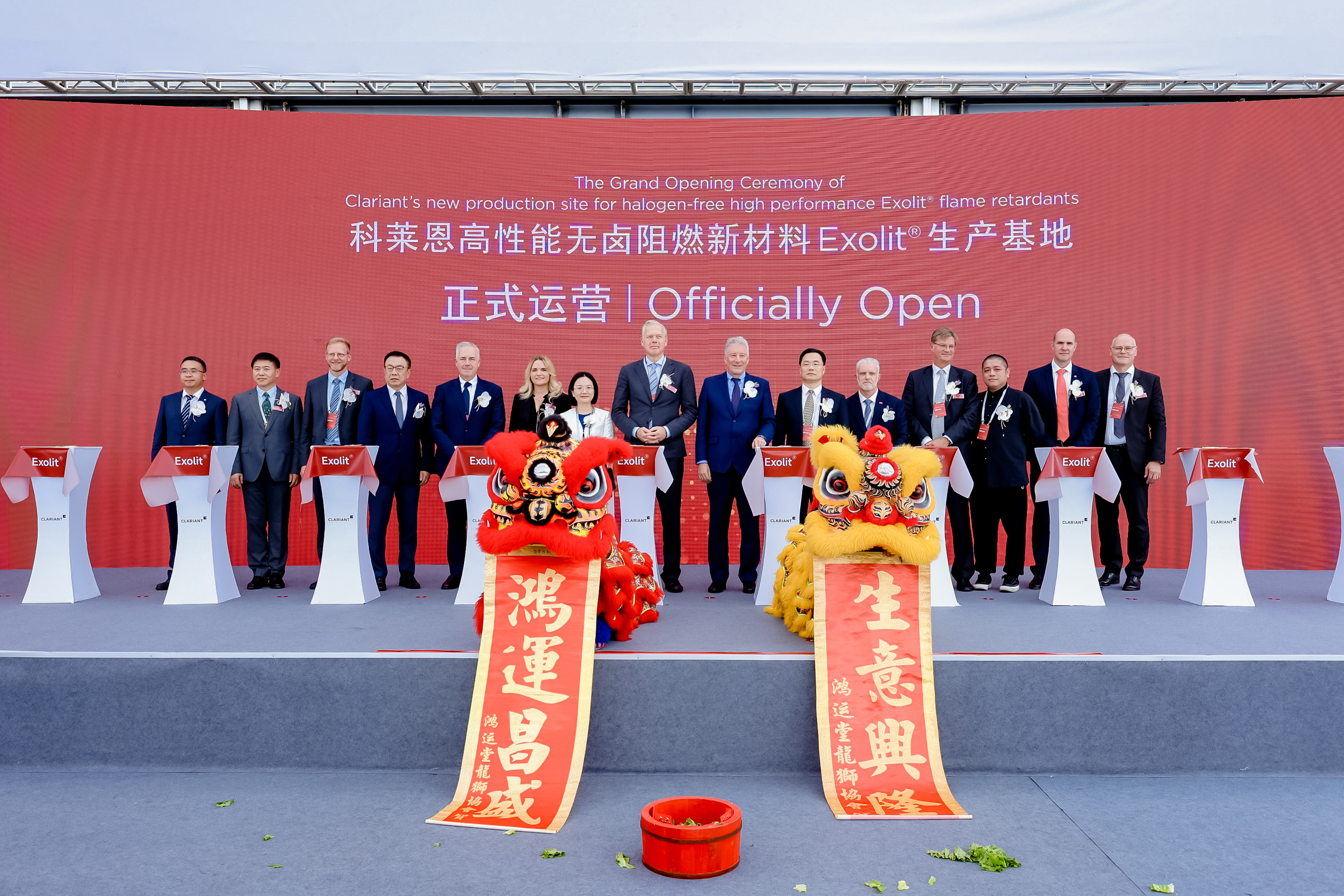 CHF 60 million investment in new high performance halogen-free flame retardant facility completed on time in the first stage of an overall CHF 100 million investment
Will support rapidly growing demands from China- and Asian-based component manufacturers for innovative & sustainable fire protection in E-mobility, E&E, transportation, 5G communications, infrastructure, and appliances
Establishes flame retardant production & local teams with technical expertise close to customers' operations
MUTTENZ, October 12, 2023 - Clariant, a sustainability focused specialty chemical company, today marks another milestone in its China Strategy with the official opening of its new state-of-the-art production facility for halogen-free flame retardants in Daya Bay, Huizhou.
The CHF 60 million investment into the plant's first production line will provide local customers with access to innovative and sustainable Exolit OP flame retardants and related technical expertise to support the significant growth of engineering plastics applications in E-mobility and electrical & electronic segments. A second line is under construction and expected to be onstream during 2024, representing a further CHF 40 million investment.
"With this world-class manufacturing plant, we strengthen our leading position and global competence in innovative and sustainable fire safety solutions. We have the proximity to better service customers in China and across the Asia Pacific region behind the innovative components, devices and systems advancing technological developments in e-mobility, infrastructure, 5G communications, energy delivery and more. Local production means we can improve cooperation and design tailored solutions to their developing needs as well as significantly reduce delivery lead times," comments Angela Cackovich, President of BU Adsorbents & Additives, and Clariant EMEA Region.
The new plant will produce Clariant's global range of patent-protected organophosphorus flame retardants and supplements the capacity of Clariant's two Exolit OP plants in Knapsack, Germany. The team at the One Clariant Campus in Shanghai will support customers in the joint development and in-application testing of flame retarded solutions.
Angela Cackovich continues: "Brands and equipment manufacturers are switching to non-halogenated flame retardants to address the challenges of increasing safety, sustainability and technical performance requirements in E-mobility and Electronics. For engineering plastics, our Exolit OP solutions can help fulfil needs for application safety improvements and the reliability of maintaining mechanical, electrical and fire retardancy performance properties over a product life cycle and after recycling.
Importantly, they also offer environmental and health profiles verified by third parties. By collaborating across value chains we can capture unmet needs as applications become more demanding, innovate faster together, and ensure the optimum solution to meet evolving regulatory and physical property as well as processing requirements."
Despite the challenges posed by delays in equipment delivery, travel restrictions, and unpredictable supply chain interruptions, the teams from Clariant China and Europe, local authorities in the chemical park, and external partners pulled together to ensure the project was accomplished within 18 months, on schedule and on budget. All 1.2 million man hours worked since construction began were accident free.
The new flame retardant plant is operated by a 100-strong team of local employees and is located within the Huizhou Daya Bay Economic and Technological Development Zone (Daya Bay Chem Park) in Guangdong Province. Clariant's Daya Bay site utilizes green electricity, enabling a significant reduction in Scope 2 (CO₂) emissions, and is also home to its Care Chemicals Ethoxylation plant, which is currently undergoing a CHF 80 million expansion.
Exolit® IS A TRADEMARK OF CLARIANT REGISTERED IN MANY COUNTRIES.