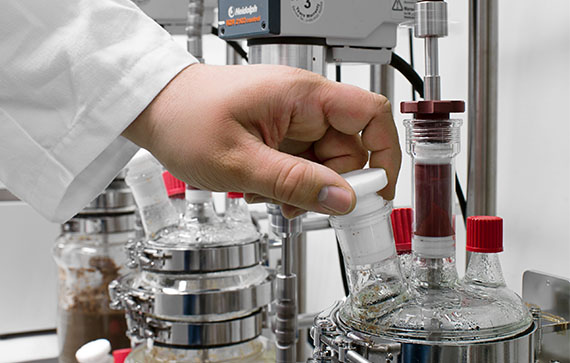 Technology & Innovation Office
COMPETENCE CENTER SURFACTANTS
The Competence Center Surfactants synthesizes new and known surface active agents (»surfactants«) for a wide variety of applications.

We offer sound expertise in the field of non-ionic, cationic, anionic and amphoteric surfactants, with strong focus on renewable resources. Besides the substantial experience in non-polymeric systems we have a broad know-how in the area of alkoxylation reactions (EO/PO) and in copolymerization of functionalized polyalkylene glycols.

The Competence Center is responsible for three Technology Modules:

Biobased surfactants and greener polymeric surfactants
Polymeric surfactants: functionalization of unsaturated substrates
Alkoxylation & aminolysis

Hot topics around surfactants and alkoxylates are:

Novel surfactants for Enhanced Oil Recovery
Emulsifiers (Personal Care, Paints & Coatings, Crop Protection, Mining)
Demulsifiers and oil-soluble polymeric dispersants
Water-soluble polymeric dispersants (Paints & Coatings, Pigments)
Macromonomers (Paints & Coatings, Construction Chemicals)
Polyether amines (Paints & Coatings, Construction Chemicals, Crop Protection)
Corrosion inhibitors (Metal Working, Oil Services)
Scale and gas hydrate inhibitors (Oil Services)
COMPETENCE CENTER SPECIALTY POLYMERS
The Competence Center Specialty Polymers designs and synthesizes polymeric systems to build structures with optimized topologies fulfilling requirements for various applications.


In contrast to bulk polymers, which are mainly used as material to produce objects, the main purpose of specialty polymers, which are only part of a formulation, is to generate a special effect such as pH-stability, salt-stability, viscosity-control, adhesion, repellency, anti-corrosion, or stabilization of particles.

The Competence Center is responsible for five Technology Modules:

Polymer architecture
Biopolymers
New surface effects
Advanced delivery systems
Tailored rheology

Hot topics around polymer specialties are

Polymer synthesis and processes
Functionality of polymeric systems like e.g. modification of surface properties, affinities, rheological profiles etc.
Polymeric materials processing and hybrid systems
Providing solutions for increasing demands in ecotox profiles by making use of renewable building blocks or starting materials


Please contact us for support or questions.

COMPETENCE CENTER COLORANTS & FUNCTIONAL CHEMICALS
The Competence Center Colorants & Functional Chemicals designs and synthesizes chromophores for dyestuffs and pigments as well as new additives for the plastics and coatings industries.


We apply finishing technologies and know-how to control and modify chemical particles and their surfaces to provide highest performance in automotive, coatings, plastics, and films. We constantly search for improved fastness properties of our products, enhance their ecological profile, and optimize synthesis routes and production costs.

Functional chemicals are key components that help our customers in designing new materials. By using our strong expertise in organic and organometallic chemistry, we develop new synthesis pathways and discover new molecular structures.


The Competence Center Colorants & Functional Chemicals is responsible for four Technology Modules:

Chromophore modification
Physical and chemical crystal engineering
Phosphor organic chemistry
Synthesis of functional chemicals

Hot topics around Colorants & Functional Chemicals are:

High-tech pigments for non-impact printing and electronic displays
Easily dispersible pigments for coatings
New process additives for the plastic and coatings industries
Nanoparticles and sol-gel combination for surface protection
Photoactive compounds, solar energy conversion
COMPETENCE CENTER INTERFACE & FORMULATION TECHNOLOGY
The Competence Center Interface & Formulation Technology represents Clariant's key competences in formulation and turns this know-how into innovative product solutions.


Interfaces play a key role in stable product formulations and their applications. For example, pigment particles are covered by dispersing agents to ensure stable formulations for printing inks. In mining applications the so-called collectors adsorb selectively to the surface of the ore to allow flotation and separation from the dead rocks. Understanding interfaces is challenging but a highly valuable approach for innovative formulations to ensure storage stability, rheological behavior, wetting, and compatibility.


We have high expertise in surfactants and special dispersing agents and techniques to stabilize particles and emulsions, and in milling and drying particles according to customer demands. Examples are pigment preparations for non-impact printing or UV-curing coatings, micro emulsions for oil field chemicals or crop protection, blends of collectors for mining, or even encapsulated systems for protections or controlled release.


The Competence Center Interface & Formulation Technologies is responsible for two Technology Modules and works actively on two sub-modules:

Interface interaction science
High-throughput experimentation
Advanced delivery systems/micro-encapsulation (sub-module)
Rheology (sub-module)

Hot topics around interfaces and formulations are:

Storage stability of emulsions and dispersions
Efficient milling and particle size reduction
Micro-emulsions and nano-emulsions
Wetting and redispersing behavior