Clariant is an open company and therefore fosters a culture of proactive and transparent communication that includes all of the relevant interest groups, looking to their concerns and expectations. This communication is key to forming reliable relationships based on trust. All interest groups are regularly informed of our activities, targets, and sustainability performance. Detailed information is provided in the Annual Report, the Sustainability Report, numerous corporate and product information documents, and our Internet presence.

Dialog with our stakeholders builds a basis for defining the material issues of Clariant's key sustainability activities that are reflected in our materiality matrix.
Clariant is a member of the Dow Jones Sustainability Index (DJSI) World and DJSI Europe, and is recognized as one of the most sustainable companies in its sector. DJSI evaluates the sustainability performance of companies and is a key reference and benchmark for investors and companies.

Clariant is included in the FTSE4Good-Index, which is designed to measure the performance of companies demonstrating strong environmental, social and governance practices. The FTSE4Good Index Series was created in 2001 by the Financial Times and the London Stock Exchange in response to the increasing focus on corporate social responsibility by investors seeking to measure the social, environmental and ethical performance of the companies.

Since 2007 Clariant has actively participated in the Carbon Disclosure Project (CDP) climate, water and supply chain reporting programs. The CDP publishes the Greenhouse Gases (GHG) of the world's largest corporations.




Clariant is one of the 120 most advanced companies in Europe, which is reflected in its listing in Euronext Vigeo Europe 120 Index. The index distinguishes companies achieving the most advanced Environmental, Social and Governance performances.





Clariant was reconfirmed as a constituent of the Ethibel Sustainability Index (ESI) Excellence Europe in September 2017 and the Ethibel Excellence Investment Register in March 2018. This selection by Forum ETHIBEL (

www.forumethibel.org

) indicates that the company performs better than average in its sector in terms of Corporate Social Responsibility (CSR).




In 2014 Clariant was included in the newly established SXI Switzerland Sustainability 25 Index. The index contains the shares of the 25 most sustainable large companies of Swiss Market Index Expanded. Regularly reviewed by Sustainalytics, the index reflects performance in the areas Environment, Social and Governance.

Clariant's sustainability performance is reevaluated regularly by EcoVadis. This widely-recognized third party on-line assessment focuses on four key areas: environment, labor practices, fair business practices, and sustainable procurement. EcoVadis is the partner for evaluation and improvement of supplier sustainability performance selected by Together for Sustainability (TfS), the chemical industry sustainability initiative for supply chain. Clariant ranks among the top EcoVadis performers in its sector and across industries.
In 2022, Clariant's global climate campaign was honored with the American Chemistry Council (ACC) Sustainability Leadership Award in the category Environmental Protection. The campaign, which saw Clariant offer a free load of its nitrous oxide (N2O) removal catalyst EnviCat N2O-S to ten nitric acid producers who did not yet have such an abatement technology in place, will help cut more than 4 million tons of CO2 equivalents annually.
In 2021, Clariant's low-carbon footprint Glucamide surfactants - GlucoTain® and GlucoPure® - received an American Chemistry Council (ACC) Sustainability Leadership Award in the category Product Safety, Innovation and Transparency. The award recognized Clariant's contribution to delivering safe chemistry, innovation and transparency to help progress sustainability commitments across personal care and home care value chains.
Clariant has been honored with several awards for sustainability and innovation. Henkel Adhesive Technologies presented Clariant its 2020 Sustainability Award. In addition, Clariant won in two categories at the 2020 ICIS Innovation Awards. Multi-purpose additive Licocare® RBW Vita won 'Best Product' and the ammonia synthesis catalyst AmoMax™-Casale, jointly developed with Casale SA, won 'Best Sustainable Process'.
In 2020, Clariant was awarded the Indian Chemical Council Aditya Birla Award for Best Responsible Care Committed Company 2019. The award recognized Clariant's continued efforts to uphold the highest environment, health and safety standards within operations.
In China, Clariant was awarded the 2020 China GoldenBee CSR Award for its advocacy of EcoCircle and commitment to developing products, solutions and partnerships for a circular plastics economy. The GoldenBee CSR China Honor Roll is an annual listing of enterprises at the forefront of Corporate Social Responsibility (CSR) practices in China.
In 2017, Clariant was presented with the Chairman Award during the 2017 Responsible Care award ceremony in Shanghai, China. The event, hosted by the Association of International Chemical Manufacturers (AICM), recognizes the outstanding achievements of members in implementing the Responsible Care self-initiative. It is the third time that Clariant has been presented with the award since its initiation in 2013.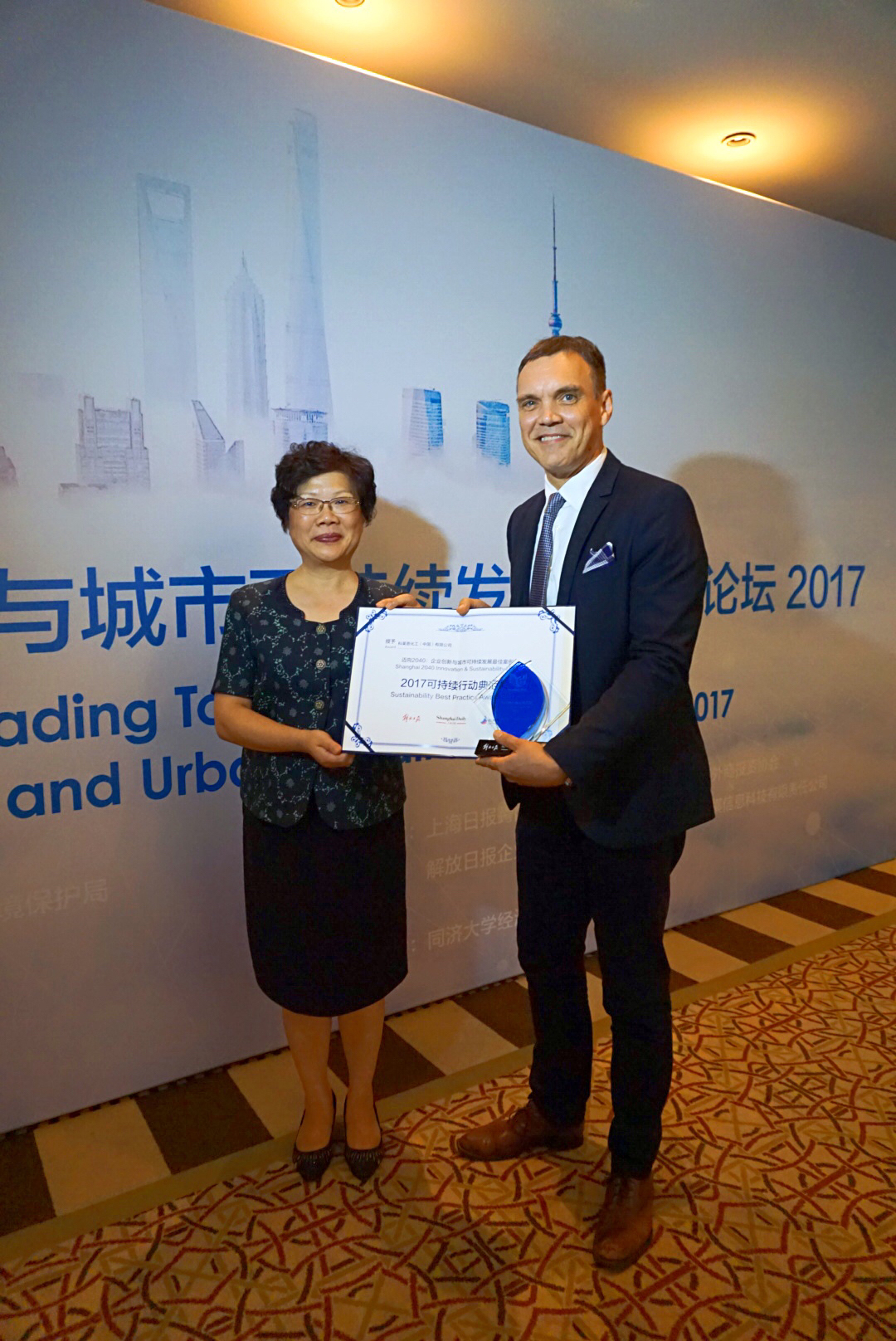 Clariant's sustainability flagship label EcoTain® was also selected as the winner of the 2017 Sustainability Best Practice Award and the Sustainability Influencer Award under the Heading Towards 2040: Corporate Innovation and Urban Sustainability Excellence Awards campaign, in Shanghai, China.
In 2014, Clariant was awarded a Unilever Partner to Win Award for Winning Joint Value Creation. This award recognized Clariant for its collaboration with Unilever, which resulted in standardization of its global packaging platform. The results meant that it is more cost efficient, and keeps quality and product characteristics the same.

Frost & Sullivan, the internationally renowned US consultancy, active in the fields of market research, market analysis, and strategy consulting, awarded Clariant's Crop Solutions business segment the New Product Innovation Leadership Award in recognition of the company's innovative approach with EcoTain®.

In 2017, Clariant was awarded the European Institute for Purchasing Management (EIPM) Peter Kraljic Award for Sustainability Leadership in the Supply Chain. The award recognizes the company's achievements in procurement management and supply chain sustainability globally. It is the second time that Clariant has received this award.
---

In 2019, Clariant was honored with the EcoVadis Sustainable Procurement Leadership Award for 'Best Internal Stakeholder Engagement'. The award recognizes excellence in sustainability and sustainable procurement and distinguished Clariant as a best-in-class example of driving internal engagement to roll out global sustainable procurement programs.
Clariant was awarded the World Procurement Award 2019 in the category Supplier Risk Management. The award recognized the company's efforts to engage multiple internal and external stakeholders to deliver a more integrated supply chain process.
In 2016, Clariant was recognized for its long standing commitment to sustainability by the Chinese market. The company received the Sustainable Product & Service Award at the 2016 GoldenBee CSR China Honor Roll, an annual listing of enterprises with outstanding CSR (Corporate Social Responsibility) achievements in China.