Striving for higher sustainability performance
SUSTAINABLE PORTFOLIO MANAGEMENT
PORTFOLIO VALUE PROGRAM

How will we live in 2030? How will our lifestyles change when the world's population grows as projected, global standards of living improve, and resources diminish? Which products will meet the needs of future generations?

At Clariant we are constantly asking ourselves these questions and translating the macro picture of our changing sustainability landscape into value creating specialty chemicals. These questions inspired us to launch our Portfolio Value Program (PVP) at the end of 2012. The program set the foundations to deliver innovative and competitive solutions to meet very specific industry needs and applications (Performance), while committing to environmentally sustainable and market-leading products and services (Planet) and meeting the societal needs and demands of present and future populations (People).

Based on thorough analysis of sustainability trends and needs, as well as on the input and views of external stakeholders, the PVP system was developed with its core elements, a criteria catalog and a screening process. This process substantiates Clariant's sustainability performance, determines verifiable claims and drives the continuous improvement of our product portfolio. The system allows us to continuously identify and strengthen opportunities for value chain collaboration, engage in dialog with customers and stakeholders and further add value with sustainability and innovation.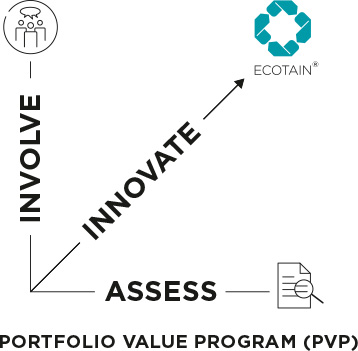 The PVP screening process is the basis to identify possible EcoTain® products and solutions, assessing them against market standards and for their overall sustainability contribution and impact. Clariant experts carry out the PVP screening process by reviewing each product and solution across its entire life cycle. Offerings that meet our sustainability excellence standards are put forward and confirmed by a corporate review panel.

Clariant's Portfolio Value Program represents an important milestone on the way to realizing our vision to enable a sustainable future in every way we can. The program's holistic approach provides a significant driver for sustainability progress, not only within the company but also across the value chain and ultimately the chemicals sector.
CRITERIA AND SCREENING PROCESS

Reflecting People, Planet and Performance across the life cycle

At the heart of EcoTain® and the Portfolio Value Program (PVP) is the desire to maximize the sustainability performance and benefits of our products and solutions, while simultaneously working to minimize their impact and risk. We achieve this by measuring the impacts and benefits of our offerings against a comprehensive set of sustainability criteria. These criteria are based on three dimensions: social, environmental and economic. It's our triple bottom line perspective reflecting the three dimensions People, Planet and Performance.
PEOPLE DIMENSION

Dialog is a vital foundation of our business. We at Clariant listen closely to what our customers, end users and stakeholders say, and aim to anticipate future requirements, trends and challenges. We test and evaluate our offerings to ensure that they are safe for use and address relevant environmental and social needs, now and in the future.

SAFE USE, TRANSPARENCY AND DISCLOSURE

Our products and solutions have been screened for their hazard classification level, such as in relation to CMR (carcinogenic, mutagenic reprotoxic) properties or whether they are listed as substances of very high concern by regulatory authorities or specific stakeholders. In addition, all our solutions are scrutinized for the level of solvents and the amount of VOCs (volatile organic compounds) in the use phase.

ADDRESSING MEGATRENDS AND SOCIETAL NEEDS

By addressing megatrends and societal concerns, such as food, nutrition, health, environmental and safety issues, as well as regulatory initiatives, our products aim to provide timely solutions to relevant issues. Through sustainability screening we also aim to steer our solutions towards contributing to achieving the UN Sustainable Development Goals.
PLANET DIMENSION

As a specialty chemicals company, Clariant has the opportunity and ability to provide products and solutions that safeguard and support the future of our society and environment. Our products are evaluated against benchmarks for material sourcing and efficiency, energy conservation, climate change protection as well as the reduction of emissions and water consumption. This evaluation goes beyond the production of our offerings to incorporate the materials we purchase, the benefits to our customers as well as the end-of-life of our products.

RAW MATERIALS AND SUSTAINABLE SOURCING

Optimized material sourcing and efficiency, safeguarding scarce raw materials and using renewable raw materials—certified whenever possible—provide significant benefits for the planet. All products and solutions also consider material food competition, the use of recycled materials and keep the impact on biodiversity to a minimum.

RESOURCE EFFICIENCY AND ENVIRONMENTAL PROTECTION

We design and manufacture products so that they are resource efficient. We check our portfolio in terms of materials, water and energy, less environmental impact on air, water and land, as well as minimum waste. Our EcoTain® products and solutions specifically are highly compatible with the environment. This does not only apply to our manufacturing processes and efforts but across the entire life cycle, i.e. from the raw materials used for the products to their end-of-life.
PERFORMANCE DIMENSION

We believe in giving our customers and society sustainable offerings that do not compromise on performance, and even exceed expectations. We can verify and fulfil our aims to provide products and solutions with customized, high-quality advantages, and promote integrated sustainable business models that maximize results.

INTEGRATED SUSTAINABLE BUSINESS

The product sustainability evaluation takes into account whether products and solutions have a high degree of product-related services adding value to customers and users in our offerings. In addition, it examines where products and solutions executed in partnership with downstream or upstream collaboration can support sustainability efforts across the value chain.

PERFORMANCE ADVANTAGES

Through features and customer benefits, e.g., multi-functionality, convenience and allowing for certification, we evaluate products and solutions on their commitment to performance as well as sustainability.
INTEGRATED IN RESEARCH & DEVELOPMENT

The Portfolio Value Program is integrated at every step of Clariant's idea-to-market process, consisting of four phases: Scout, Scope, Execute and Commercialize. We aim for all innovation projects to be subjected to an early-stage sustainability evaluation considering the sustainability criteria set out by our Portfolio Value Program. This enables Clariant to identify, at an early stage, the sustainability impact and benefits of a project and to identify outstanding performance ahead of commercialization.

Hundreds of projects are evaluated each year as part of the screening of our innovation pipeline. This integrated approach reflects Clariant's desire to steer its product and innovation project portfolio towards more innovative and sustainable products.
SETTING NEW STANDARDS

The world as we know is changing rapidly and society's needs continue to evolve. In 2020 Clariant started a full review of its Portfolio Value Program with the aim to revise the screening process to reflect the latest societal needs.