Our waxes for powder coatings
enhancing the looks and longevity of powder-coated surfaces
Power up the performance of your powder coating formulations
Powder-coated surfaces are known for their superior toughness and can be given a wide variety of sheens and textures. Our wax additives help to protect the surfaces and control the appearance and touch of cured powder coatings. They also enhance the manufacturing process and storage stability of powder coatings, enabling higher throughput and quality.

With our advanced surface solutions, we aid formulators in improving the slip performance, scratch resistance and anti-blocking properties of powder-coated surfaces. We also help to facilitate vital process steps such as pigment dispersion and degassing. In addition, our additives allow fine-tuning the look and feel of powder coatings. Enabling finishes that range from uniformly fine to coarse, and from deeply matt to sleek and glossy, they add lasting value and appeal to surfaces and products.
PFOA-compliant PTFE or even PTFE-free texturing agents and many other options
Texturizing additives are essential for giving the desired finish to metal parts and other powder-coated materials. We offer PFOA-compliant PTFE additives such as our Ceridust® 3943 F, or even entirely PTFE-free texturizing agents. Degassing is another key factor for high-quality coatings, and here we provide highly efficient solutions for glossy or matt surface finishes that do not impair their surface adhesion properties.

In addition, our portfolio includes highly effective aids for improving pigment dispersion and extrusion and grinding throughput, as well as for enhancing the surface adhesion, friction control and scratch resistance of the final powder coating. By improving edge-covering performance, our Licocene® PE MA 4351 helps to give fuller protection and longer lives to powder-coated surfaces.

For metal coatings as well as other applications, we provide a growing selection of renewable-based additives. One example is Ceridust® 1060 Vita, which also helps to save energy by being compatible with low-temperature curing. Enabling bold colors and luxurious finishes on metal furniture and similar products, this »green« solution has the additional benefit of fully supporting current trends in interior design.
Find out more about our solutions for powder coatings
Improve dispersion and color strength with our modified natural wax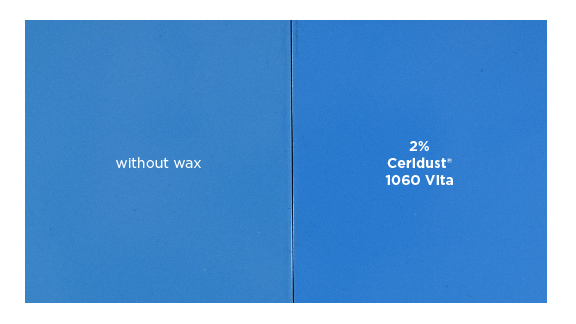 Three good reasons for choosing Clariant
key benefits of our wax solutions
1.

PTFE-free texturing agents with similar performance to conventional aids
2.

Excellent degassing properties for reducing pinhole and corrosion risks
3.

Optimal pigment dispersion, leading to strong and even coating colors
Compliance and sustainability
you can count on
%

PFOA compliance

provided by all our additives and products
%

PTFE-free solutions

fully complying with EU/REACH regulations
>%

Better color strength

from our rice bran wax based Ceridust®
Discover some of our highlight solutions
Explore our wax offerings for other coatings segments