Our wax offering for laser printer toners
TUNE UP THE PERFORMANCE
OF YOUR TONER FORMULATIONS
Enhancing the quality of hard copies

HAS NEVER BEEN SO EASY

We all think before we print, yet in many situations making a hard copy of digital data is still the only way to go. Be it for information security reasons, to conveniently share information with colleagues and customers – or to create a beautifully printed gift certificate for someone's birthday.

The excellent results achieved with modern laser printers can be made even better with our dedicated wax additives for toner formulations. Our waxes not only serve as highly efficient release agents for aiding detachment of fused toner from the fixing roller. They are also specially designed to enhance the efficiency and overall performance of today's laser printing systems.
Sharply melting wax additives that are closely tailored to your toner's needs

When it comes to wax additives for laser printer toner, effective control of melting properties is essential. Unfavorable melting behavior can not only compromise the desired effects on toner release but may also lead to efficiency-impairing flow and adhesion issues.

The waxes from our Licocare®, Licowax®, Licocene® lines provide sharp melting behavior and cover a wide range of high to low melting points. Our unique technology platforms even enable precise adjustment of properties like melting viscosity and molecular weight distribution – allowing us to tailor our solutions even more closely to your needs.
Find out more about our solutions for toners and other applications
A wide choice of dropping points

FOR MANY TYPES OF TONERS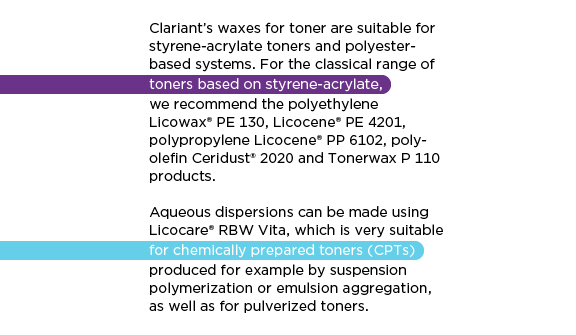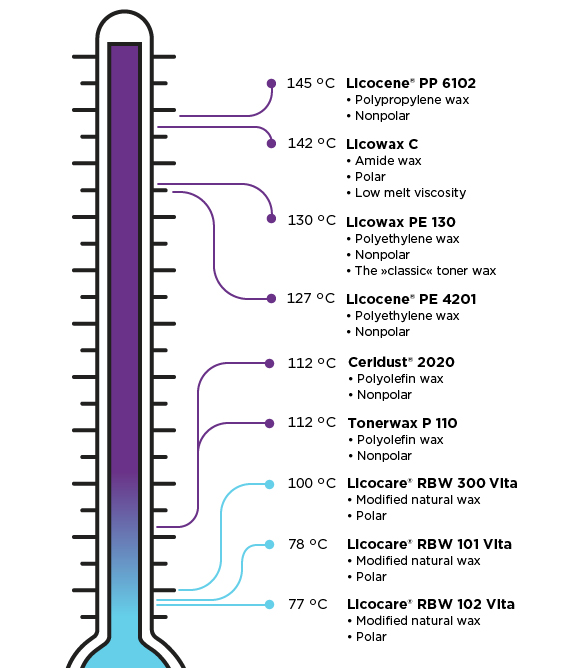 Three good reasons for choosing Clariant


KEY BENEFITS OF OUR WAX SOLUTIONS
1.

Broad portfolio of waxes suited to the needs of both pulverized toners and chemically prepared toners (CPTs)
2.

Our Licocare® RBW line offers low-melting point waxes which enable energy savings by lowering fixing temperature levels
3.

Enable easier and more effective dispersion of pigments and charge control agents (CCAs) with low impact on the optical properties of the toner's resin-pigment system
Sustainability and flexibility


YOU CAN COUNT ON
>%

Renewable Carbon Index

distinguishing our Licocare® RBW Vita solutions
%

Non-food competing

rice bran waxes with high sustainability
40–°C

Melting point range

to choose from in our broad wax portfolio
DISCOVER SOME OF OUR HIGHLIGHT SOLUTIONS
Explore our wax offering
FOR PRINTING INK APPLICATIONS