Innovative printing ink additives
THAT KEEP PACE WITH THE TIMES
Our waxes for preserving beauty

MORE PERMANENTLY IN PRINT

Since the invention of Chinese woodblocks and Gutenberg's letterpress, printing has gone through many evolutions that are moving particularly fast today. With our waxes for printing inks, we help formulators to keep pace with these changes and deliver outstanding results.

We offer high-performing wax additives for all main ink-printing techniques, capable of extending the long-lived beauty of printings done with offset printing ink as well as gravure ink and flexographic ink. With our extensive Ceridust® range and tailored preparations from our Licowax® and Licocene® lines, we help to improve the rub resistance and other key properties of printed products. When the aim is to additionally protect printed substrates with an overprint varnish (OPV), our wax platform offers a variety of solutions for enhancing the strength and toughness of such finishes.
Additives that can subtract costs and are compatible with all major formulation types

Our renewable-based waxes can help manufacturers save up to 10% on wax additive content in offset platform and up to 50% in gravure and flexo platform compared to conventional PE/FT waxes.

We provide additives for all common formulation types, from water- and solvent-based systems to UV-curable inks. Our micronized PE wax Ceridust® 3620 can impart good scratch resistance and slip to all solvent-based systems, while our hydrocarbon wax Ceridust® 2020 is especially suited for improving scratch and rub resistance in solvent-based gravure and flexo inks. For the frequent issue of pilling in offset applications, our metallocene-based PE wax Ceridust® 3610 offers an excellent solution.

If you are interested in giving your printing inks a more sustainable footprint, you should also check out our Ceridust® 1041 and Ceridust® 1060, which are based on a renewable raw materials platform of rice bran waxes. They help to lower the coefficient of friction and protect printed products against mechanical stress.
Find out more about our solutions for printing inks
When biobased1 beats conventional

OUR GREEN PERFORMER CERIDUST® 8330 TP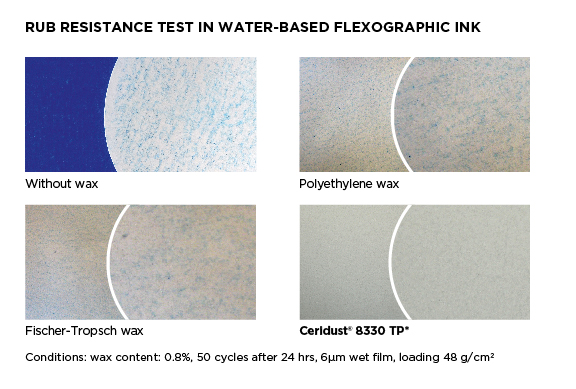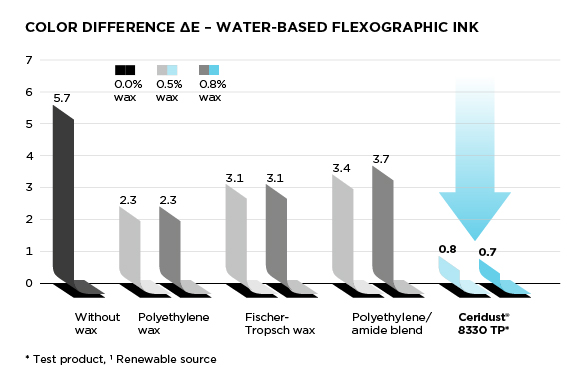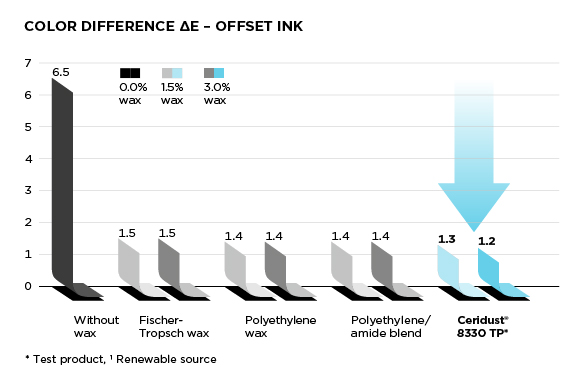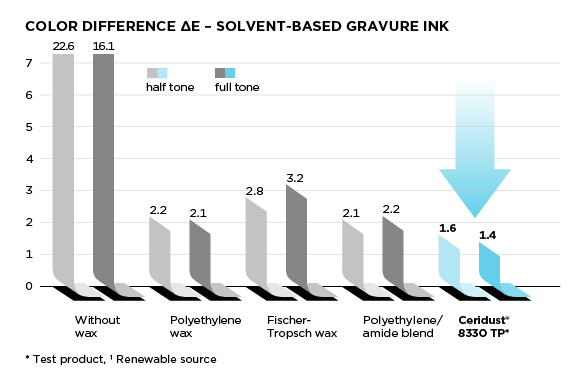 Three good reasons for choosing Clariant


KEY BENEFITS OF OUR WAX SOLUTIONS
1.

Better cost-performance ratio due to the lower additive concentrations made possible by our products
2.

Enables excellent rub resistance of printing results and effective adjustment of slip properties, ranging from low to high coefficient of friction (CoF)
3.

Improved eco-footprints with no compromise on performance or even outstanding performance results, e.g. with our PTFE-free solutions
Performance and sustainability


YOU CAN COUNT ON
up to %

Less additive needed

to achieve the same performance and results
up to %

Renewable content

distinguishing our »green« wax solutions
%

Non-food competing

rice bran waxes with high sustainability
DISCOVER SOME OF OUR HIGHLIGHT SOLUTIONS
Explore our wax offering
FOR TONER APPLICATIONS