BeautyForward 6:
Natural ingredients for personal care formulations
BeautyForward is about understanding and addressing needs in personal care. Consumer preference for natural, specifically plant-based ingredients is increasing and there's growing expectation for brands to understand and communicate on naturality with transparency.
Access our naturality database of personal care ingredients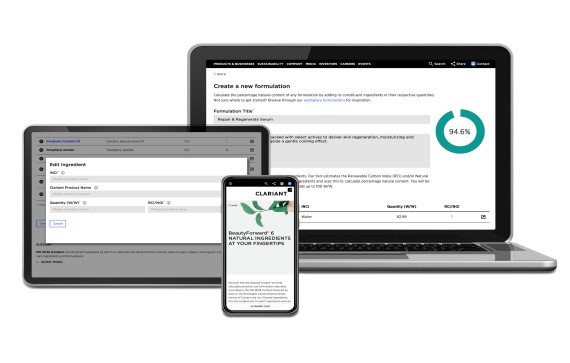 We cover over 800 Clariant and non-Clariant ingredients: our calculator provides you with personal care ingredients' intuitive, digital format. We follow the Renewable Carbon Index (RCI) for carbon-based ingredients, and the Natural Origin Index (NOI) if non-carbon-based.
Calculate percentage naturality of personal care formulations
The tool functions by calculating the total formulation naturality based on each ingredient's contribution. The BeautyForward Natural Formulation Calculator provides you with a percentage of how natural a personal care formulation is according to the ISO 16128 methodology.
Two steps to create high-RCI natural formulations digitally
Start with an exemplary formulation provided in the tool, or create your own natural formulation from scratch
Add ingredients in their respective quantities by INCI or trade name
Voilà! Percentage naturality is instantly displayed
o/w creams
97.3% natural
Voilà! Replenishing Night Cream
Discover the night cream that contains a mixture of emollients and actives, designed to replanish skin, leaving it soft and supple
Get a glimpse of the BeautyForward 6 tool on our customer platform ClariHub. You'll need to register or login to make use of all features.
Any questions? Contact us!