GlucoTain is extra mild to skin, scalp and hair keratin
GlucoTain® will revolutionize the way you think about mild surfactants today. This innovative sugar-based surfactant range embraces mildness without compromising on cleansing, and is ideal for new platforms and sulfate-free formulations. GlucoTain® is extra mild to both hair & skin proteins and lipid layers, and is suitable for hair care and skin cleansing applications such as shampoos, shower gels, soaps, facial cleansers and shaving foams.
Gentle to hair keratin
In this study, zein protein (water insoluble) has been used to evaluate the protein denaturation potential of surfactant on hair.

The predicted irritation potential is determined by the amount of zein protein solubilized; meaning the lower the value, the milder the surfactant will be toward hair keratin.

Note that zein protein has been used as a model protein due to its similarity to kertain.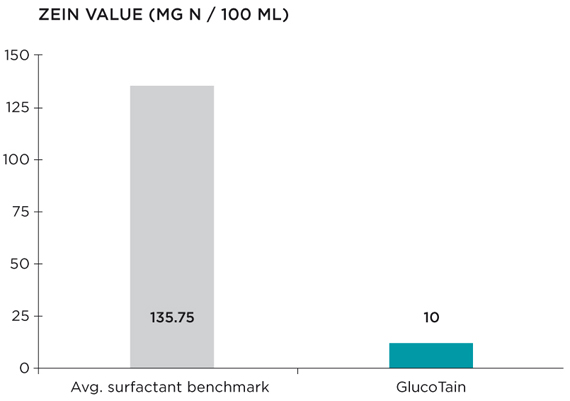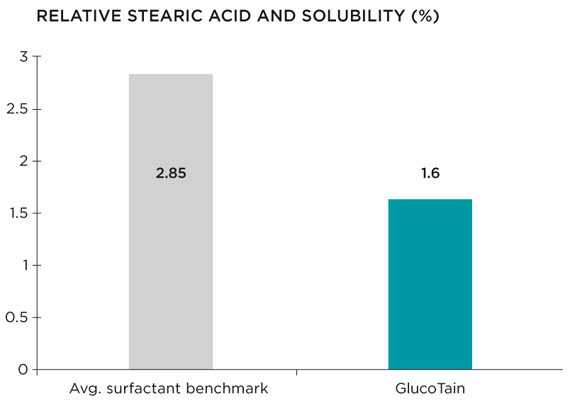 Gentle to scalp lipids
Stearic acid is a natural fatty acid found in the skin and is one of the major building blocks of the lipid layers of the skin, which helps to form a barrier and preserve the skin's natural moisture.

In the stearic acid solubility test, we evaluate the amount of stearic acid solubilized by a range of marketed surfactants versus GlucoTain. The lower the value, the milder is the surfactant.