Biodegradable, renewable-based rheology modifier Aristoflex Eco T
Rheology modifiers are skincare ingredients that determine formulation flow, stabilize oils and particles, while also affecting skin feel. As such, rheology modifiers play a critical role in skincare.
Rheology modifiers impact skin feeling and therefore the consumers' experience of use, and affect also the skin penetration of the beauty formulation. Consumers expect outstanding skin feel of leave-on products such as face creams, which is why many biodegradable rheology modifier alternatives in the market struggle to meet consumer expectation.

Current biopolymers present many performance challenges

Low viscosity building
If high viscosity is possible, textures are bouncy, like jelly
Do not stabilize oils and pigments​
Stability issues, especially at high temperatures 
Often result in stringy textures, with unpleasant pick-up
Non-appealing impact on formulation skin-feel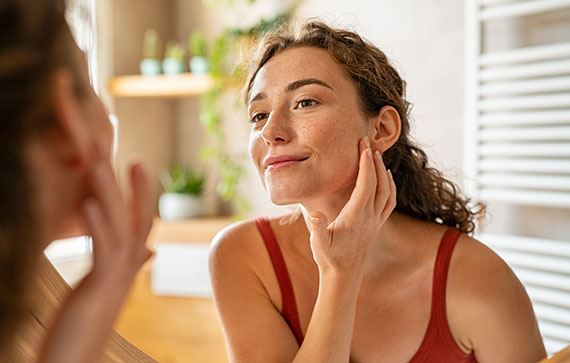 Aristoflex Eco T is the first in a new class of rheology modifiers to deliver both strong performance and a good environmental profile.


Oil & Particle
Stabilization


Good Environmental
Profile
This patented rheology modifier made from Tara Gum and AMPS, Aristoflex Eco T is biodegradable and based on renewable sources while providing outstanding rheology, oil & particle stabilization and excellent skin feel. For this unique combination of properties, Aristoflex Eco T was awarded the Innovation Zone silver award at in-cosmetics in the category "Best Functional Ingredient".
Performance relative to industry benchmarks
Aristoflex Eco T demonstrates the strongest thickening and texturizing performance, approaching carbomer viscosity building, and outperforms Xanthan Gum for a biodegradable and non-synthetic rheology modifier.

Now, it's possible for beauty formulators to create skincare with appealing texture while still using a biodegradable modified biopolymer.

Aristoflex Eco T (INCI: Caesalpinia Spinosa Gum / Ammonium AMPS Crosspolymer) has an RCI of 71%, thanks to its natural component coming from Tara Gum, and as a result a lower CO2 footprint compared to synthetic rheology modifiers like carbomers.

Formulators looking to minimize the CO2 footprint of their personal care formulations now have choice without trade-off on performance. Aristoflex Eco T does not contribute to formulation build-up in waterways.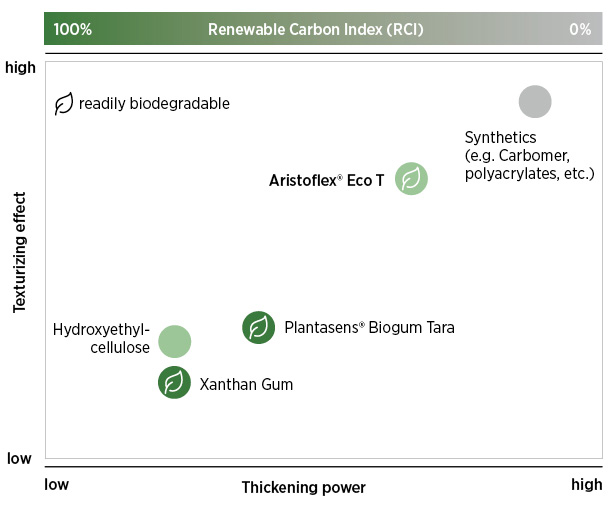 Download the product flyer of Aristoflex Eco T
Working with Aristoflex Eco T
Aristoflex Eco T is pre-neutralized​ and cold processable​, it can be added to any phase of a formulation.

Added to the aqueous phase it builds up viscosity immediately, without the use of neutralizing agent. Indirectly added during the oil phase, the polymer is easily dispersed, and the viscosity build-up occurs after the aqueous phase has been added. Added at the end, Aristoflex Eco T provides immediate viscosity build-up and allows for final adjustment of viscosity.

Get inspired by these 3 formulations using Aristoflex Eco T:
Determine texture and viscosity of formulations, across temperature and pH ranges. Stabilize oil droplets and other particles included in your formulation. Affect formulation structure and resultant skin feel for formulation users. Order an ingredient sample and try Aristoflex Eco T in your next formulation.



Download MSDS, order sample or access product details: