Bringing our purpose-led strategy to life
On June 22, 2022, Clariant announced a new company milestone: the change of its leadership and organizational structure. The intention behind this move is to further drive the cultural transformation and to deliver on Clariant's purpose-led strategy.

But what does that mean?

With this step, Clariant is reducing its management layers and unnecessary complexity within the organization. Thanks to simplified reporting lines and fewer levels, the implementation of the new operating model is aimed at building a culture of possibilities at Clariant: a culture that enables employees and business units to reach their full potential.

Who are the new faces?

In the course of this change, we are also welcoming several new faces to Clariant and to our leadership team: Judith Bischof, Angela Cackovich, and Bill Collins.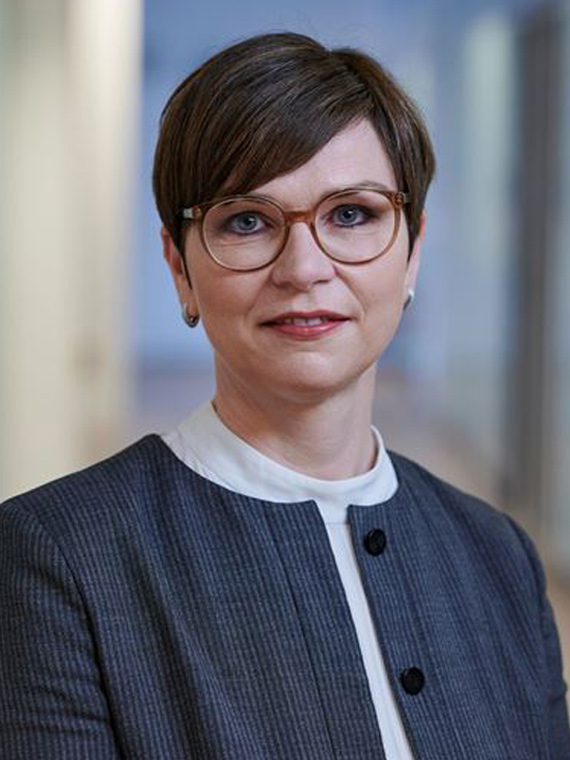 Judith Bischof will succeed Alfred Münch upon his retirement as General Counsel and Head of Group Legal Services from September 1, 2022. Judith will be driving the change at Clariant building on her experience as a lawyer at prestigious firms in Zurich and New York. Judith also has more than ten years of experience as General Counsel in the industry, where she first served at Ascom and most recently at the technology group RUAG International. Additionally, Judith Bischof is a member of the Board of Directors at Implenia.

"Clariant is a company with a focus on rewarding innovations, inimitable products, sustainability, agility as well as ethical practices. This combination makes it interesting for me as General Counsel to bring my experience from a governance and law perspective to the table," says Judith Bischof.
The President of Adsorbents & Additives and EMEA region Angela Cackovich* is also a new joiner at Clariant. She is a seasoned business leader with longstanding experience in successfully formulating and driving growth strategies in the specialty chemicals business. Prior, she worked for example at tesa, Henkel, Celanese, or Hoechst. But that's not all: Sustainability is also high on her agenda as she contributed to developing and implementing a comprehensive sustainability strategy at tesa.

"I am excited to join Clariant and work with the whole team to bring Clariant's purpose to life. For me, Adsorbents & Additives holds great potential, especially regarding sustainable solutions for our customers: that is exactly what we need to enable greater chemistry – between people and the planet," explains Angela Cackovich.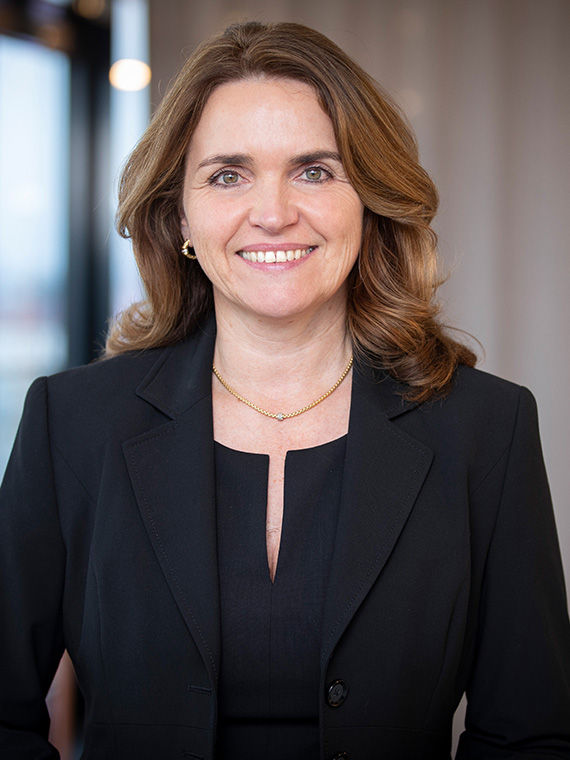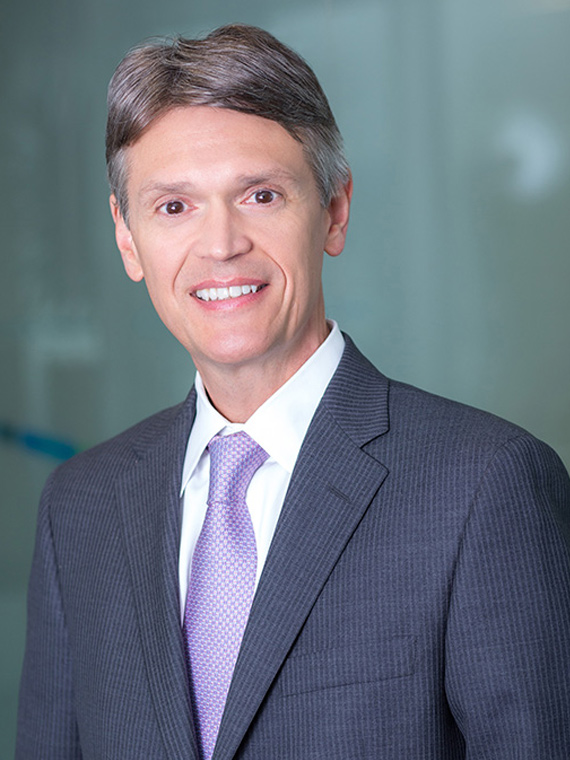 Bill Collins* is joining Clariant as Chief Financial Officer. He has a strong track record in driving performance and large-scale transformation which Clariant will benefit from. He is joining Clariant from ENGIE where he served as North American CEO and CFO. Bill also brings international experience to the team having lived and worked in the Netherlands, Japan, France, Switzerland, and the US.

"With the changes in the leadership and organizational structure, Clariant is ready to write the next chapter of its success story. I am happy to become a part of this great and diverse leadership team," says Bill Collins.



How does that fit into our new organizational structure?

Together with Conrad Keijzer*, Christian Vang*, Jens Cuntze*, Tatiana Berardinelli, Richard Haldimann and Chris Hansen, Judith Bischof, Angela Cackovich, and Bill Collins will form the "Executive Leadership Team" (ELT) which is at the center of Clariant's new leadership structure.

Together, the nine members will continuously work on supporting, implementing, and shaping Clariant's purpose-led strategy by combining the expertise of long-standing Clariant colleagues with the experience of the new joiners. This team will make sure that the necessary frame for employees to thrive and to create innovative chemicals is in place. By bringing all key functions together when it comes to important strategic decisions, Clariant will speed up decision making, strengthen its governance and increase accountability.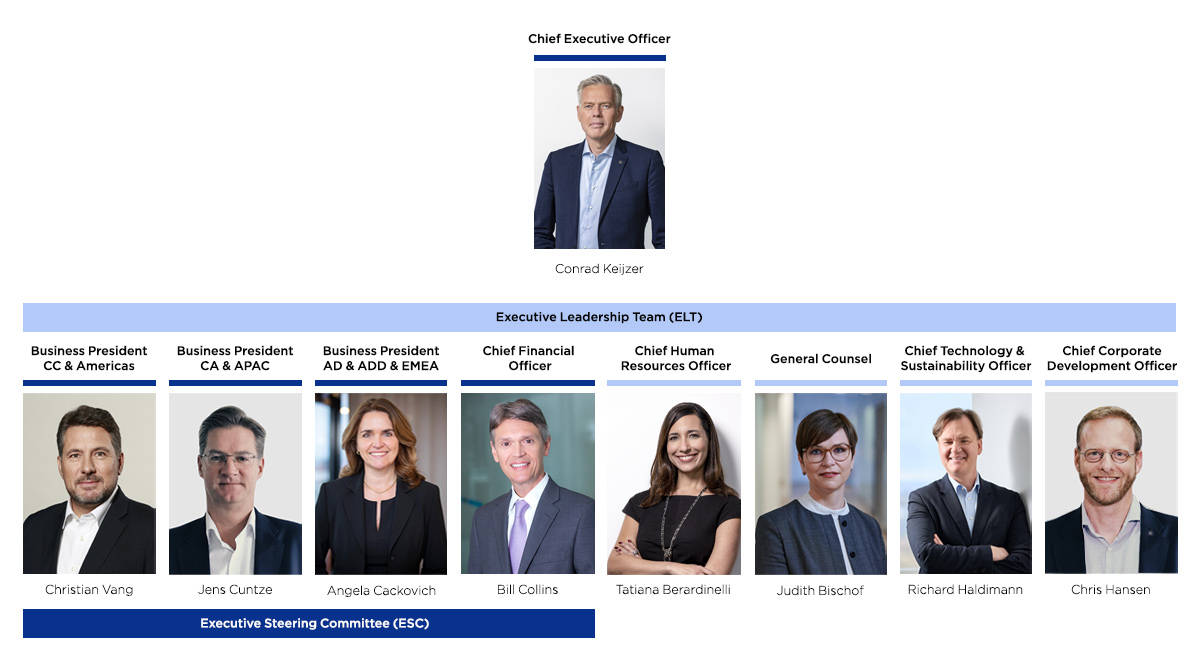 "I am proud to see that we have a strong Executive Leadership Team (ELT) in place. We are one team working towards a clear goal: making Clariant a best-in-class specialty chemicals company by truly empowering our employees, without too complex structures or hierarchies slowing these ambitions down" says Conrad Keijzer, CEO of Clariant.

Clariant is ready to set off into a time of purpose and cultural change. With the new Executive Leadership Team in place Clariant is all set to unfold its full potential and bring its purpose to life. For greater chemistry – between people and the planet.

*Conrad Keijzer, Christian Vang, Jens Cuntze, Angela Cackovich and Bill Collins also form the Executive Steering Committee together while being part of the Executive Leadership Team.