August 22, 2022
Growing every day
Back in July 2022, Clariant's CEO Conrad Keijzer visited the company's production site in Mount Holly, North Carolina, USA. He was there to celebrate the site winning a state-wide award for its excellent safety track record and to take part in the ceremonial groundbreaking for Clariant's new Innovation Center. While there, Keijzer got to meet many of the great people working at the Clariant site, later posting how privileged he felt to share this moment with Mount Holly's #realpeopleofclariant. Two of them stood out: Lavonda Wright and Melissa Sox are two women working in production jobs that are still largely dominated by men. Although each of their experiences is unique, they both exemplify the culture of inclusiveness and opportunity that Clariant strives for. For The Moleculist, Melissa and Lavonda shared their stories.
Melissa and Lavonda, how long have you both been with Clariant?
Melissa Sox: I've been working here at the Mount Holly site for almost 25 years now.
Lavonda Wright: As for me, I joined Clariant only three months ago.

Tell us a bit about your job and what the average workday looks like!
Lavonda: As a level 1 operator, I'm primarily in charge of operating the flaker, which is one of the production machines here. I also take care of some housekeeping and maintain our Manufacturing Execution System or MES, which we use to report operational conditions and machine status.
Melissa: I'm a shift supervisor, so for me, there is no such thing as an "average workday," as anyone who's ever worked in production will tell you. Every day is different, and I never know what to expect when I walk through those doors in the morning. But that is what I love most about this job.

Lavonda, what is the best thing about your job?
Lavonda: I like that we as a company are doing our part to keep the air, water, and soil clean for generations to come. But on a personal level, the best part of my job is the support system I have here. If I could advise anyone, I'd tell them to find a company that cares about you and supports your growth.

Melissa, is that your experience as well?
Melissa: Yes, I think one of the biggest opportunities given to me was the chance to grow in my career. I started out as a lab technician back in 1998 – a job I did for ten years. When a position as site production scheduler opened up, my supervisor at the time sat me down and told me that my attention to detail would make me the perfect person for that job. With his approval and mentoring, I applied and got the job. After nearly ten years as a scheduler, I successfully applied for another opening as a warehouse manager. I love everything about inventory, and I was able to achieve a great deal in that position! While working in the supply chain, I completed courses and national testing to receive my "APICS CPIM," a highly regarded planning and inventory management certification by The Association for Operations Management. I got really excited when I heard of the opportunity to become a shift supervisor. I knew so much about how we operate, and I wanted to round off my career in production. I still smile when I think about the fact that I was the only applicant they chose without any prior production experience. I love that even after almost 25 years, I get to learn something new every single day.

You both work on rotating schedules, meaning that you alternate between day and night shifts. In your experience, what are some of the advantages and disadvantages of that?
Melissa: I get that question a lot because I chose to switch from a salaried Monday-Friday job back to an hourly rotating position. For me, it's all about the numbers. With the rotating schedule, you literally get half of all days in a year off. That means I have more time to enjoy my life. I have a daughter and a granddaughter. I love nothing more than spending time with them or my three dogs.
Lavonda: Day shifts are great because I get to spend evenings at home with my grandbabies. Night shifts are good because you have time off during the day and don't have to deal with the summer heat at work. But, honestly, I do still miss my bed at night!

Your line work is still very male-dominated. What is that like for you?
Lavonda: You need to be confident in your abilities. You have to stand your ground and know your stuff! I was hired as a trainee and recently passed my level 1 operator test with flying colors, just as quickly as all the other operators. I'm proud of that, and I'm proud to represent the Mount Holly site as a female operator.
Melissa: My career has taken me to all parts of this site. And while much of this industry may historically have been dominated by men, I'm proud to be at the forefront of change and help pave the way for more women. I view myself as a valuable employee because of my work ethic, my dedication, and my ambition, none of which is defined by my gender.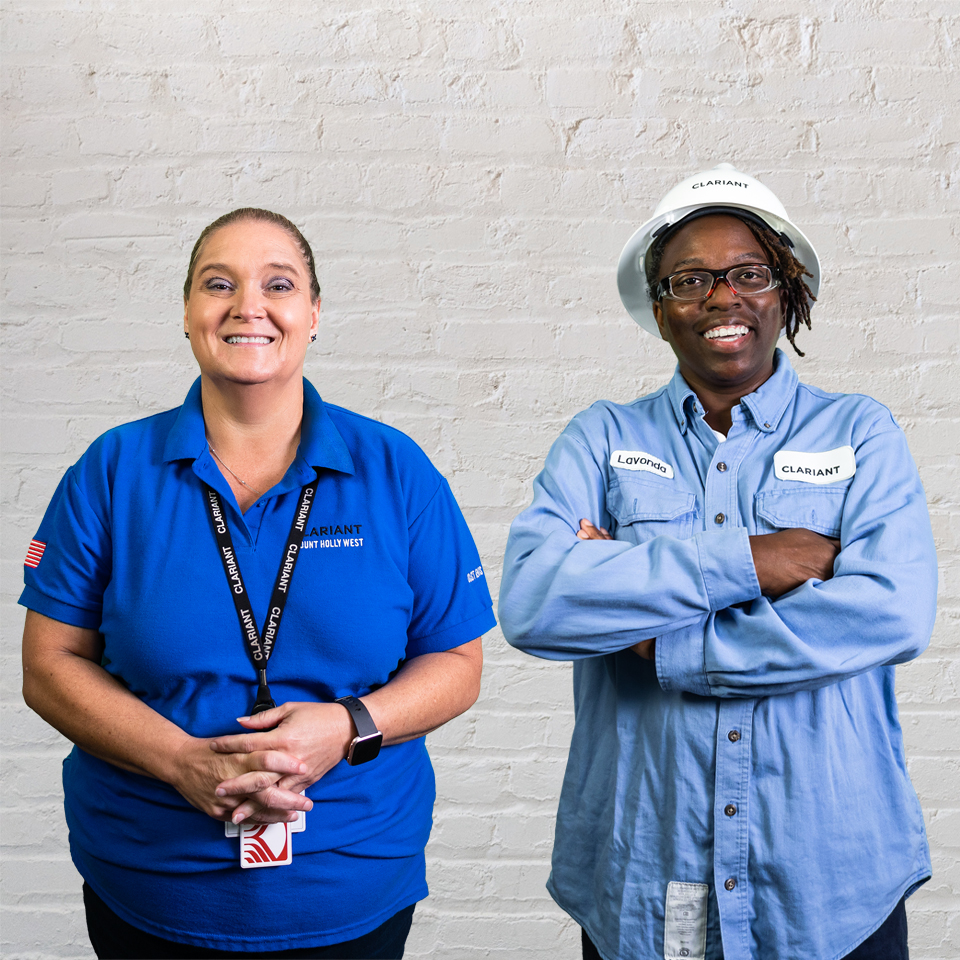 Melissa Sox (left) and Lavonda Wright (right) both exemplify the culture of inclusiveness and opportunity that Clariant strives for.

We at Clariant are proud and grateful to have Melissa Sox and Lavonda Wright and many other great employees on board. It is their hard work and dedication that makes us successful. As a company, Clariant is committed fostering a culture that enables everyone to grow and achieve their goals. That is why, in June of 2022, Clariant launched its Diversity, Equity, and Inclusion (DE&I) roadmap. It is an essential part of Clariant's new purpose-led strategy, aimed at building a more diverse, equitable, and inclusive future by focusing on gender equality, an inclusive culture and cultural identity. For each of these areas, Clariant has set ambitious targets for 2030 that are accompanied by a variety of concrete actions. For more on this, read this media release.

Looking to start your career or make your next move with Clariant? Find out more here.