October 03, 2023
Empowering a bright new generation through education
Studies around the globe consistently show that education is one key answer to sustainable development, enhancing job opportunities, helping households to escape poverty and reducing hunger. As the old saying goes, ›knowledge is power‹ and a new Clariant initiative will support two annual scholarship awards for young adults, helping to cement this philosophy into the future of well-deserving students.
Dignified, living wage and year-round employment
For more than two decades, Clariant has worked with the social enterprise Southwest Creations Collaborative (SCC) in Albuquerque. It offers a dignified, living wage and year-round employment to more than 25 women from low-income communities. In addition, SCC further supports these employees to improve child well-being and prepare employees' children for successful future careers. This non-profit social enterprise provides on-site daycare, leadership and employability programs, English language training, tutoring and other skill building classes to improve chances of ending the cycle of poverty.
»Our model is based on the theory of change. If you give a woman a chance to earn an income, she will invest in her children. That is the most direct route to improve child well-being.«

Susan Matteucci, Executive Director of SCC
Extraordinary durability
The Collaborative provides industrial sewing for the packaging of Clariant's Container Dri II Plus line of cargo desiccants that carry the Clariant EcoTain® label for products. The packaging must be extraordinarily durable since it is used to protect food and other bulk cargo. Due in part to the quality work and commitment of employees at Southwest Creations, Container Dri II Plus is used by Clariant's customers to protect approximately 500,000 metric tons of exported agricultural products each year.

Recently, after taking on a new project for Clariant that generated empty super sacks, the talented seamstresses devised a way to reuse the leftover super sack material and prevent it from going to the landfill. They began repurposing the durable material into functional tote bags, baskets and carriers, branding the new line of products, »industrial chic.«
Mara Murillo, Scheduler/Materials Planner for Clariant Adsorbents Americas, is holding one of the functional tote bags made from leftover super sack material.
Determining further opportunities
Clariant is proud of its 20-year association with the social enterprise. »We are Southwest Creations' largest customer, generating more than $1,000,000 in annual revenue. We value immensely our long-term partnership with an enterprise that delivers such high-quality work while at the same time contributing to empowering low-income communities,« said Justin Mueller, Head of Adsorbents Americas at Clariant.
In June 2023, Angela Cackovich, President BU Adsorbents & Additives, Justin Mueller, and members of the Adsorbents Americas Leadership Team visited Clariant's newly opened Albuquerque, NM sites as well as touring Southwest Creations. Highly impressed with the program, Angela and her leadership team worked in collaboration with Susan Matteucci and her team to determine further opportunities to work together.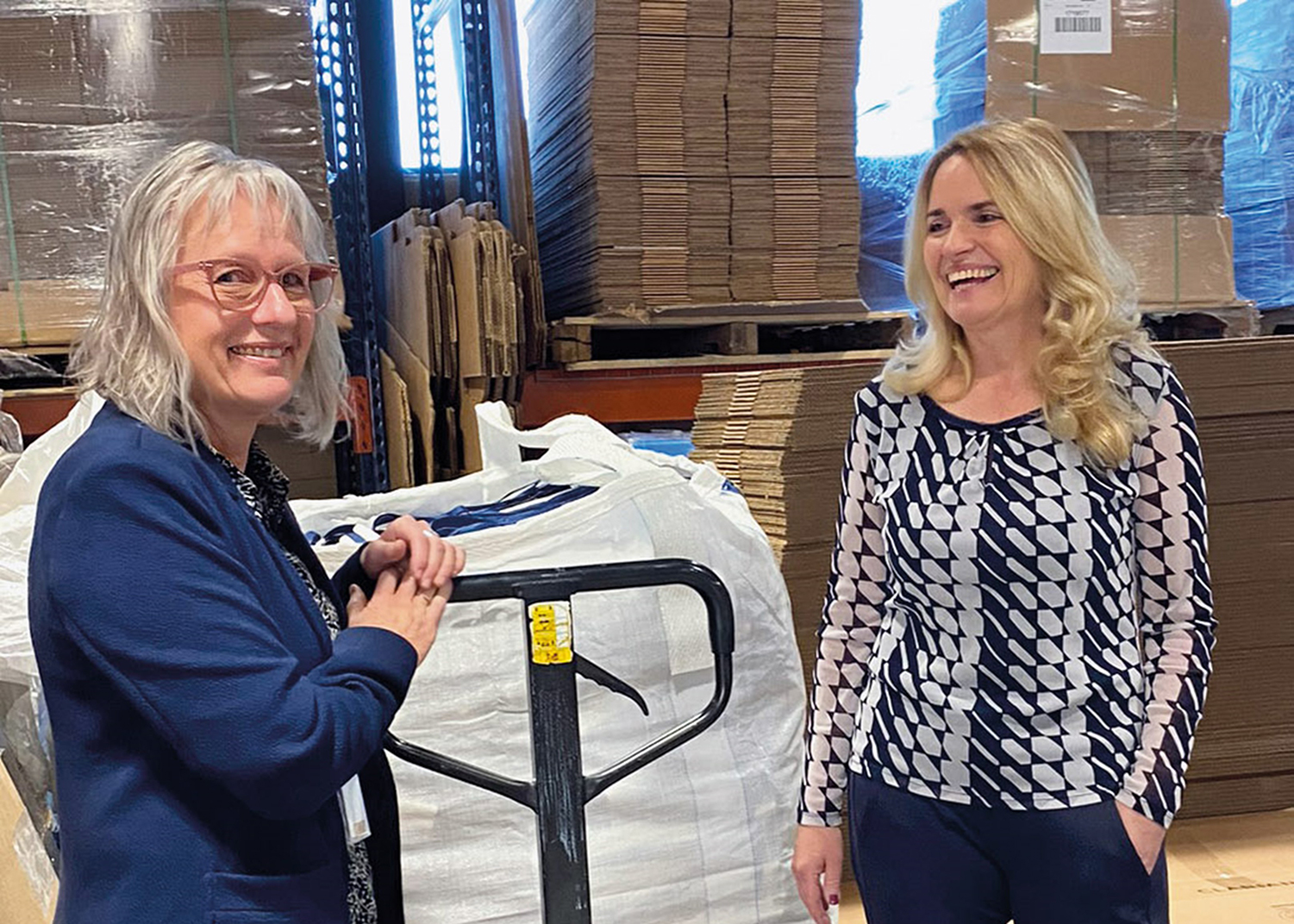 Angela Cackovich, Business President Adsorbents & Additives (right), with SCC team member Maude Andrade, Sewing Operations Manager (left)
Supporting bright and dedicated young people
They evaluated scholarship and internship opportunities and decided to establish two yearly scholarships for accepted students at the Central New Mexico Community College in Albuquerque or the University of New Mexico. The first students to earn these new scholarships are Maria Fernanda Vazquez and Jose Rios Alvarez.

Maria is a graduate from Rio Grande High School and will be attending the University of New Mexico in the autumn. Maria's goal is to graduate with a Bachelor of Science in Nursing to serve her bilingual and Latino community. As the first in her family to graduate high school and a first-generation college student, she is a role model for her younger siblings.
The second award recipient, Jose, is a graduate from Albuquerque High School and will attend Central New Mexico Community College. Another first-generation college student, Jose is motivated to attend college, study nursing and work in the healthcare field so he can support his family.

The inaugural recipients received their awards at a ceremony in August at Southwest Creations. »It's an honor for us at Clariant to be supporting such bright and dedicated young people as they further their studies. We look forward to following their progress and the progress of recipients to come as we play our small part in cementing the importance of education into the future,« concluded Angela Cackovich.