Exolit® OP 1400 (TP): Additional Technical Benefits Discovered
The high processing temperature of polyamides, sometimes reaching up to 340 °C, is always a challenge for flame retardants. During the compounding, polymer degradation, formation of decomposition products and discoloration can occur in case of insufficient thermal stability of the additives. The temperature range between melting and beginning decomposition is the »processing window« of the polymer.
By DSC analysis we could prove, that reinforced polyamides with Exolit OP1400 (TP) have the broadest processing window of flame retarded polyamides, even better than red phosphorus and the brominated polystyrene plus antimony trioxide recipe.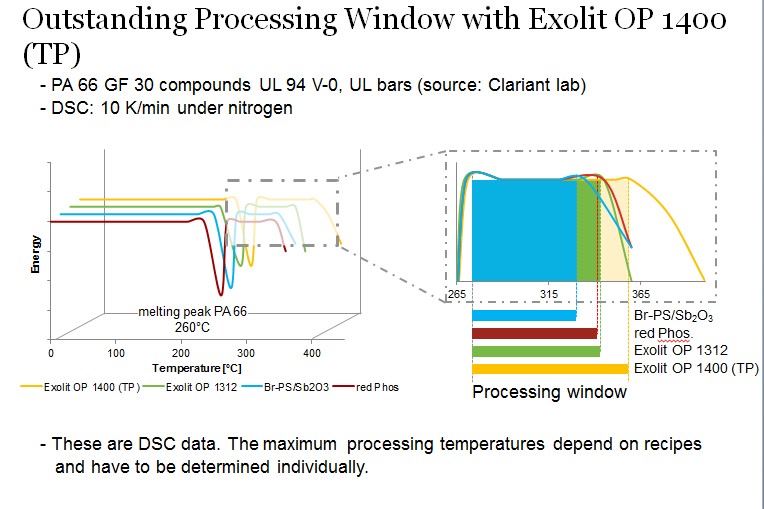 According to the new European railway standard EN 45545-2, electrical and electronic components must either fulfill the requirements R1, R22 or R23 where both smoke toxicity and optical density are specified.
Polyamide compounds using the new Exolit OP 1400 (TP) have shown excellent results in terms of smoke density and smoke toxicity performances.
For instance, when compared to a PA66 GF30 containing Exolit OP 1312 that achieves R22 HL2 ranking, a PA66 GF30 compound flame retarded with Exolit OP 1400 (TP) has a significantly lower smoke toxicity index (CIT (NLP)) because less hydrogen cyanide (HCN) produced as well as a lower smoke density.
Hence, polyamide compounds using Exolit OP 1400 (TP) as flame retardant combine low flammability, reduced smoke density and low smoke toxicity allowing qualification for the material ranking for small electrical components.
Phosphinates Can Be Used for PA 66 GF Compounds for Electrical Parts
Method

Limit
Exolit OP 1400 (TP)

LOI
ISO 4589

>32
35
Ds max

ISO 5659-2

25kW/m2

<150
140
CITNLP
NF X 70-100-1

<0.75

0.45
R22 Hazard Level
HL3

✓
Electrical parts, moulded with P66-GF containing a combination of Exolit OP and a synergist are compliant with the highest fire safety standard for rolling stocks (category R22, Hazard Level 3 (HL3) according to EN TS 45545-2, the new European Standard for railway rolling stock)