Markus Mirgeler is new head of Business Line Flame Retardants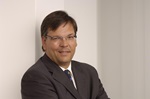 Since January 1st 2015, Markus Mirgeler is the new Business Line Head Flame Retardants. Kay Kutschbach who led the BL for more then six years, changed within Clariant to a new challenge.
Markus joins the BL Flame Retardants from our Business Unit Masterbatch where he lead the region Europe for the last 4 years. »I am looking forward to the next challenge in my career, which started in 1981 at the Knapsack site.
Currently, our Flame Retardant business is well recognized and has been growing profitably. We need to figure out, how we can broaden our portfolio on one hand and defend our position against Asian competition on the other hand« says Markus.