Clariant Oil Services Assists with Successful New Field Start up
Benefits
Comprehensive evaluation and maintenance repair of injection skid eliminated otherwise inevitable system failure
Methodical chemical injection plan allowed for a smooth field start-up
Exceptional product selection lead to the effective prevention of scale, corrosion and wax, as well as water quality and foaming issues
Background
A major offshore operator in the Caribbean was starting-up a new oilfield, projected to produce 50,000 to 60,000 barrels per day of 29 to 31° API crude oil. Clariant Oil Services was awarded a contract to provide production chemicals and laboratory services.
The contract required the deployment of a suite of production chemicals, including a demulsifier, defoamer, wax inhibitor, corrosion inhibitor, scale inhibitor, water clarifier and biocide. The chemicals were to be dosed from the operator's pre-fabricated injection skid. The injection system worked on the principle of 'off-takes' from a pressurized ringmain, which supplied chemical from reservoir tanks via subsea lines to injection points at various well protector platforms.
However, immediately prior to start-up, some faults were found with the operator's injection skid and corrections needed to be made.
Clariant Oil Services Solutions and Value Delivered
Given the large amount of work already required of the operator's personnel, Clariant Oil Services' technical experts offered to lead a comprehensive evaluation of the skid's faults and provide solution options. The technicians worked around the clock to monitor pumps, check valves, flow gauges and filters and to trace lines throughout the injection system. Parts found to be missing were identified, ordered and installed. As the injection skid was still being upgraded on commencement of start-up, Clariant Oil Services recommended a prioritization of injection of the production chemicals according to criticality. This enabled a more concentrated effort on fewer chemical delivery systems to get them online. The most critical chemicals were determined to be:
Demulsifier – high emulsion levels would cause out-of-spec BS&W
Defoamer – high fluid levels in the HGOR and HP separators would cause a shut-down
Wax inhibitor – the risk and consequence of wax deposition was not acceptable
Produced fluid testing and engineering predictions indicated that the fluids would not initially contain free water. It was therefore decided to implement the water treatment chemicals in a second stage. Due to this risk assessment and prioritization, commencement of injection of the oil treatment chemicals was facilitated on production start-up. Soon after start-up, the injection of the corrosion inhibitor, scale inhibitor, water clarifier and batch treatment with the biocide was facilitated.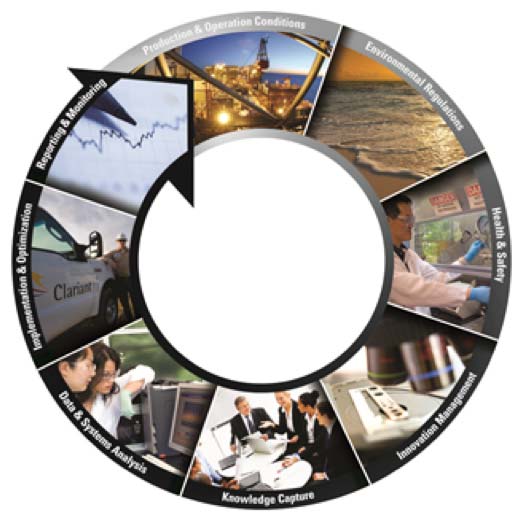 This plan enabled a very smooth field start-up. Application of the suite of production chemicals was achieved and system upsets were avoided.
Following start-up, the production chemical program continued to operate very effectively. Oil and water parameters were maintained well within specification, and the corrosion management plan indicated good facility integrity. Additionally, accurate product selection and development prior to start-up prevented the need for a post start-up product re-formulation.
This information corresponds to the present state of our knowledge and is intended as a general description of our products and their possible applications. Clariant makes no warranties, express or implied, as to the information's accuracy, adequacy, sufficiency or freedom from defect and assumes no liability in connection with any use of this information. Any user of this product is responsible for determining the suitability of Clariant's products for its particular application. *Nothing included in this information waives any of Clariant's General Terms and Conditions of Sale, which control unless it agrees otherwise in writing. Any existing intellectual/industrial property rights must be observed. Due to possible changes in our products and applicable national and international regulations and laws, the status of our products could change. Material Safety Data Sheets providing safety precautions, that should be observed when handling or storing Clariant products, are available upon request and are provided in compliance with applicable law. You should obtain and review the applicable Material Safety Data Sheet information before handling any of these products. For additional information, please contact Clariant.
*For sales to customers located within the United States and Canada the following applies in addition: NO EXPRESS OR IMPLIED WARRANTY IS MADE OF THE MERCHANTABILITY, SUITABILITY, FITNESS FOR A PARTICULAR PURPOSE OR OTHERWISE OF ANY PRODUCT OR SERVICE.
Copyright © Clariant International Ltd, 2012.