November 21, 2012
Clariant Oil Services Improves Separation Performance for UK Heavy Oil Field
Benefits
Improved separation performance and front-end water knock-out
Up to 50% reduction in dose rate, compared to incumbent product
Cost reduction, compared to incumbent product
Improved HS&E potential due to 50% reduction in tote tank lifts
Background
An offshore platform operated by a major producer in the UK North Sea had been experiencing challenging conditions for separation and crude dehydration. Following water breakthrough, significant operational issues became apparent: undersized separators resulted in short residence times, the crude had a low API of 22o to 23o, and the presence of corrosion products were believed to be enhancing emulsion stability.
The platform started production one February with dry oil, until water breakthrough occurred nearly two and a half years later. Demulsifier bottle testing conducted three months later identified two commercial products plus three new formulations that performed significantly better than the product selected at the time of first fill two years previously. All new products offered an increase in speed of water drop and crude dehydration compared to the incumbent demulsifier at that point in time; however, overall platform water cut remained low. Subsequent field trials selected the best product enabling the platform to maintain export BS&W spec (< 1%).
A few months later, the water cut of the platform steadily increased and separation effectiveness reduced as a result. Dose rates of demulsifier (initially 20 ppm) continued to climb in line with increasing water cut. Shortly after, the required dose rate was 60 ppm to 80 ppm, with frequent excursions over this figure necessary to maintain control.
Clariant Oil Services Solutions and Value Delivered
After a thorough review and analysis of the operator's system, Clariant Oil Services selected PHASETREAT 6158—a demulsifier developed specifically by Clariant Oil Services for the treatment of heavy oils—for bottle testing and field trial on a single production train. Results were favorable.
Following the trial application in the first quarter of the new year, the operator experienced a reduction in the demulsifier dose rate, a 30% improvement in speed of water drop (Figure 1), and a 30% reduction in oil-in-water (Figure 2) over the incumbent just two months prior. There was no change in the export oil BS&W.
Figure 1: Improved Speed of Water Drop vs. Incumbent Product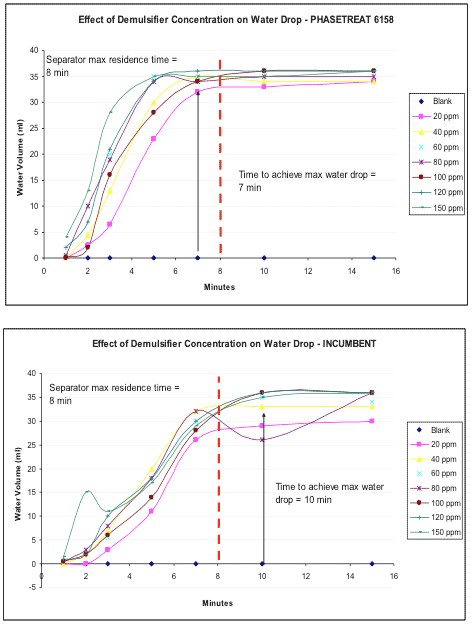 Figure 2: Improvement in Oil-in-Water Following Introduction of PHASETREAT 6158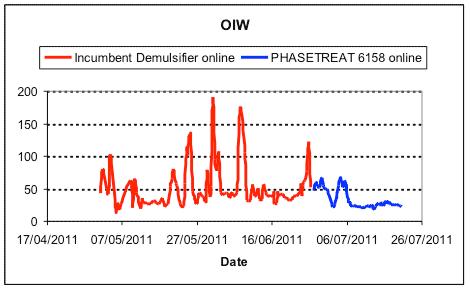 Having proven successful on the first train, PHASETREAT 6158 was subsequently implemented on both production trains. Upon further dose rate optimization, the dose rate was successfully reduced another 20% to 50% versus that of the incumbent (Figure 3), thereby offering a significant reduction in cost compared with the previous product spend.
Figure 3: Reduction of Dose Rate Compared to the Incumbent