Clariant Oil Services Demulsifier Improves Environmental Performance and Reduces Costs
Benefits
Achieved target BS&W and overboard oil-in-water levels
Reduced overall demulsifier spend by 40%
Improved overall environmental performance
Performed consistently better than the existing product, at a steady rate of 25 ppm
Background
A semi-submersible platform in the North Sea had been experiencing separation and oil-in-water problems. The incumbent demulsifier product had been used for 20 years but, due to changes in government legislation, had a substitution warning and was required to be replaced.
Although several chemical providers had attempted to replace the existing demulsifier with an environmentally-acceptable product, the conditions proved to be too challenging and each attempt ended in failure.
The cooler temperatures and considerably-changing field conditions required a demulsifier technology that could treat the difficult fluids, as well as handle the changes associated with a subsea field.
Clariant Oil Services Solutions and Value Delivered
After rigorous bottle testing and two successful field trials, Clariant Oil Services recommended PHASETREAT 6800 demulsifier as a suitable replacement for this challenging, semi-submersible platform. Results indicated that PHASETREAT 6800 exhibited outstanding performance, achieving favorable BS&W and final overboard oil-in-water levels.
Additionally, due to the complex nature of separation problems in the field, the operator decided to conduct a longer, 3-month field trial in order to judge PHASETREAT 6800 as truly suitable for use. During the field trial, the incumbent demulsifier was to be reintroduced at any time.
PHASETREAT 6800 was injected into the HP and MP separator at a rate of 25 ppm, based on total volumes, which was the same as the incumbent. However, the incumbent was frequently increased during periods of high oil-in-water levels. The effect of each change was monitored and, after three months, the platform decided to permanently replace the incumbent demulsifier with Clariant Oil Services' PHASETREAT 6800 demulsifier (Table 1).
The application of PHASETREAT 6800 greatly improved the plant's operating performance. Clariant Oil Services' PHASETREAT 6800 demulsifier provided a 40% reduction in chemical spend and improved overall environmental performance. Furthermore, PHASETREAT 6800 continues to treat the fluids at a steady rate of 25 ppm, even during upset conditions.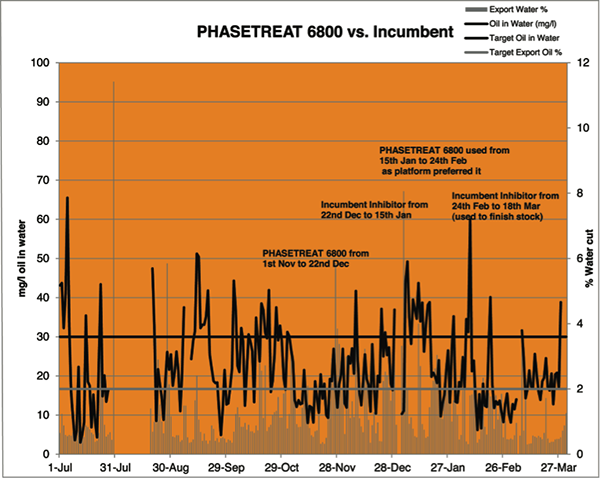 This information corresponds to the present state of our knowledge and is intended as a general description of our products and their possible applications. Clariant makes no warranties, express or implied, as to the information's accuracy, adequacy, sufficiency or freedom from defect and assumes no liability in connection with any use of this information. Any user of this product is responsible for determining the suitability of Clariant's products for its particular application. *Nothing included in this information waives any of Clariant's General Terms and Conditions of Sale, which control unless it agrees otherwise in writing. Any existing intellectual/industrial property rights must be observed. Due to possible changes in our products and applicable national and international regulations and laws, the status of our products could change. Material Safety Data Sheets providing safety precautions, that should be observed when handling or storing Clariant products, are available upon request and are provided in compliance with applicable law. You should obtain and review the applicable Material Safety Data Sheet information before handling any of these products. For additional information, please contact Clariant.
*For sales to customers located within the United States and Canada the following applies in addition: NO EXPRESS OR IMPLIED WARRANTY IS MADE OF THE MERCHANTABILITY, SUITABILITY, FITNESS FOR A PARTICULAR PURPOSE OR OTHERWISE OF ANY PRODUCT OR SERVICE.
Copyright © Clariant International Ltd, 2012.