Clariant Oil Services Improves Environmental Profile of Demulsifier on UK Platform
Benefits
Improved overall chemical environmental legal compliance; PHASETREAT 6158 does not carry substitution warning
Reduced environmental impact; oil-in-water quality improved by 46%
Lower dose rate of PHASETREAT 6158 provides cost savings whilst delivering improved environmental profile
Background
An offshore platform owned by a major producer in the UK sector of the North Sea has historically had problems with separation due to heavy crude and low process temperature. The oil-in-water quality has always been poor; however, because water injection availability was traditionally 99%, there had been little environmental impact. But the overboard oil to sea discharge consent is low (30 mg/Kg), with risk of financial penalty if exceeded. The high oil-in-water content in injection water also increases the potential for the water injection wells to be fouled, reducing injectivity, with the potential to reduce overall crude production. The incumbent product had a substitution warning and had been in use for more than five years.
Clariant Oil Services Solutions and Value Delivered
Initial testing using existing products identified a potential replacement that was environmentally friendly, yet field trials showed it to be less efficient. Consequently, Clariant Oil Services developed a new environmentally-acceptable demulsifier, PHASETREAT 6158, specifically for this platform.
Field testing was carried out under different process conditions to confirm efficiency and optimize dose rate prior to full field use. Results demonstrated that the oil-in-water quality improved from an average of 50 mg/kg to 27 mg/kg, with PHASETREAT 6158 maintaining export BS&W below the specification of 0.5 % whilst reducing the dose rate from 30 ppm to 20 ppm.
Following full field use of PHASETREAT 6158, the oil-in-water has been further reduced to 15 mg/Kg.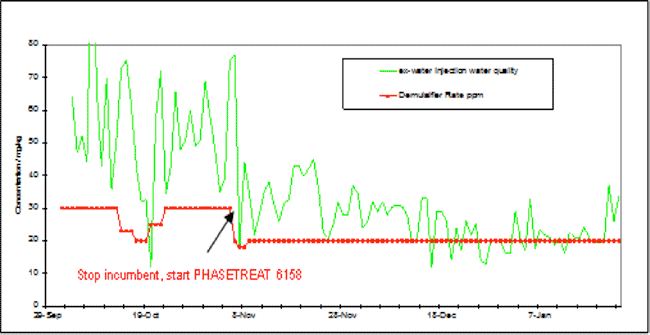 This information corresponds to the present state of our knowledge and is intended as a general description of our products and their possible applications. Clariant makes no warranties, express or implied, as to the information's accuracy, adequacy, sufficiency or freedom from defect and assumes no liability in connection with any use of this information. Any user of this product is responsible for determining the suitability of Clariant's products for its particular application. *Nothing included in this information waives any of Clariant's General Terms and Conditions of Sale, which control unless it agrees otherwise in writing. Any existing intellectual/industrial property rights must be observed. Due to possible changes in our products and applicable national and international regulations and laws, the status of our products could change. Material Safety Data Sheets providing safety precautions, that should be observed when handling or storing Clariant products, are available upon request and are provided in compliance with applicable law. You should obtain and review the applicable Material Safety Data Sheet information before handling any of these products. For additional information, please contact Clariant.
*For sales to customers located within the United States and Canada the following applies in addition: NO EXPRESS OR IMPLIED WARRANTY IS MADE OF THE MERCHANTABILITY, SUITABILITY, FITNESS FOR A PARTICULAR PURPOSE OR OTHERWISE OF ANY PRODUCT OR SERVICE.
Copyright © Clariant International Ltd, 2012.