December 16, 2012
Clariant Oil Services Improves Separation Performance in Oman Heavy Oil Facility
Benefits
31% Reduction in chemical usage, generating an annual savings of $600,000
Improved interface control and reduced BS&W excursions
30% Improvement in oil-in-water (OIW)
Recovery of an additional 27,000 barrels of export oil per year
Background
A major oil and gas operator in Oman was experiencing separation difficulties that resulted in unacceptable produced water quality. The onshore facility produces 157,000 bbls of 21° API crude together with 1,400,000 bbls of water per day, resulting in a water cut of 90%.
Fluids are produced from several gathering centers and combined into six inter-field pipelines before treatment in a central processing facility. The co-mingled fluids are initially processed through free water knock out tanks at ambient temperature. The oil is then heated to 65° C before entering concentric wash tanks and finally routed to crude storage tanks prior to export. The produced water from each tank is further processed in CPI separators and subsequently injected downhole.
The incumbent demulsifier was injected at 7 to 8 ppm into eight locations upstream of the central processing facility. In order to maintain the crude export BS&W below the 0.6% specification, the produced water quality was routinely above the 150 ppm target, as can be seen in Figure 1 herein.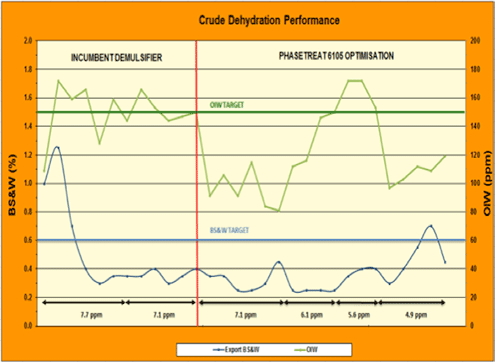 Clariant Oil Services Solutions and Value Delivered
Clariant Oil Services has extensive experience in treating heavy crudes. In conjunction with the operator, fluid separation experts were mobilized to the field to perform bottle tests, which included novel screening for water treatment evaluation. The demulsifier PHASETREAT 6105 was developed specifically for this application, and during the field trial, it was observed to improve interface control, minimize BS&W excursions and reduce the content of oil in the produced water to as low as 80 ppm.
The field trial was performed during pigging operations in winter with ambient temperatures as low as 5° C. The dose rate of PHASETREAT 6105 demulsifier was systematically reduced throughout the trial at all injection locations and finally optimized at 4 ppm, as shown in Figure 2 on page 3.
PHASETREAT 6105 was able to significantly improve the produced water quality to meet the specification of the operator whilst providing annual savings of approximately $600,000 through the reduced dose rate and logistics costs. As a consequence of the OIW improvement, an additional 27,000 barrels of oil per year can be exported.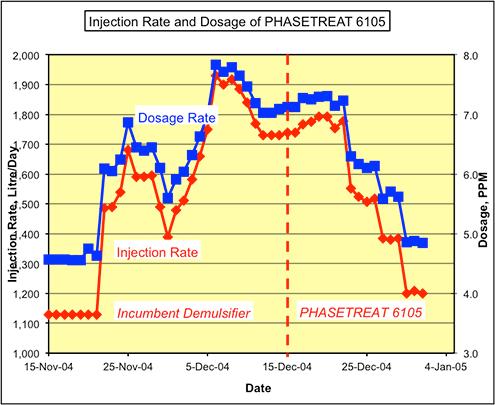 This information corresponds to the present state of our knowledge and is intended as a general description of our products and their possible applications. Clariant makes no warranties, express or implied, as to the information's accuracy, adequacy, sufficiency or freedom from defect and assumes no liability in connection with any use of this information. Any user of this product is responsible for determining the suitability of Clariant's products for its particular application. *Nothing included in this information waives any of Clariant's General Terms and Conditions of Sale, which control unless it agrees otherwise in writing. Any existing intellectual/industrial property rights must be observed. Due to possible changes in our products and applicable national and international regulations and laws, the status of our products could change. Material Safety Data Sheets providing safety precautions, that should be observed when handling or storing Clariant products, are available upon request and are provided in compliance with applicable law. You should obtain and review the applicable Material Safety Data Sheet information before handling any of these products. For additional information, please contact Clariant.
*For sales to customers located within the United States and Canada the following applies in addition: NO EXPRESS OR IMPLIED WARRANTY IS MADE OF THE MERCHANTABILITY, SUITABILITY, FITNESS FOR A PARTICULAR PURPOSE OR OTHERWISE OF ANY PRODUCT OR SERVICE.
Copyright © Clariant International Ltd, 2012.