December 23, 2012
Clariant Oil Services Prevents Naphthenate Deposition in Norwegian Oil Facility
Benefits
Reduced production outages caused by naphthenate deposits
Cost reduction compared to traditional acid treatment
Improved crude oil dehydration
Reduced likelihood of corrosion failures
Background
An offshore platform operated by a major producer in the Norwegian North Sea had been experiencing significant operational issues due to the deposition of calcium naphthenate throughout the process facilities. The platform produces 26,000 m3 of API 25° crude oil together with 13,000 m3 of produced water; the oil export specification is <0.5 % BS&W.
The operator's original approach was to control the naphthenate deposits by injecting a strong acid at 300 ppm into a high water cut well. This method was relatively successful in managing the solids; however, there was a significant increase in corrosion risk to the process facilities and it caused a detrimental effect on the crude oil dehydration.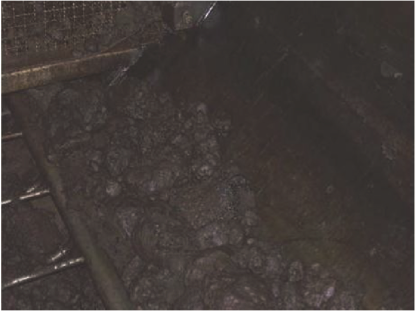 Clariant Oil Services Solutions and Value Delivered
Clariant Oil Services has extensive experience in treating naphthenic crudes and, in conjunction with the operator, fluid separation experts were mobilized to the field to perform bottle tests to screen potential candidate products. Clariant Oil Services developed PHASETREAT 7604 demulsifier specifically for this application, and deployed it on a continuous basis after several successful field trials.
Clariant Oil Services continued to work with the operator to ensure product optimization for the process conditions, as they have changed over the years due to increased water cut. Next generation products PHASETREAT 7606, PHASETREAT 7609 and the current product, PHASETREAT 7615, have been successfully developed and deployed in the field resulting in improved export BS&W and oil-in-water figures.
PHASETREAT 7615 is currently injected at 9.5 ppm on water-producing wells, which provides a significant cost savings and volume reduction compared to the previous acid treatments. Furthermore, the operator has not experienced operational outages as a result of naphthenate deposition since the PHASETREAT products have been deployed, and PHASETREAT products are not corrosive so therefore present a significant integrity management benefit over standard acid treatments.
This information corresponds to the present state of our knowledge and is intended as a general description of our products and their possible applications. Clariant makes no warranties, express or implied, as to the information's accuracy, adequacy, sufficiency or freedom from defect and assumes no liability in connection with any use of this information. Any user of this product is responsible for determining the suitability of Clariant's products for its particular application. *Nothing included in this information waives any of Clariant's General Terms and Conditions of Sale, which control unless it agrees otherwise in writing. Any existing intellectual/industrial property rights must be observed. Due to possible changes in our products and applicable national and international regulations and laws, the status of our products could change. Material Safety Data Sheets providing safety precautions, that should be observed when handling or storing Clariant products, are available upon request and are provided in compliance with applicable law. You should obtain and review the applicable Material Safety Data Sheet information before handling any of these products. For additional information, please contact Clariant.
*For sales to customers located within the United States and Canada the following applies in addition: NO EXPRESS OR IMPLIED WARRANTY IS MADE OF THE MERCHANTABILITY, SUITABILITY, FITNESS FOR A PARTICULAR PURPOSE OR OTHERWISE OF ANY PRODUCT OR SERVICE.
Copyright © Clariant International Ltd, 2012.