Clariant Oil Services Provides Scale and Corrosion Management in Western USA
Benefits
Reduced number of well failures due to successful corrosion and scale management strategy
Increased well uptime, increased oil production, lowered workover costs
Reduction in overall chemical demand, eased logistics and cost savings due to continual optimization of the chemical treatment program
Background
For more than five years, Clariant Oil Services has treated several thousand wells on a lease in the western United States. Production occurs from about 5,000 rod-pumped wells, and the field extends over 500 square miles. Initially, very few wells were treated and failure rates were high, which required wells to be worked over; these workovers became the operator's biggest Operational Expenditure (OPEX).
The root cause of flow failure was corrosion through tubing and rod failure. Calcium carbonate scale precipitation also led to tubing blockages and stuck rods. The logistical challenge of protecting so many wells led Clariant Oil Services to develop a strategy of transitioning from batch treatment to continuous treatment. This ensured a higher efficiency of chemical delivery and less logistical strain of managing the chemical application. Working with the operator, the major challenges of this project were found to be reducing the overall failure rates while still managing the chemical OPEX and ensuring the highest efficacy of chemical delivery.
Clariant Oil Services Solutions and Value Delivered
After extensive evaluation and collaboration, a strategy was adopted to ensure every new well was put on continuous corrosion inhibitor injection using CORRTREAT 7194. When monitoring showed a scale risk had developed, continuous injection began with the combined scale / corrosion inhibitor MULTITREAT 9220.
Concurrently, treatment of the older wells was switched to continuous treatment. In just 12 months, Clariant Oil Services was treating 3,000 wells by continuous injection. This has resulted in a 50%+ reduction in well failures, it has nearly doubled well uptime, and the operator has realized a cost savings of over US$300 million.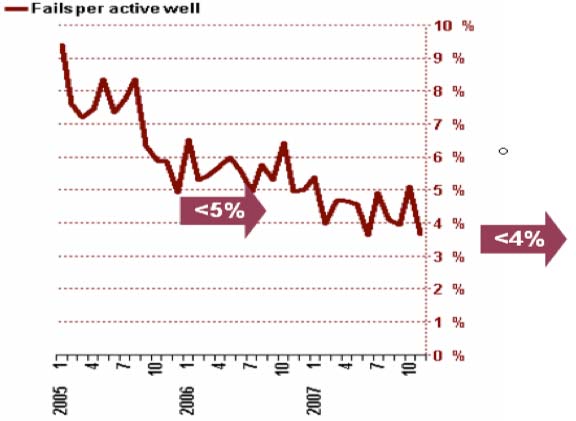 This information corresponds to the present state of our knowledge and is intended as a general description of our products and their possible applications. Clariant makes no warranties, express or implied, as to the information's accuracy, adequacy, sufficiency or freedom from defect and assumes no liability in connection with any use of this information. Any user of this product is responsible for determining the suitability of Clariant's products for its particular application. *Nothing included in this information waives any of Clariant's General Terms and Conditions of Sale, which control unless it agrees otherwise in writing. Any existing intellectual/industrial property rights must be observed. Due to possible changes in our products and applicable national and international regulations and laws, the status of our products could change. Material Safety Data Sheets providing safety precautions, that should be observed when handling or storing Clariant products, are available upon request and are provided in compliance with applicable law. You should obtain and review the applicable Material Safety Data Sheet information before handling any of these products. For additional information, please contact Clariant.
*For sales to customers located within the United States and Canada the following applies in addition: NO EXPRESS OR IMPLIED WARRANTY IS MADE OF THE MERCHANTABILITY, SUITABILITY, FITNESS FOR A PARTICULAR PURPOSE OR OTHERWISE OF ANY PRODUCT OR SERVICE.
Copyright © Clariant International Ltd, 2012.