December 13, 2012
Clariant Oil Services Successfully Treats Produced Water Re-Injection System
Benefits
Improved corrosion inhibition through deployment of MULTITREAT 9336
Reduced chemical volumes
Significant reduction in chemical spend
Significant reduction in logistics costs due to reduced chemical volumes
Environmentally acceptable
Background
An international operator in the North Sea carried out a modification to install a Produced Water Re-injection facility (PWRI) on an offshore installation, in order to reduce environmental impact and comply with heightened legislation on produced water discharges to sea. As a result of the PWRI facility, 50,000 bwpd produced water (which was previously discharged to sea) was commingled with 100,000 bwpd seawater and routed into five injection wells to support an existing water-flood scheme.
The water injection system was constructed from carbon steel and designed to handle treated seawater only. The produced water to be re-injected contains dissolved CO2 at a temperature of 80°C and a pressure of 33 bar, thus presenting a risk of CO2 corrosion to the carbon steel system metallurgy.
A combination scale / corrosion inhibitor chemical was selected for deployment by the operator to mitigate for CO2 corrosion, and also to prevent formation of scale caused by the mixing of incompatible produced water and seawater.
Field monitoring of the scale / corrosion inhibitor demonstrated that the product performance was adequate (approximately 0.1 mm / yr corrosion rate). However, due to the large chemical volumes required to continuously treat the system and associated logistics challenges, Clariant Oil Services identified an opportunity to provide significant technical and business improvements for the customer.
Clariant Oil Services Solutions and Value Delivered
Following detailed lab evaluation under representative conditions, Clariant Oil Services selected MULTITREAT 9336 as a suitable candidate product to replace the incumbent scale / corrosion inhibitor. MULTITREAT 9336 was deployed and its corrosion inhibition performance monitored using Linear Polarization Resistance (LPR) technique via sidestream apparatus.
The performance of the product was measured at a range of concentrations, and corrosion inhibition performance compared with the incumbent product which was deployed at 30 ppm concentration. MULTITREAT 9336 was found to reduce the measured corrosion rate from 0.1 mm/yr with the incumbent product to 0.08 mm/yr.
Clariant Oil Services' MULTITREAT 9336 product achieved a 20% reduction in the corrosion rate at a concentration of 25 ppm, compared with 30 ppm for the incumbent. In addition, the unit cost of MULTITREAT 9336 was 75% of the incumbent scale / corrosion inhibitor.
MULTITREAT 9336 was selected by the operator to replace the existing scale / corrosion inhibitor for deployment at 25 ppm. This resulted in the immediate reduction of 45,000 liters of chemical volume p.a for the operator. In conjunction with the reduced unit cost of MULTITREAT 9336 when compared to the incumbent, a total cost savings of £240,000 p.a was realized.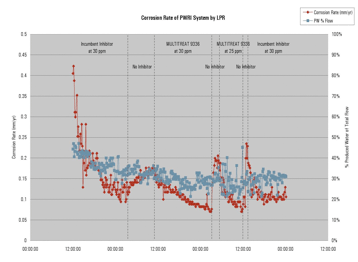 This information corresponds to the present state of our knowledge and is intended as a general description of our products and their possible applications. Clariant makes no warranties, express or implied, as to the information's accuracy, adequacy, sufficiency or freedom from defect and assumes no liability in connection with any use of this information. Any user of this product is responsible for determining the suitability of Clariant's products for its particular application. *Nothing included in this information waives any of Clariant's General Terms and Conditions of Sale, which control unless it agrees otherwise in writing. Any existing intellectual/industrial property rights must be observed. Due to possible changes in our products and applicable national and international regulations and laws, the status of our products could change. Material Safety Data Sheets providing safety precautions, that should be observed when handling or storing Clariant products, are available upon request and are provided in compliance with applicable law. You should obtain and review the applicable Material Safety Data Sheet information before handling any of these products. For additional information, please contact Clariant.
*For sales to customers located within the United States and Canada the following applies in addition: NO EXPRESS OR IMPLIED WARRANTY IS MADE OF THE MERCHANTABILITY, SUITABILITY, FITNESS FOR A PARTICULAR PURPOSE OR OTHERWISE OF ANY PRODUCT OR SERVICE.
Copyright © Clariant International Ltd, 2012.