Oil-Soluble Pipeline Cleaning Chemical Enables Successful Intelligent Pig Run
Benefits
Removal of significant amounts of solids from the system, along with grease and oil
Effective cleaning program ensured a successful intelligent pig run and maximized value to the overall operation
Background
Three gas pipelines in Southern Louisiana had been in continuous service for many years without having been aggressively pigged or cleaned. The three pipelines ran parallel with one another, were comprised of a 24-inch line and two 30-inch lines, and were each 64 miles long.
Clariant Oil Services was contacted by the operator to develop an effective pipeline cleaning chemical treatment program. However, as the pipeline receiving stations were not designed to receive a large volume of liquids, classic, aqueous-based pipeline cleaning chemicals would not have been suitable for this operation.
Clariant Oil Services Solutions and Value Delivered
Clariant Oil Services developed SURFTREAT 9286, an oil-soluble cleaning product, specifically formulated for application in pipeline cleaning operations. The mode of action is as a degreaser and dispersant, and it is often used as part of a combination biocide or scale removal treatment to gain better access to the surface that requires treatment. Additionally, SURFTREAT 9286 has a deodorizing component to remove unpleasant odors.
The cleaning chemicals were first required to be dissolved in an aromatic solvent matrix and then pumped into the pipelines in advance of the pig. For each of the three pipelines, a 500-gallon slug of non-aqueous cleaning mixture was used – this was largely composed of aromatic solvent and 10% to 20% of SURFTREAT 9286. The chemical and solvent slug was pushed along the entire length of the pipelines with a series of brush pigs at 10 mph to 12 mph.
Clariant Oil Services' SURFTREAT 9286 successfully cleaned the pipelines and removed a significant amount of solids, along with grease and oil. The cleaning treatment was so effective that it paved the way for a successful intelligent pig run afterward, maximizing value to the overall operation.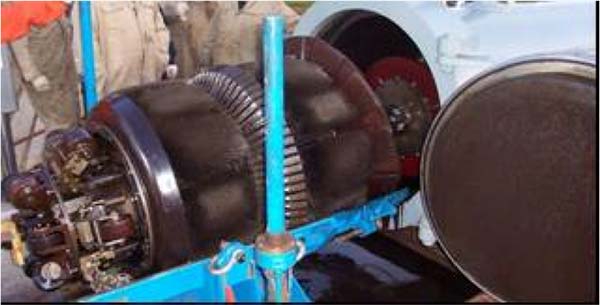 This information corresponds to the present state of our knowledge and is intended as a general description of our products and their possible applications. Clariant makes no warranties, express or implied, as to the information's accuracy, adequacy, sufficiency or freedom from defect and assumes no liability in connection with any use of this information. Any user of this product is responsible for determining the suitability of Clariant's products for its particular application. *Nothing included in this information waives any of Clariant's General Terms and Conditions of Sale, which control unless it agrees otherwise in writing. Any existing intellectual/industrial property rights must be observed. Due to possible changes in our products and applicable national and international regulations and laws, the status of our products could change. Material Safety Data Sheets providing safety precautions, that should be observed when handling or storing Clariant products, are available upon request and are provided in compliance with applicable law. You should obtain and review the applicable Material Safety Data Sheet information before handling any of these products. For additional information, please contact Clariant.
*For sales to customers located within the United States and Canada the following applies in addition: NO EXPRESS OR IMPLIED WARRANTY IS MADE OF THE MERCHANTABILITY, SUITABILITY, FITNESS FOR A PARTICULAR PURPOSE OR OTHERWISE OF ANY PRODUCT OR SERVICE.
Copyright © Clariant International Ltd, 2013.