Clariant Oil Services Demulsifier Dramatically Increases Oil Production by up to 27
Benefits
Increased the speed of oil and water separation
Improved water quality by eliminating the emulsion interface
Improved oil quality by removing emulsified water droplets; thus decreasing BS&W
Increased production on existing wells and flow of additional wells through existing equipment
Grew annual revenue by more than $20MM without need for investment in additional equipment
Background
An offshore platform in the Gulf of Mexico was experiencing high BS&W levels due to perceived limitations of the existing equipment, topside. The operators were forced to choke back production on several wells and shut-in other wells entirely.
Yet even with decreased production, the operators continuously fought water and oil quality problems, and many hours were spent adjusting rates and levels, as well as experimenting with various chemicals.
Clariant Oil Services was invited to provide an assessment of the conditions and found the following:
Chemical was pumped at 14 different injection locations; 11 of which utilized either demulsifiers or paraffin solvents
BS&W was extremely high, causing the operators to limit well production
Water quality was difficult to manage and constantly required attention or production shut-ins
Clariant Oil Services Solutions and Value Delivered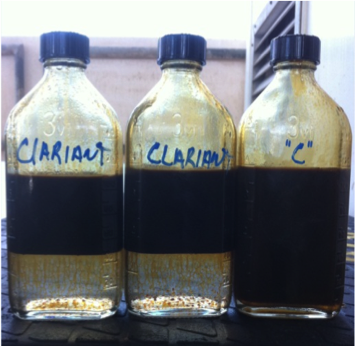 Following the assessment, Clariant Oil Services performed rigorous bottle testing in search of an alternative treatment program. PHASETREAT 6275 demulsifier was recommended, as results indicated it could lead to a reduction in the number of injection points from 11 to three, while eliminating the need for one chemical entirely. Additionally, changing the injection point location would further improve system results dramatically.
After the application of PHASETREAT 6275, improvements in water clarity and oil cleanliness allowed the operators to increase production by 13% to 27%, while utilizing 8% less chemical per BOE. The increased production generated an average of $20MM more in annual revenue. Through additional monthly monitoring and optimizations, Clariant Oil Services kept the system functioning at a high level. Furthermore, the operators are now considering routing fluids from other producing fields to the platform for processing.
This information corresponds to the present state of our knowledge and is intended as a general description of our products and their possible applications. Clariant makes no warranties, express or implied, as to the information's accuracy, adequacy, sufficiency or freedom from defect and assumes no liability in connection with any use of this information. Any user of this product is responsible for determining the suitability of Clariant's products for its particular application.*Nothing included in this information waives any of Clariant's General Terms and Conditions of Sale, which control unless it agrees otherwise in writing. Any existing intellectual/industrial property rights must be observed. Due to possible changes in our products and applicable national and international regulations and laws, the status of our products could change. Material Safety Data Sheets providing safety precautions, that should be observed when handling or storing Clariant products, are available upon request and are provided in compliance with applicable law. You should obtain and review the applicable Material Safety Data Sheet information before handling any of these products. For additional information, please contact Clariant.
*For sales to customers located within the United States and Canada the following applies in addition: NO EXPRESS OR IMPLIED WARRANTY IS MADE OF THE MERCHANTABILITY, SUITABILITY, FITNESS FOR A PARTICULAR PURPOSE OR OTHERWISE OF ANY PRODUCT OR SERVICE.
Copyright © Clariant International Ltd, 2012.