January 13, 2013
Clariant Oil Services Improves Separation Performance for UK FPSO
Benefits
Improved separation performance and front-end water knock-out
Removal of emulsion routed to cargo
Reduced crude to cargo BS&W%
25% Reduction in cargo tank operating temperature
Background
An FPSO operated by a major producer in the UK North Sea had been experiencing challenging conditions for separation and crude dehydration following the onset of water breakthrough. During detailed design it was determined by the operator that a demulsifier application would not be required, and that plant set-up together with residence time alone were considered sufficient to provide optimal separation.
Typical production rates were 26,000 bpd of 37oAPI crude plus 5,000 bpd of produced water. The fluids are processed through a 3-stage separation train with a temperature reduction from 70oC through 50oC to 30oC before the crude is routed to the cargo tanks. The target export crude to cargo BS&W is 0.5% with no emulsion present.
Within six months of production commencement, water breakthrough occurred and the export specification could no longer be maintained due to water carryover and up to 4% emulsion being routed to the cargo tanks. In order to break the emulsion, the cargo operating temperature was increased to 40oC. Unfortunately, the extra heat in the system was insufficient to completely break the emulsion.
Clariant Oil Services Solutions and Value Delivered
Using field crude and synthetic produced water, laboratory demulsifier bottle tests were performed by Clariant Oil Services. The tests were designed to screen and select the best performing demulsifier in terms of speed of water drop, speed of re-break, dehydration of the crude and quality of the interface. After a thorough review, PHASETREAT 6128 was identified as the best performing demulsifier.
A field trial commenced at the target dose of 25 ppm based on gross fluids, with injection upstream of the HP separator. A 50% improvement in performance was recorded within one hour of chemical injection. Further field optimization of the product resulted in a reduction of the dose rate to 10 ppm without a drop in performance. The deployment of PHASETREAT 6128 enabled the operator to increase the front-end water drop, remove emulsions and return to maintaining the cargo export specification.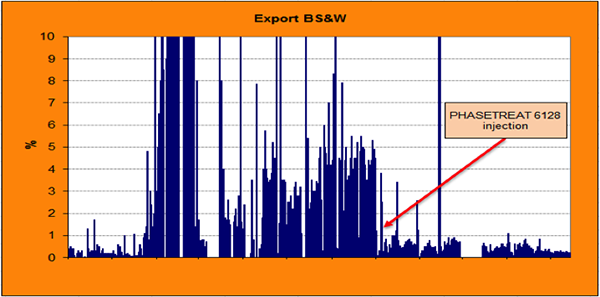 This information corresponds to the present state of our knowledge and is intended as a general description of our products and their possible applications. Clariant makes no warranties, express or implied, as to the information's accuracy, adequacy, sufficiency or freedom from defect and assumes no liability in connection with any use of this information. Any user of this product is responsible for determining the suitability of Clariant's products for its particular application.*Nothing included in this information waives any of Clariant's General Terms and Conditions of Sale, which control unless it agrees otherwise in writing. Any existing intellectual/industrial property rights must be observed. Due to possible changes in our products and applicable national and international regulations and laws, the status of our products could change. Material Safety Data Sheets providing safety precautions, that should be observed when handling or storing Clariant products, are available upon request and are provided in compliance with applicable law. You should obtain and review the applicable Material Safety Data Sheet information before handling any of these products. For additional information, please contact Clariant.
*For sales to customers located within the United States and Canada the following applies in addition: NO EXPRESS OR IMPLIED WARRANTY IS MADE OF THE MERCHANTABILITY, SUITABILITY, FITNESS FOR A PARTICULAR PURPOSE OR OTHERWISE OF ANY PRODUCT OR SERVICE.
Copyright © Clariant International Ltd, 2012.