Clariant Oil Services Increases Production of Lazy Gas Wells in Alberta Canada
Benefits
Increase in gas production from 30 e3m3 to 70 e3m3 per day
Successful removal of water and solids that were blocking the perforated interval
The increase in production coupled with a very low associated chemical cost added significant value
Background
Low pressure gas wells can be dramatically affected by the production of water – either as free produced water or as condensation water caused by the cooling of gas as it travels up the production tubing. When water is allowed to collect in the bottom of a well it causes a loss in production and, ultimately if allowed to build up to sufficient levels, will kill production altogether.
When solid soap sticks or liquid foamers are added to the water column, betaines, sulfonates (fluoro-surfactants for condensate foaming), etc. and a persistent foam is formed, thus lightening the hydrostatic head and enabling regular gas production to lift the water from the well. The wells on this Alberta lease were particularly sensitive to water production, as pressure less than 700 kPa (102 psi) and production of only 0.5m3 (3.15 bls/d) of water per day would kill the well. Well depth ranged from 500 to 750 meters (1650 to 2460 feet). Additional challenges arose due to high solids production further loading up the wells and lowering production, as well as asphaltene precipitation, which tended to react with the sand production and form a very adherent and dense solid precipitate downhole.
Clariant Oil Services Solutions and Value Delivered
Clariant Oil Services initially cleaned the wells with a batch treatment asphaltene solvent (SOLVTREAT EFI-204 and SOLVTREAT 8558), after which SURFTREAT SFTW 4558 was used to unload solids from the well. Injection via a downhole capillary of 20 litres per day of SURFTREAT 8553, a liquid-based foaming chemical, was then used to continually unload water which significantly increased gas production.
The chart below shows an optimization exercise. It illustrates that with no chemical injection, the gas rates were as low as 30 e3m3 per day. When 10 liters per day of SURFTREAT 8553 were injected, production increased to 60 e3m3 per day; with 20 liters per day production increased more. Significant value was added by increasing production by 40 e3m3 per day with less than CDN$200 of associated chemical costs.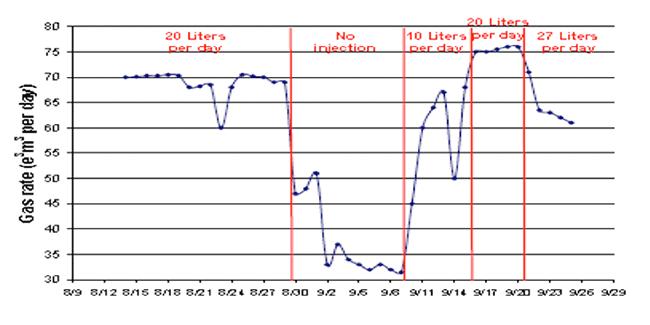 This information corresponds to the present state of our knowledge and is intended as a general description of our products and their possible applications. Clariant makes no warranties, express or implied, as to the information's accuracy, adequacy, sufficiency or freedom from defect and assumes no liability in connection with any use of this information. Any user of this product is responsible for determining the suitability of Clariant's products for its particular application.*Nothing included in this information waives any of Clariant's General Terms and Conditions of Sale, which control unless it agrees otherwise in writing. Any existing intellectual/industrial property rights must be observed. Due to possible changes in our products and applicable national and international regulations and laws, the status of our products could change. Material Safety Data Sheets providing safety precautions, that should be observed when handling or storing Clariant products, are available upon request and are provided in compliance with applicable law. You should obtain and review the applicable Material Safety Data Sheet information before handling any of these products. For additional information, please contact Clariant.
*For sales to customers located within the United States and Canada the following applies in addition: NO EXPRESS OR IMPLIED WARRANTY IS MADE OF THE MERCHANTABILITY, SUITABILITY, FITNESS FOR A PARTICULAR PURPOSE OR OTHERWISE OF ANY PRODUCT OR SERVICE.
Copyright © Clariant International Ltd, 2012.