Clariant Oil Services Develops Environmentally friendly Corrosion Inhibitor
Benefits
Improved environmental profile through replacement of a substitution warning product
Exceptional corrosion performance reduces the likelihood of corrosion-related environmental incidents
Methanol-compatible inhibitor controls both corrosion and hydrates in one application
Background
A major international oil company operates a 30-inch wet gas export pipeline in the UK. The incumbent corrosion inhibitor was dosed into methanol onshore before being pumped offshore for field deployment. The methanol acts as a carrier for the inhibitor and also affords hydrate protection to the pipeline.
In order to simplify operations, there was a requirement to develop a pre-mixed product suitable for offshore deployment. The incumbent product has a substitution warning; therefore, in order to improve the operator's environmental profile, an environmentally-acceptable alternative was required.
The operator utilized an independent test facility to evaluate the performance of the corrosion inhibitors with particular emphasis on weld corrosion. The inhibitors were tested on both C-Mn and 1% Ni weldments in a flow loop under varying degrees of shear stress.
Clariant Oil Services Solutions and Value Delivered
Clariant Oil Services conducted extensive laboratory work to formulate and evaluate environmentally-acceptable corrosion inhibitors specifically for this application. Clariant Oil Services' CORRTREAT 7368 was selected as the best performing inhibitor and was proposed to the operator for further evaluation.
| | |
| --- | --- |
| CO2 | 0.7 mol % |
| Pressure | 8 bara |
| Temperature | 18°C |
| Gas Rate | 80 mmscf/d |
| Condensate Rate | 7 bbls/mmscf |
| Water Rate | 5 bbls/mmscf |
The results from the independent evaluation determined that CORRTREAT 7368 provided excellent inhibition toward general and localized corrosion, as well as exceptional protection against preferential weld attack at high shear stress up to 200 Pa. Hence CORRTREAT 7368 was selected for field deployment.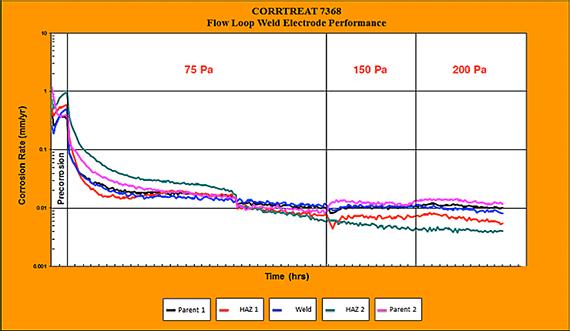 Clariant Oil Services has worked closely with the operator to ensure robust corrosion management performance measures are established. These include routine water analysis, corrosivity measurement together with corrosion coupon and probe analyses. These performance measures indicate that the corrosion rates in the system have reduced and the corrosion coupons do not exhibit evidence of pitting corrosion.
This information corresponds to the present state of our knowledge and is intended as a general description of our products and their possible applications. Clariant makes no warranties, express or implied, as to the information's accuracy, adequacy, sufficiency or freedom from defect and assumes no liability in connection with any use of this information. Any user of this product is responsible for determining the suitability of Clariant's products for its particular application.*Nothing included in this information waives any of Clariant's General Terms and Conditions of Sale, which control unless it agrees otherwise in writing. Any existing intellectual/industrial property rights must be observed. Due to possible changes in our products and applicable national and international regulations and laws, the status of our products could change. Material Safety Data Sheets providing safety precautions, that should be observed when handling or storing Clariant products, are available upon request and are provided in compliance with applicable law. You should obtain and review the applicable Material Safety Data Sheet information before handling any of these products. For additional information, please contact Clariant.
*For sales to customers located within the United States and Canada the following applies in addition: NO EXPRESS OR IMPLIED WARRANTY IS MADE OF THE MERCHANTABILITY, SUITABILITY, FITNESS FOR A PARTICULAR PURPOSE OR OTHERWISE OF ANY PRODUCT OR SERVICE.
Copyright © Clariant International Ltd, 2013.