Clariant Oil Services Significantly Increases Squeeze Lifetime with a Pre-flush Additive
Benefits
TROS ESP2000, as a pre-flush additive in scale inhibitor squeeze (SISQ) treatments, significantly increased treatment lifetime by promoting adsorption of the scale inhibitor onto rock surfaces
TROS ESP2000 minimized the energy required for both oil and water solvency, therefore removing the risk of emulsion formation and pore blockage downhole
TROS ESP2000 has a favorable environmental profile of Gold no-SUB in the UKCS, minimizing the environmental footprint for well interventions
Background
A fixed platform in the UK Sector of the North Sea, operated by a major international oil company, had to perform frequent bullheaded scale inhibitor squeeze operations due to the use of seawater for maintaining reservoir pressure. The seawater, which was rich in sulfate and bicarbonate ions, mixed with the formation water, which was rich in barium, strontium and calcium ions. This combination can cause the precipitation of barite, celestite, calcite and anhydrite. The platform wells were produced from a sandstone reservoir whose temperature was a maximum of 116°C.
TROS ESP2000 was introduced to the SISQ treatments after extensive coreflood tests showed the potential for an extended treatment lifetime and that no damage to the reservoir was likely. Three candidate wells were selected for initial trial of TROS ESP2000 (Well 1, 2 and 3). In all cases, the SISQ design was kept identical in every way with the exception of 15% TROS ESP2000 being added to the pre-flush instead of just inhibited seawater. The table below shows the performance of TROS ESP2000 on the three candidate wells.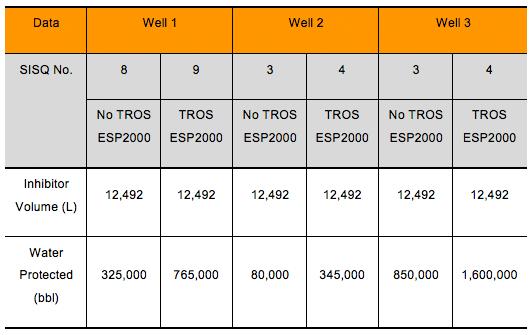 Clariant Oil Services Solutions and Value Delivered
TROS ESP2000 significantly increased the SISQ treatment lifetime on all wells and, based on the success of these applications, is now incorporated into the pre-flush of all SISQ treatments performed by this operator. In most cases, at least a doubling in SISQ lifetime resulted from the application of TROS ESP2000; in one case there was a four-fold increase in treatment lifetime. The benefits to the operator included cost savings from having to use less scale inhibitor per annum to protect the wells and less logistical and operation costs for shipment, handling and pumping of chemicals. Value addition occurred through less deferred oil production, as wells were squeezed less often. The cost savings and value addition totaled in excess of £10,000,000.
This information corresponds to the present state of our knowledge and is intended as a general description of our products and their possible applications. Clariant makes no warranties, express or implied, as to the information's accuracy, adequacy, sufficiency or freedom from defect and assumes no liability in connection with any use of this information. Any user of this product is responsible for determining the suitability of Clariant's products for its particular application.*Nothing included in this information waives any of Clariant's General Terms and Conditions of Sale, which control unless it agrees otherwise in writing. Any existing intellectual/industrial property rights must be observed. Due to possible changes in our products and applicable national and international regulations and laws, the status of our products could change. Material Safety Data Sheets providing safety precautions, that should be observed when handling or storing Clariant products, are available upon request and are provided in compliance with applicable law. You should obtain and review the applicable Material Safety Data Sheet information before handling any of these products. For additional information, please contact Clariant.
*For sales to customers located within the United States and Canada the following applies in addition: NO EXPRESS OR IMPLIED WARRANTY IS MADE OF THE MERCHANTABILITY, SUITABILITY, FITNESS FOR A PARTICULAR PURPOSE OR OTHERWISE OF ANY PRODUCT OR SERVICE.
Copyright © Clariant International Ltd, 2013.