Clariant Oil Services VeriTrax Automated Data Exchange Improves Safety Efficiencies
Benefits
Reduced well failures due to daily data exchange
Improved safety, allowing personnel to focus on the operational aspect of the process
Improved and increased frequency of financial transaction exchange
Integrated data exchange on usage, tank levels and customer-specific performance measurements
Optimized delivery routes and automated data exchange for verification of delivery, accuracy and improved transactional speed
Background
A logistically-challenging oilfield, comprised of more than 5,000 wells with continuous chemical application requirements to prevent corrosion and scale, spanned more than 20 miles long by almost 5 miles wide and had numerous access roads and more than 5,000 chemical delivery sites. Due to complexities of the field, the operator asked Clariant Oil Services to provide a solution for improving operational safety, managing costs, verifying delivery and creating transactional exchange efficiencies.
Clariant Oil Services Solutions and Value Delivered
Clariant Oil Services began developing and testing a system that consisted of a vehicle-mounted smart meter, a Global Positioning System (GPS) and a computer interface. The VeriTrax Automated Data Exchange System was designed to fully integrate the customer's requests and demonstrate improved surveillance and operational efficiency. Likewise, specific customer inputs were measured and incorporated into the VeriTrax system, which also addresses operational safety, chemical usage, financial transactions, verification of delivery and logistical optimization.
Since implementation in this field, VeriTrax has proven successful in meeting the customer's needs and will continue to be a valuable tool in one of the most challenging oilfield production facilities. Some of the benefits realized include:
Integrated data exchange that captures chemical pump failures on a daily basis (previously monthly), resulting in reduced well failures
Incorporation of a remote pump controller to reduce the chance of chemical exposure to the driver during delivery
Improved financial transactional exchange from monthly to daily
Increased delivery efficiency from about 120,000 to 150,000 gallons per month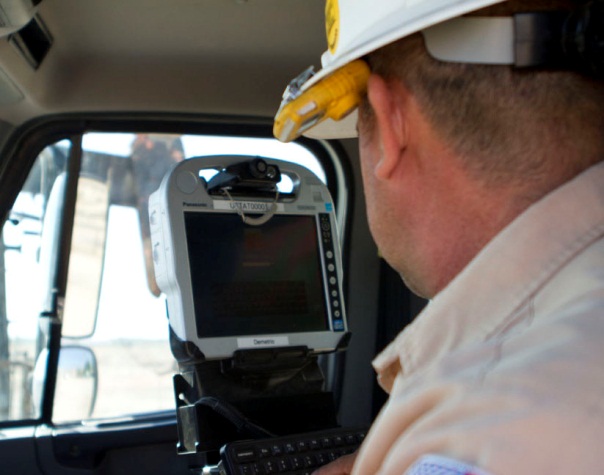 This information corresponds to the present state of our knowledge and is intended as a general description of our products and their possible applications. Clariant makes no warranties, express or implied, as to the information's accuracy, adequacy, sufficiency or freedom from defect and assumes no liability in connection with any use of this information. Any user of this product is responsible for determining the suitability of Clariant's products for its particular application.*Nothing included in this information waives any of Clariant's General Terms and Conditions of Sale, which control unless it agrees otherwise in writing. Any existing intellectual/industrial property rights must be observed. Due to possible changes in our products and applicable national and international regulations and laws, the status of our products could change. Material Safety Data Sheets providing safety precautions, that should be observed when handling or storing Clariant products, are available upon request and are provided in compliance with applicable law. You should obtain and review the applicable Material Safety Data Sheet information before handling any of these products. For additional information, please contact Clariant.
*For sales to customers located within the United States and Canada the following applies in addition: NO EXPRESS OR IMPLIED WARRANTY IS MADE OF THE MERCHANTABILITY, SUITABILITY, FITNESS FOR A PARTICULAR PURPOSE OR OTHERWISE OF ANY PRODUCT OR SERVICE.